Afghan officials met with top-ranking, jailed Taliban leader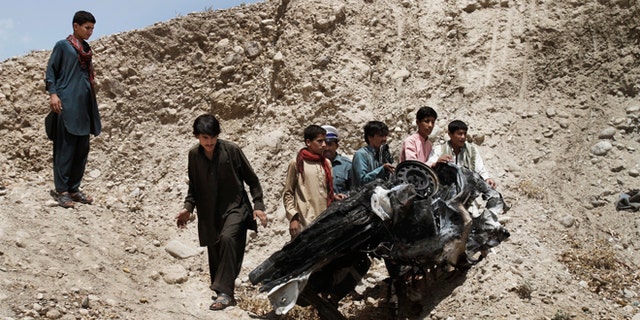 KABUL, Afghanistan – Afghan government representatives have met with a top-ranking Taliban member in his prison cell in Pakistan, an official said, suggesting a small step toward reopening stalled peace talks with the insurgent group.
The confirmation Sunday came at the end of a bloody weekend that showed how unstable the country is, though NATO is aiming to hand over security responsibility to local forces at the end of 2014 after more than a decade of warfare against insurgents.
Afghanistan's international allies hope that bringing the Taliban to the negotiating table will ease the pressure on the Afghan government as international forces draw down.
An official with the Afghan High Peace Council, which is tasked with starting talks, said the Pakistani government allowed Afghan government envoys access to Mullah Abdul Ghani Baradar, a top-ranking Taliban official who was captured in Pakistan in 2010.
His arrest reportedly angered Afghan President Hamid Karzai because Baradar had been in secret talks with the Afghan government.
"Some members from our embassy in Pakistan, they met Mullah Baradar," said Ismail Qasemyar, the council's international relations adviser. He declined to give details of the discussions or say when they took place. Qasemyar said that members of the peace council had not met with Baradar.
A Pakistani intelligence official confirmed the meeting, saying Pakistani authorities arranged it at the request of the Afghan Embassy in Islamabad. The official, who was not authorized to release the information and so spoke anonymously, said Baradar met with Afghan diplomats based in Islamabad without giving further details.
A spokesman for the Afghan Foreign Ministry said they continue to push for Pakistan to release Baradar and other Taliban prisoners to speed the effort for peace talks.
"The Afghan government has requested several times from Pakistan not only the release of Mullah Baradar, but of all those Taliban leaders who are in Pakistani prisons. Unfortunately so far we haven't seen any positive actions from the Pakistan side, but we are hopeful that they will take practical measures regarding this issue, as they say they will in their official statements," Janan Mosazai told reporters at a news conference earlier in the day.
Pakistani officials have said such demands are unrealistic.
The political machinations come as the Taliban continue to launch regular attacks on Afghan forces, their international allies and Afghan civilians.
In the latest incident Sunday, a roadside bomb killed a district government chief and three of his bodyguards in eastern Afghanistan, officials said. The Afghan government's top official in Laghman province's Alishang district was driving to a meeting with the bodyguards when his car was blown up on the road, provincial spokesman Sarhadi Zewak said.
Zewak said the provincial government believes district chief Faridullah Niazi was targeted by insurgents.
Such assassinations of people allied with the government or international forces have surged this year. The U.N. reported last week that civilian deaths from such killings jumped 34 percent in the first six months of 2012 to 255 people killed, compared with 190 in the first half of 2011. The victims ranged from police to village elders who worked on programs with international forces.
"Targeted killings, abduction and intimidations have created a climate of fear among officials and deter them from taking up positions and working in these areas," the U.N. report said.
No group claimed responsibility for the Sunday bombing, but it fit the pattern of Taliban assassinations of government workers. The Taliban have said that they do not consider people working with the government or supporting its programs to be civilians, saying that they are collaborators who have chosen to side with the enemy.
In the south, officials said a Taliban attack on a police checkpoint on Saturday night sparked a gunbattle that left two police officers and two Afghan civilians dead. Afghan forces were pursuing the attackers in Kandahar province's Panjwai district on Sunday, said Ahmad Jawed Faisel, a spokesman for the province.
Recent days have been particularly violent in Afghanistan. On Saturday, an Afghan police officer killed 11 of his fellow officers in a remote corner of western Afghanistan. Officials said the shooter, who was killed in an ensuing gunbattle, was believed to have ties to militants.
On Friday, two Afghans shot and killed six American service members in separate attacks in Helmand province in the south -- the latest in a rising number of so-called "green-on-blue" attacks in which supposed Afghan colleagues or allies have gone after international forces.
The Afghan Interior Ministry said one of the attackers was wearing a security forces uniform and the second was a "guest" at the police station where he opened fire.