Activists targeting China dog meat festival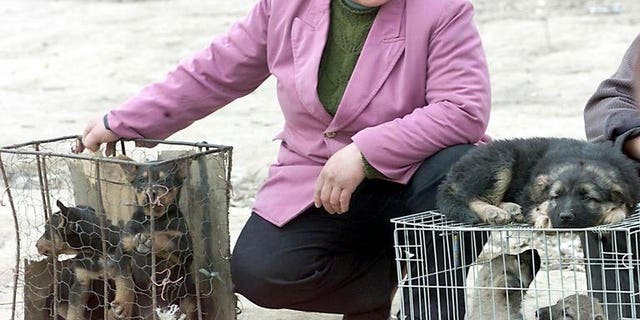 BEIJING (AFP) – A festival dedicated to dog meat in southern China has been targeted by protesting animal lovers, who have won a minor concession from local officials, an activist said on Wednesday.
The annual festival, scheduled to take place on Friday in Guangxi province, sees dogs packed into cages before being killed, skinned and cooked -- but has met with increasing opposition from activists, highlighting China's growing animal rights movement.
Members of the activist group the Boai Small Animal Protection Centre have been protesting in Yulin, the city which holds the festival, since early this month, calling on the local government to cancel it, group founder Du Yufeng said.
Photographs from past festivals showing dogs packed into cages and locals feasting on their meat from steaming pots have circulated on China's popular social networking websites, leading thousands to condemn the festival as cruel.
"This year the government has said they feel under pressure from online activism...so they have a special team to monitor the festival," Du said.
But the measures were unlikely to prevent the annual feast, she said.
"I think the team will reduce the cruelty somewhat, but mostly on the surface," she said, adding: "We have seen animals beaten just before being cooked...the more we inspect, the more cruelty we discover."
Government officials previously said that they could not close the festival as it was organised by locals, and not the government, Du said.
The event is reported to have started several decades ago to mark the summer solstice. It is due to attract 10,000 people according to the South China Morning Post.
Trucks arriving at the city packed with live dogs had taken measures to avoid being intercepted by activists, Du said.
"We can't stop the trucks because they come at three or four in the morning, so we don't know about them," she said.
But the activists had rescued dozens of the dogs and hoped to find new homes for them, she said.
Pictures posted on the group's account on Sina Weibo -- a Chinese social networking service similar to Twitter -- showed around a dozen activists on a street in Yulin holding posters showing caged dogs and calling for the festival to be cancelled.
Dog meat is not widely eaten in China, but can be found at restaurants across the country, where it is sometimes considered a speciality.
"Yulin is famous for its dog meat, and they serve cat meat too," Li Xiaoyun, a shop owner in the neighbouring city of Beihai, told AFP.
The festival has drawn protests before. Also in recent years, Chinese activists have staged a series of dramatic rescues of dogs and cats from trucks transporting them to restaurants.
Animal lovers rescued around 500 dogs in 2011 after a truck carrying them was forced to stop on a highway in eastern Beijing by a motorist who swerved his car in front of the truck and then used his microblog to alert animal-rights activists, reports said.
China currently does not have any laws to protect non-endangered animals.