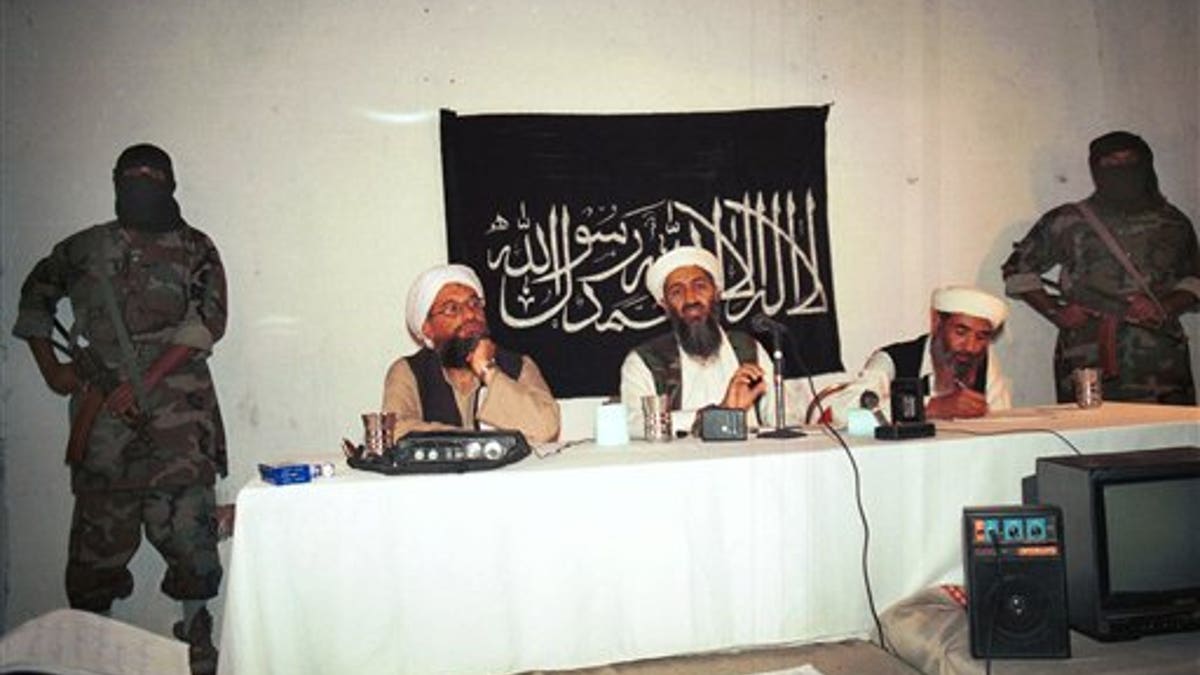 ISLAMABAD – For a man on the run, Osama bin Laden seemed to do very little running. Instead, he chose to spend long stretches — possibly years — in one place and often in the company of his family.
As details emerge of bin Laden's era as America's most-wanted man, it appears he was often going in one direction while the American-directed hunt was moving in another.
Pakistani authorities are pulling together a close-up view of bin Laden's final years from sources such as his three widows, including one who says she never left the upper floors of the walled compound in Abbottabad where bin Laden was killed. But a far more sweeping narrative has taken shape from reports of Guantanamo Bay interrogations posted by WikiLeaks in late April just before the American raid on bin Laden's compound.
These documents — in addition to interviews by The Associated Press — indicate bin Laden relied on Afghan allies for years after the Sept. 11 attacks and possibly spent relatively limited time in Pakistan's rugged tribal areas, which had been the much-discussed focus of U.S. intelligence and military resources in the manhunt.
It also suggests that bin Laden — either by design or chance — could have taken advantage of shortcomings in America's ability to gather timely leads on his movements or get credible sources within the patchwork of tribes and militia factions in Afghanistan and Pakistan.
In perhaps the most striking dead-end chase, U.S. officials and others strongly believed bin Laden slipped across the border in Pakistan after dodging capture from an assault on Tora Bora in eastern Afghanistan in November 2001. But he was still in Afghanistan and galloping away on horseback in the opposite direction toward the northeastern Kunar province, according to bin Laden's aide Awar Gul, who was arrested in December 2001 and eventually sent to Guantanamo.
But according to the documents released by WikiLeaks, Gul gave the information to interrogators from 2002 to 2006 — apparently too late to produce any active leads.
It also was assumed bin Laden traveled light, accompanied by a few guards who were most likely Arabs. But it turns out he kept close to his family — or at least part of it — and his most-trusted courier was a Kuwaiti-born Pakistani who went by the nom de guerre Abu Ahmed al-Kuwaiti, according to U.S. documents and investigators.
The discrepancies between the Western assumptions and the apparent details on bin Laden's movements go back to the Sept. 11 attacks.
Bin Laden didn't go underground, as widely believed by intelligence agencies. He stayed in Kandahar, mingled with his Arab fighters and met Taliban leader Mullah Mohammed Omar, according to an AP interview with a former Taliban intelligence chief.
The official, Mullah Mohammed Khaksar, said bin Laden left Kandahar for the capital Kabul after the start of U.S.-led attacks to oust the Taliban on Oct. 7, 2001. Bin Laden stayed in Kabul until Nov. 13 when the Taliban fled and the U.S.-allied Northern Alliance swept into the city, Khaksar told the AP.
The battle then moved to the Tora Bora outpost, where bin Laden was thought to have taken refuge.
The warren of caves that run through the Tora Bora mountains was familiar to bin Laden, who had used them as cover while taking part in the U.S.-backed fight against the Soviet occupation in the 1980s.
As the Americans blasted Tora Bora with bunker-busting bombs, bin Laden escaped with the help of lieutenants for a local warlord, Maulvi Yunus Khalis, who had fought with bin Laden against the Red Army, according to officials including Michael Scheuer, former CIA point man in the hunt for the al-Qaida chief.
In some ways, bin Laden's Tora Bora breakaway was an inside job, Scheuer told the AP. The warlord's aides who helped bin Laden escape also were working for coalition forces at the time.
According to Gul's interrogation report, bin Laden rested at Gul's home in Jalalabad — about 25 miles (40 kilometers) northeast of Tora Bora — after evading U.S.-led forces on the mountain. He was accompanied by his No. 2, Ayman al-Zawahri, the report says.
"According to an Afghan government official UBL (Osama bin Laden) and al-Zawahri stayed at the detainee's (Gul's) to rest while escaping from hostilities against the U.S. and coalition forces in Tora Bora," the interrogation documents said.
The interrogation summary also says then bin Laden set off on horseback — not toward Pakistan, but northeast toward Kunar. The almost inaccessible area, close to the Pakistani border, was a stronghold of pro-Taliban forces and other militias.
Gul also accompanied bin Laden to Kunar, where they met Afghan warlord Gulbuddin Hekmatyar and his military chief Kashmir Khan, who "provided protection for the group before they continued to an unknown location at the request of Hekmatyar," the interrogation report said.
Small units of U.S. special forces already had a few outposts in the Kunar region during the Tora Bora battle. But slipping past the few American soldiers would have been easy.
In years to come, the U.S. hunt for bin Laden expanded in the Kunar border zone. In 2003, U.S. soldiers attacked the military chief Khan's hideouts, slightly wounding him. In 2005, a U.S. special forces Chinook helicopter was shot down in Kunar, killing all 16 personnel on board.
Bin Laden may have been long gone at the time.
According to the Guantanamo documents, bin Laden passed through Kunar en route to Pakistan's semiautonomous tribal belt. But the destination was not the militant heartland of Waziristan. The reports said bin Laden headed for a more tranquil place called Khwar, which is near Pakistan's scenic resort area of Swat and barely 42 miles (70 kilometers) from Abbottabad.
It was about this time, in early 2003, that unconfirmed reports surfaced of bin Laden sightings in Pakistan's far-northern Chitral area amid the highest range in the Hindu Kush mountains. It would be familiar territory for bin Laden. During the Soviet occupation of Afghanistan, Chitral was a jumping off point for American-backed guerrilla fighters that included bin Laden.
It's still unclear when bin Laden arrived in Abbottabad, a well-kept hill station that has Pakistan's equivalent of West Point.
The compound where he killed was built in 2005. One of bin Laden's wives told Pakistani investigators that she moved to the home in 2006 and never left the top floors of the three-story compound.
___
Kathy Gannon is special regional correspondent for Pakistan and Afghanistan. She can be reached at http://twitter.com/kathygannon. Associated Press writer Adam Goldman contributed from Washington.
(This version CORRECTS Corrects spelling of cities in headline, minor edits throughout. Multimedia: An interactive about the life and death of Osama bin Laden is available in the — international/osama-bin-laden folder.)