Abuse problems continue to haunt L.A. Unified School District to the tune of $300M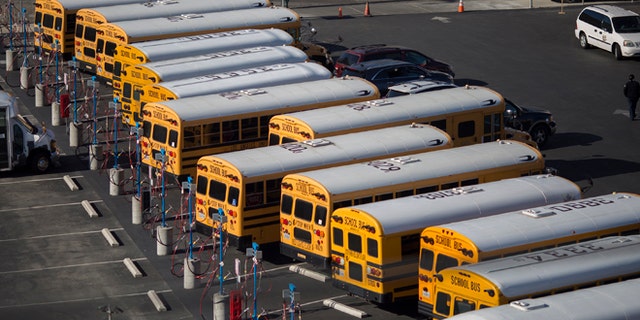 NEWYou can now listen to Fox News articles!
It was only a matter of days after the Los Angeles Unified School District settled a number of sexual abuse lawsuits involving elementary school teachers before a new lawsuit alleging the district turned a blind eye toward another instance of molestation became public.
"Our kids need to be safe in a school like this," said parent Marlene Vega told Fox 11 referring to Vista Middle School. Last week, attorneys for an unnamed plaintiff announced they had filed a lawsuit against the LAUSD involving the alleged actions of William Webb, a former assistant principal at the Van Nuys' school.
"We bring them here," Vega said, "and supposedly we're happy because they're OK, but obviously things are happening also in here."
There have been a lot of things happening at the nation's second-largest school district, which has more than 640,000 students. The district has been plagued by a number of cases of misconduct by teachers and other school officials that was ignored or swept under the table.
According to the Los Angeles Times, LAUSD has disbursed more than $300 million over the last four years in payouts to victims and attorneys.
The largest payout was about $200 million in 2014, stemming from complaints dating back to 1983 about a Miramonte Elementary School teacher, Mark Berndt, who was convicted of committing lewd acts on students over several years.
The most recent of these was the $88 million settlement in mid-May of suits involving 30 elementary school students allegedly abused by Robert Pimentel at De La Torre Elementary in Wilmington and Paul Chapel III at Telfair Avenue Elementary in Pacoima, each of whom are serving long prison terms after pleading no contest in molestation cases.
The lawsuits alleged that the school district didn't take seriously initial complaints of the teachers' abuse.
"The resolution of these cases allows us to spare our L.A. Unified families the anguish of multiple protracted trials while being mindful of the financial consequence of these settlements," LAUSD Superintendent Michelle King said in a statement.
A few days later, attorney Michael Carrillo announced the new lawsuit against LAUSD involving Vista Middle School.
"The victim in this case suffered through several years of trauma, touching, sexual molestation and abuse," Carrillo told reporters, "and it was all due to this assistant principal."
Webb was arrested May 17 on charges of lewd acts, oral copulation and sodomy on a minor, and Carrillo said lawyers didn't make the suit public to not interfere with the police investigation.
District officials, the Times reported, acknowledge that the system was flawed in the past, but they say policy changes have been put into place that have helped dramatically prevent and discover teacher abuse.
The allegations against Webb stem from incidents 10 years ago.
"We're suing the district because the district fell asleep for over four years," Carillo said.
By LAUSD lawsuit standards, however, that doesn't seem that unusual — complaints against Pimentel spanned a decade.
His supervisor, Irene Hinojosa, was aware of allegations of Pimentel touching students back in 2002, when she had a conference with him about slapping girls on their derrieres and touching their legs. The Times cited documents showing that Pimentel admitted touching students and claimed he was on medication that augmented his sex drive.
Thirteen of the claims LAUSD settled, the Times reported, concerned actions by the teacher that took place afterward – including after the district changed its rules to try to stop teacher misconduct.
In another case, Franklin High School football coach Jaime Jimenez, 47, pleaded not guilty to 32 felony counts of abusing male students dating back from 2001 until his arrest in 2015.
A walk-on coach at the school, Jimenez is alleged to have committed numerous sexual acts including sodomy with students and to have given them alcohol. According to the Times, one of his alleged victims testified that the abuse began when he was just 9.
"Teachers and administrators would see him coming and going in [Jimenez's] car and they know that is against policy," Vince Finaldi, attorney for some of the victims, told the Times.
The idea that LAUSD officials missed or failed to act on signs of possible abuse is a common theme among all these lawsuits and settlements. And it may haunt the district for years to come.