Abdullah, 2009 runner-up, enters Afghan presidential vote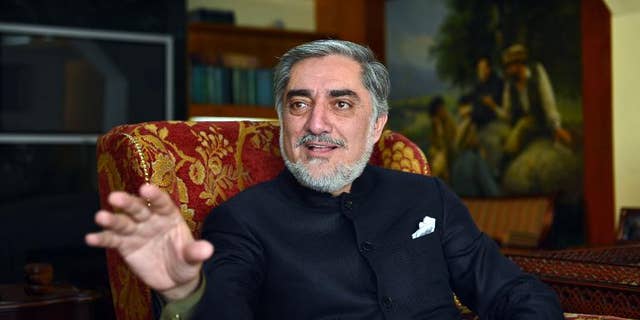 Kabul (AFP) – Abdullah Abdullah, the suave former foreign minister who came second in Afghanistan's fraud-tainted 2009 election, on Tuesday entered next year's presidential race as the deadline for nominations loomed.
Abdullah pulled out of a second-round run-off in 2009 after collecting about 30 percent of the vote, allowing President Hamid Karzai to retain power in an election that was badly marred by cheating and violence.
"We will make sure that the people of Afghanistan have a fair election,??? Abdullah said as he arrived at the Independent Election Commission (IEC) offices in Kabul and registered for the April 5 poll.
International donors are pushing hard for a credible election process next year after billions of dollars of development aid and 13 years of bloody fighting by US-led NATO forces against Taliban militants.
NATO combat troops will withdraw by December 2014 and the Taliban, who were ousted from Kabul in 2001, are seeking to return to government.
Abdullah, a former eye surgeon, has remained bitter about his old rival Karzai since the 2009 poll. He has previously alleged that the president, who is constitutionally barred from standing for a third term, is plotting to extend his time in office.
Abdullah was a close aide of Ahmad Shah Massoud, the anti-Taliban commander who was assassinated in 2001, and his fluent English and assured manner have earned him a strong reputation in international political circles.
He served as Karzai's foreign minister from 2001 until he was sacked in 2006, and later became a leading figure in the fluid opposition groups against the president.
Abdullah, son of a Pashtun father from Kandahar and a Tajik mother, still lacks a loyal voter base. But he could build up a broad spectrum of allies and appears to have calculated that he has a serious shot at the presidency.
Now aged 53, he remains in favour with many Western diplomats who admired his energetic campaigning and dignified conduct during the last election.
In 2009 the Electoral Complaints Commission threw out around a third of the votes -- about half a million -- cast for Karzai, sparking the run-off from which Abdullah ultimately withdrew "in the best interests of the nation".
Nominations for the presidential race close on Sunday, with former finance minister Ashraf Ghani the only other big name to have so far declared that he would run.
Ghani, who has not yet registered with the IEC, said on Monday he would contest the election despite finishing a distant fourth in 2009.
Hectic political deal-making has been underway for weeks in Kabul, but it remains unclear who else will register.
Karzai's brother Qayum is tipped to enter, as is low-key Foreign Minister Zalmai Rassoul.
President Karzai has repeatedly said that he sees a free and fair election as a key part of his legacy, and he has vowed not to endorse any candidate as Afghanistan prepares for its first ever democratic transfer of power.
The US, which currently has 57,000 troops in Afghanistan, has tentative plans to retain a force of around 10,000 soldiers after 2014 if the two countries can sign a long-delayed security agreement.
But Karzai has said the deal must first be discussed by a national jirga (assembly). A recent UN report pointed to concerns that the event could be used to delay the election or change the constitution.
A total of 87,000 NATO forces are still deployed in Afghanistan, though 350,000 national police and soldiers are now in the lead in operations against the Islamist militants.