A punchline straight out of Hollywood: Comedian poised to win presidency in Guatemala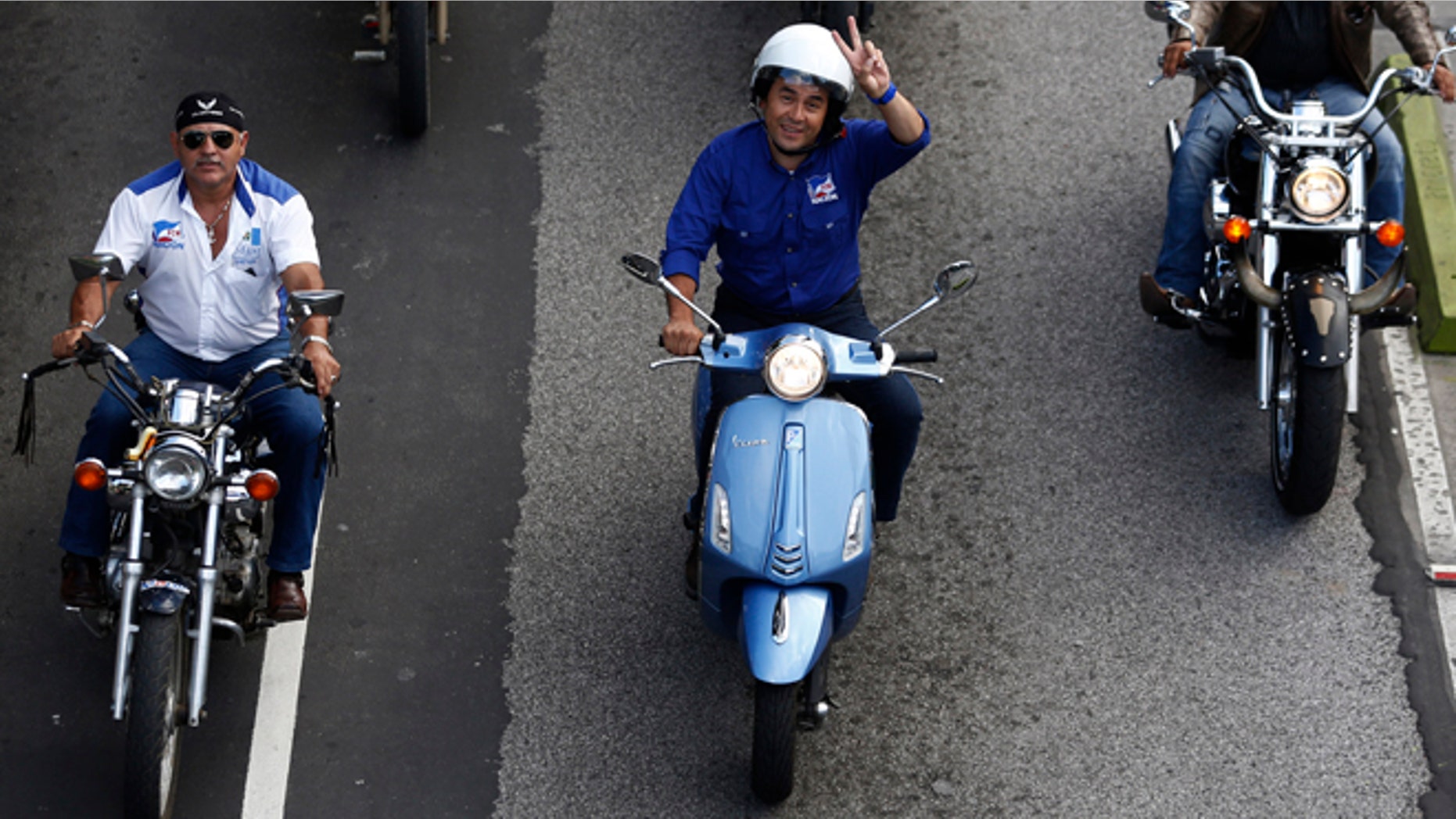 In "Man of the Year," Robin Williams played a television comedian who launches a shoestring campaign to become president of the United States, and winds up winning.
As unlikely as that scenario is, it may well be playing out in the Central American nation of Guatemala, where a former comedian and television personality named Jimmy Morales is poised to become the country's next president.
Morales – a self-proclaimed centrist with a strong conservative streak – holds a commanding lead in the polls over his challenger, former first lady Sandra Torres, going into Sunday's run-off election.
Morales has painted himself as an anti-politician, frequently starting his stump speeches with a rowdy, and comedian-like shout of "How are you doing, Guatemala?" Which makes sense, given that his biggest claim to fame before being on the cusp of the presidency was a skit television show called "Moralejas" ("The Moral of the Story") that he starred in with his brother Sammy.
Their most famous characters were a pair of country bumpkin brothers named Nito and Neto.
At one June event in Guatemala City, he opened his speech by saying, "You probably don't know if I'm Nito or Neto. Well, I'm Neto."
He earns laughs from supporters with quips like that, or the long joke-parable about a womanizer who details to his lover the privations he'd suffer to see her. When she asks about tonight, his answer is, "If it doesn't rain."
Turning serious, Morales says, "For too long in Guatemala, the people have been the girlfriend, and the politicians the liar."
He is riding a wave of discontent with the political establishment that recently forced the resignation of the country's outgoing president, Otto Pérez Molina, its vice-president and many other high-ranking government officials over suspicions of corruption.
His campaign slogan is, "Neither corrupt nor a thief," and, like everything else in his campaign, helps to point out the difference between his background and that of his opponents.
"He's almost certainly going to win the election," Cynthia Arnson, the director of the Latin American program at the Woodrow Wilson Center, told Fox News Latino. "His main claim to fame is that he has not held political office."
The presidential frontrunner was born into a working-class family in Guatemala City but rose to fame over the past 15 years in "Moralejas," on which Morales played comic versions of farmers, gangsters and alcoholics. The show spawned six theatrical Guatemalan films including the seemingly prophetic, "Un Presidente de Asombrero" ("The Astonishing President"), in which Neto runs for president of Guatemala, and wins.
Morales's television background has led to comparisons between him and other celebrities-turned-politicians: among them Haitian president and former pop star Michel "Sweet Micky" Martelly and, of course, GOP contender Donald Trump.
"Many people have compared Jimmy Morales to Donald Trump, or some people have compared Jimmy Morales, for example, to John Stewart because he is a comedian," Orlando J. Pérez, a professor at Millersville University in Pennsylvania told Global Journalist. "He has a lot of charisma."
Morales ran unsuccessfully as a mayoral candidate in the municipality of Mixco in 2011 and in 2013 he joined the small National Convergence Front (FCN) and became its secretary-general.
Some of his policy proposals – especially one to give every child in the country a cellphone – have drawn laughs from his opponents, but for the most part, his campaign is no joke.
A self-identifying nationalist who supports the death penalty and opposes abortion, Morales said some of first moves as president would be to make public contracts transparent, give the public and media access to the process and also to hold a referendum to overhaul Guatemala's electoral laws.