A look at the alleged victims of Germany's far-right National Socialist Underground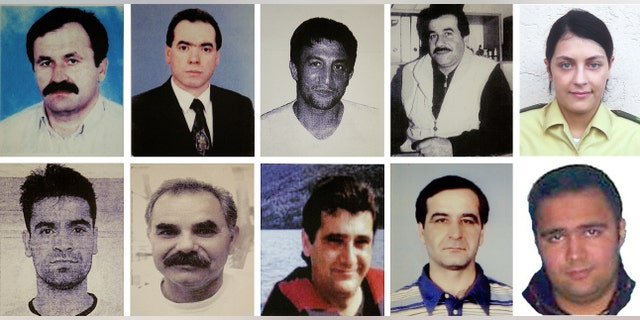 MUNICH – The highest profile trial of neo-Nazis in years began Monday in Munich, with four men and a woman facing charges in the killings of nine ethnic minority businessmen — eight Turks and one Greek — and a German policewoman between 2000 and 2007.
The case has led to soul-searching in Germany over the treatment of immigrants and the role of the police in combating right-wing extremism.
Here is a look at the alleged victims of the self-styled National Socialist Underground:
— Enver Simsek, a 38-year-old flower seller, became the first victim, gunned down with at least nine shots from two different weapons at his stall in the southern city of Nuremberg on Sept. 9, 2000. Simsek left a son and a daughter.
— Abdurrahim Ozudogru was killed in a tailor's shop in Nuremberg on June 13, 2001. The 49-year-old worked in a factory but occasionally helped out in the tailor's shop. Ozudogru had a daughter.
— Suleyman Taskopru, 31, was shot dead in a convenience store in the northern city of Hamburg on June 27, 2001. He had a 3-year-old daughter.
— Habil Kilic, 38, was killed Aug. 29, 2001, in fruit and vegetable store he had recently opened with his wife in Munich. He had a daughter.
— Yunus Turgut, 25, was shot dead at a Turkish snack bar in the northeastern city of Rostock on Feb. 25, 2004. Turgut had recently moved to the city from Turkey hoping for a better life.
— Ismail Yasar, 50, a father of three, was killed in a Turkish kebab restaurant in Nuremberg on June 9, 2005.
— Theodoros Boulgarides, a 41-year-old ethnic Greek, was killed in a locksmith's shop in Munich. He had two daughters.
— Mehmet Kubasik, 39, was shot dead at a kiosk in the western city of Dortmund on April 4, 2006. Kubasik had a daughter and two sons.
— Halit Yozgat, 21, was killed in an Internet cafe he ran in the central city of Kassel on April 6, 2006. Yozgat was the only male victim who was born in Germany.
— Policewoman Michele Kiesewetter, 22, was gunned down while on break in a park in the southern city of Heilbronn on April 25, 2007. A colleague was seriously injured. Kiesewetter was born and grew up in the same area as some of the alleged NSU members.