A look at Portugal's main candidates for prime minister in Sunday's general election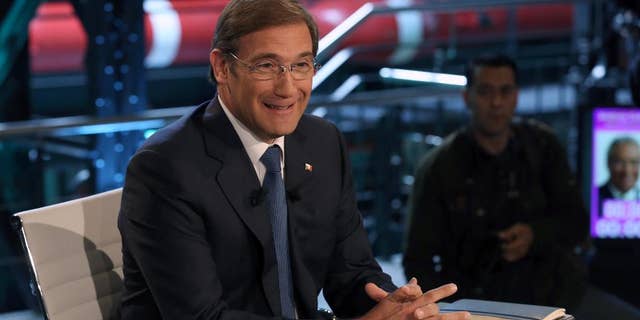 LISBON, Portugal – Portuguese voters elect a new government in elections Sunday. Here is a look at the two main candidates for prime minister.
___
PEDRO PASSOS COELHO
Possessing a rich baritone singing voice, Portugal's incumbent prime minister once had a hankering for the stage. His audition for a part in a production of "My Fair Lady" in Lisbon was unsuccessful, but his later political rise was meteoric: His first government job was prime minister.
Passos Coelho, 51, started early in politics. As a teenager he was the leader of the center-right Social Democratic Party's youth wing and served a pair of four-year terms as a lawmaker in the 1990s, when he was noticeable for wearing sweaters rather than suits in Parliament.
Unable to rally support for his ambitions, he left politics for almost 10 years, working as a company executive where he says he learned to balance the books. That came in useful when he was elected in 2011, a year after becoming Social Democrat leader, and had to impose the fiscal demands of Portugal's 78 billion euros ($87 billion) bailout.
In power, Passos Coelho has nurtured an image as a cool-headed, resolute leader who is determined to restore his country's fortunes through unpopular austerity measures and painful reforms, whatever the political cost.
___
ANTONIO COSTA
A three-decade career in politics has taught Antonio Costa how to catch voters' attention.
As mayor of a suburban Lisbon town more than 20 years ago, he staged a memorable stunt to highlight commuter traffic problems — organizing a race in central Lisbon between a donkey and a Ferrari. The donkey won.
After graduating in law from Lisbon's Classic University, 54-year-old Costa joined the center-left Socialist Party, becoming a lawmaker in the 1990s. From 1995 he held a series of government posts, including Justice Minister, until 2007 when he became Mayor of Lisbon.
Affable and approachable, Costa was elected Socialist leader last year after his predecessor failed to dent the government's popularity. Costa was immediately popular with voters but his association with the previous Socialist government that led Portugal to the brink of bankruptcy has tainted his image.