92-year-old former Nazi SS member being tried for wartime execution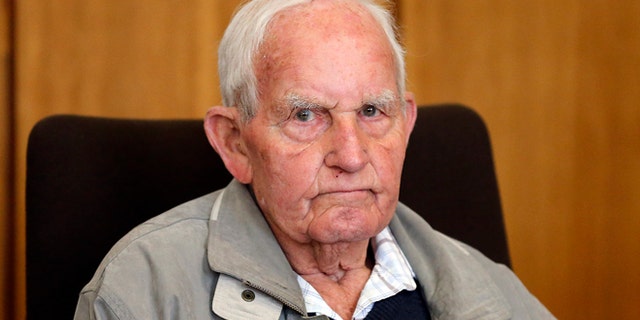 Germany put a 92-year-old former member of the Nazi Waffen SS on trial Monday in Hagen on charges that he shot in the back and killed a Dutch resistance fighter in 1944, at the end of World War Two.
Dutch-born Siert Bruins, who is now German, volunteered for the SS after the Nazis conquered the Netherlands in 1941. Bruins served as a member of the Sicherheitspolizei, or Security Police, in a unit looking for resistance fighters and Jews.
No pleas are made in the German legal system, and Bruins made no statement Monday about the accusations against him. His attorney said Bruins would answer questions during the trial but not about the charges.
"Our tactic will definitely be to keep silent with regard to the charges," attorney Klaus-Peter Kniffka said ahead of the trial.
Despite his advanced age, Bruins was found medically fit to stand trial, though Kniffka said the stress of the proceedings against him has weakened him.
Bruins, who already served time in prison in the 1980s for his role in the slaying of two Dutch Jews, is accused of killing resistance fighter Aldert Klaas Dijkema in September 1944 in the town of Appingedam, near the German border in the northern Netherlands.
If convicted, he faces a possible life sentence.
Dijkema, whose sister has joined the trial as a co-plaintiff, which is allowed under German law, was apprehended by the Nazis on Sept. 9, 1944, on suspicion he was involved in the Dutch resistance.
According to prosecutors, Bruins and alleged accomplice August Neuhaeuser, who has since died, drove Dijkema a short time later to an isolated industrial area where they stopped and told him to "go take a leak."
As he walked away from the car, they fired at least four shots into him, including into the back of his head, killing him instantly, according to the indictment.
Bruins and Neuhaeuser reported that Dijkema was shot while trying to escape.
In an televised interview with broadcaster Das Erste, Bruins says he was present at the murder of Dijkema but says Neuhaeuser shot him, Reuters reported.
"I walked on the right (of Dijkema), he was on the left, then suddenly I heard the shots and someone fell," he said.
Because of Bruins' age, daily trial sessions are limited to three hours. The trial is expected to extend over 11 hearings and end in late September, Reuters reported.
According to Reuters, the Simon Wiesenthal Center launched in July "Operation Last Chance II", a campaign to find surviving Nazi war criminals and bring them to justice before they die.
The Associated Press contributed to this report.