5 Charged In Human Smuggling Operation That Trapped 115 People In Stash House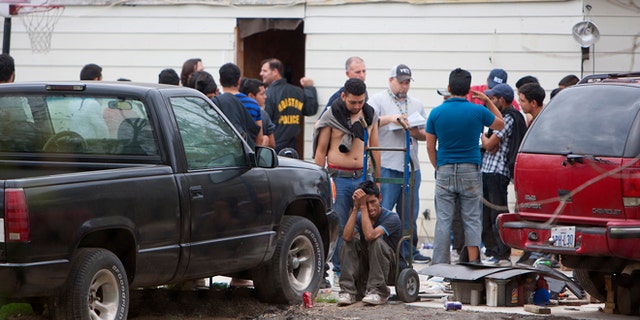 HOUSTON (AP) – Five men, at least two of them from Mexico, are accused of using guns and threats to hold 115 people hostage in a small Houston house unless they paid ransom to continue their illegal entry into the United States.
A criminal complaint from Department of Homeland Security Special Agent Andres Garcia Jr. said the people, discovered last week crammed into the home of less than 1,300 square feet, were stripped of their shoes and most of their clothing to keep them from escaping.
They also were threatened with violence if they did not comply and there were instances of some being kicked and beaten and females being groped, the complaint said. One pregnant girl was among people struck with a wooden paddle.
The five men — José Aviles-Villa, Jonathan Solorzano-Tavila, Antonio Barruquet-Hildiberta, José Cesmas-Borja and Eugenio Sesmas-Borja — stood handcuffed and shackled during a brief court appearance Tuesday afternoon before U.S. Magistrate Judge Frances Stacy on hostage-taking, weapons and conspiracy charges.
"This is an alien smuggling case, basically, where a firearm was used in connection with this offense," Stacy told them. "Your lawyer can more fully describe the accusations against you."
One of the men wore shorts, others were in jeans. All listened on headphones as the proceedings were translated for them into Spanish. Stacy reviewed questionnaires that indicated all had wives and children. She agreed to a request from each for a court-appointed attorney. The judge specified the attorney be Spanish-speaking but denied immediate bail because the defendants were considered a flight risk.
A bond hearing was set for Thursday. The defendants also were entitled to a probable cause hearing, she said.
Conviction on the hostage-taking charge carried up to a life prison term and $250,000 fine, federal prosecutor Julie Searle said. Convictions on the weapons charge could result in up to 10 years in prison and conspiracy up to 20 years, plus fines, she said.
Aviles-Villa and Cesmas-Borja told Houston police they were from Mexico and in the U.S. illegally, according to the criminal complaint. The immigration status of the three other men was not immediately clear.
One of the people held hostage told authorities Solorzano-Tavila appeared to be the person in charge at the stash house, where smugglers bring the people they've brought into the U.S. illegally and keep them until they or their family members pay a ransom.
Captives told authorities they were held under armed guard. Doors were locked with dead bolts and windows were covered with plywood. A wood paddle, stun gun, ammunition, shotgun and rifle were found at the home, according to the criminal complaint.
Aviles-Villa and Cesmas-Borja were in a car that had left the house that police pulled over because it had no rear-view mirror. Officers spotted a handgun "protruding from beneath the front passenger seat," according to the court document.
A woman had contacted Houston police earlier about the possible abduction of her daughter and two small grandchildren. The criminal complaint said she paid smugglers $15,000 to deliver her three relatives to Chicago, then was told they would "disappear" if she didn't pay $13,000 more.
Investigators determined that phone calls made to her came from the home and put it under surveillance. After the traffic stop, officers went to the house and found the captives. In all, 99 males and 16 females were being held. More than a dozen were juveniles. Among the people inside were the daughter and grandchildren of the woman whose call initiated the investigation.
Solorzano-Tavila, Barruquet-Hildiberta and Sesmas-Borja were apprehended trying to flee after police arrived March 19.
Police have said the people being held primarily were from El Salvador, Honduras, Guatemala and Mexico.
One of those, Mario Ernesto Guzmán-Figueroa, said he left his home in Honduras a month ago and was headed for Atlanta, had agreed to pay $3,400 to be smuggled from El Salvador to Georgia and still owed $2,000.
"Guzmán-Figueroa was told that he had 12 days to pay or he would be beaten, placed in a black plastic bag, and then thrown on the side of the road," Garcia said in the complaint.
One woman from El Salvador, Dilcia Jiménez-Alvarado, said she left a month ago for New York, had paid about $7,500 to be smuggled but was told in Houston she needed to pay $5,000 more.
Authorities earlier said the house was filthy inside, had power but no hot water and only one toilet.
Stash house discoveries involving more than 100 captives are not uncommon in South Texas but the raid in Houston, about a five-hour drive from Mexico, is the largest in the city in several years.
Follow us on twitter.com/foxnewslatino
Like us at facebook.com/foxnewslatino