3 suspected militants die in attack on US base in Afghanistan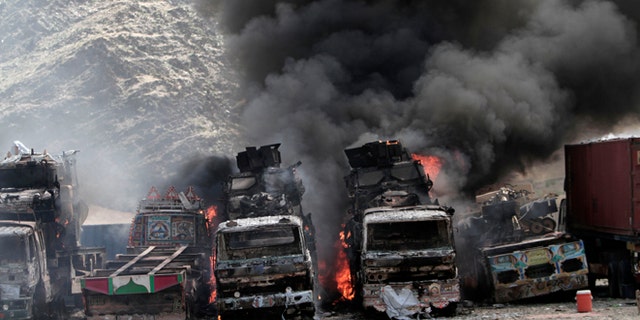 MOHMANDARA DISTRICT, Afghanistan – Militants attacked a U.S. base in Afghanistan near the border with Pakistan on Monday, setting off bombs, torching vehicles and shutting down a key road used by NATO supply trucks, officials said. At least three people -- apparently all attacking insurgents -- were killed.
The Taliban claimed responsibility for the strike in the Torkham area, the latest in a surge of attacks in Afghanistan as U.S.-led foreign troops reduce their presence en route to a full withdrawal by the end of next year. Militants frequently target NATO's supply lines in both Afghanistan and Pakistan.
In a brief statement, NATO confirmed an "unsuccessful coordinated attack by enemy forces" but said none of its personnel were killed. The military alliance generally does not release information on wounded troops. No members of the Afghan security forces or civilians were killed or wounded, according to Esa Khan Zwak, chief administrator in Mohmandara district, in which the base is located.
Ahmad Zia Abdulzai, spokesman for the governor of Nangarhar province, said several militants wearing suicide vests and carrying other weapons staged the attack, and that Afghan and U.S. forces exchanged gunfire with the insurgents. NATO helicopters joined the fight, he added.
The encounter began around 6:30 a.m. and lasted three and a half hours, said Masoum Khan Hashimi, deputy provincial police chief in Nangarhar province. Afghan security forces trying to clear the area were still in the process of defusing a bomb in a car. At least one car bomb also was successfully detonated in the attack, Hashimi said.
An Associated Press photographer at the scene saw three bodies of suspected attackers -- apparently shot dead from the NATO helicopters. The suspected insurgents didn't manage to enter the main base area, but had tried to hide under a small canal bridge near it when they were hit.
The highway between Jalalabad city and Torkham, an important route for NATO supply trucks, was closed, Abdulzai said. Militants on both sides of the Afghan border have frequently targeted the supply line, leading NATO to shift much of its supply delivery toward routes from Central Asian states instead of through Pakistan.
Afghan officials say a parking lot at the outpost was a stopping point for many types of vehicles used by U.S. and other NATO forces. Hashimi said four U.S. vehicles there were completely burned.
In an emailed statement, Taliban spokesman Zabiullah Mujahid said the insurgent group was behind Monday morning's attack, and claimed it had destroyed several tanks -- an assertion Hashimi denied.