3 of 8 Chinese fishing boats leave disputed shoal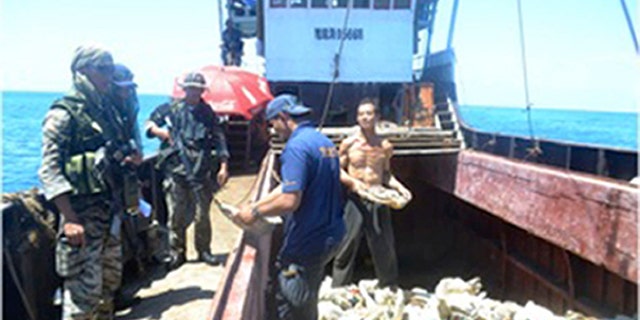 MANILA, Philippines – Three of eight Chinese fishing boats at the center of a standoff between China and the Philippines have left a shoal in the disputed South China Sea, officials said Friday.
But the standoff continues, with two other Chinese surveillance ships and a Philippine coast guard vessel remaining in the area, said Gen. Jessie Dellosa, the Philippine armed forces chief.
The standoff began Tuesday when Chinese ships prevented the Philippine navy from detaining Chinese fishermen who were allegedly caught poaching at the Scarborough Shoal off the northwestern Philippines.
Both sides claim the uninhabited, horseshoe-shaped shoal, which lies about 120 miles from Zambales province, the nearest Philippine coast.
The impasse has reignited concerns about potential conflict in the South China Sea, one of the world's busiest seas lanes and home to a myriad of competing territorial claims, most notably the Spratly Islands, which are south of the shoal.
The disputes have settled into an uneasy standoff since the last major clash, which involved China and Vietnam and killed more than 70 Vietnamese sailors in 1988.
Chinese and Filipino diplomats have been scrambling to find a solution to the current conflict, and the departure of the fishing boats on Friday could be seen as a sign that the standoff was easing. However, it was not immediately clear whether their departure had been agreed upon during negotiations.
Philippine Foreign Secretary Albert Del Rosario told reporters that the fishing boats had the "freedom" to move, but he did not elaborate.
Del Rosario met with Chinese Ambassador Ma Keqing earlier Friday. He said Ma presented her own proposal to end the standoff.
"I think that we were able to succeed in moving forward by a few steps but there are other matters that remain outstanding," Del Rosario said, adding that the talks in Manila would continue.
He also said diplomatic protests were being set aside to focus on finding peaceful solutions to the impasse.
Dellosa told reporters that China had sent two additional surveillance ships to the area on Thursday, but that they apparently just replaced the two ships that left.
He said it was not clear whether the ships or the fishing boats that left took away the fishermen's catch.
The U.S. has angered Beijing by declaring it is in U.S. national interest to ensure the area remains stable.
On Friday, Vietnamese monk Thich Giac Nghia said five Buddhist monks had set sail a day earlier for the Spratlys, where they plan to practice and teach their religion for six months to a year. Nghia earlier said the monks were traveling voluntarily to help defend their country's territorial claim.
In March, Vietnam protested after Chinese forces allegedly intercepted two fishing boats near the disputed Paracel Islands, seizing 21 fishermen.