22 Dead in Plane Crash in Argentine Patagonia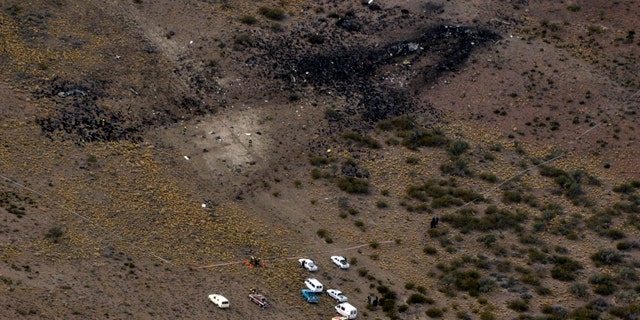 BUENOS AIRES, Argentina -- A turboprop plane carrying 22 people crashed and exploded in Argentina's southern Patagonia region, killing all on board and disintegrating the plane. At the crash scene Thursday, firefighters examined small pieces of burned wreckage and bodies scattered over a wide swath of the desert.
Sol Lineas Aereas said Wednesday's Flight 5248, carrying three crew members and 19 passengers, including a baby, communicated an emergency while flying from Neuquen near the Andes to Comodoro Rivadavia along the coast of Patagonia. The company confirmed that the wreckage was found about 25 kilometers (15 miles) southwest of the town of Los Menucos, and that local firefighers and police found no one alive.
"Unfortunately there are no survivors. We see burnt remains, everything burned," Ismael Ali, who directs the hospital in the nearest town of Los Menucos, told the Todo Noticias channel.
Sol vice president Juan Nyffenegger said Thursday in Buenos Aires that the twin-engine Saab 340 had taken off normally and had no records of technical problems. The plane was relatively modern, built in the late 1980s, and the pilots were quite experienced, he added.
He and other company representatives repeatedly discounted speculation about the cause of the crash and stressed that accident investigators will determine what went wrong after recovering the cockpit recorders.
Sol said it received an emergency communication from the plane at 8:50 p.m. local time, nearly halfway into the flight from Neuquen near the Andes to Comodoro Rivadavia along the coast of Rio Negro province.
The plane crashed and exploded on the rural property of a man who drove into the town of about 4,000 people to alert authorities. Los Menucos Mayor Mabel Yahuar said they would make the town's gymnasium available to support investigators and family members.
Sol is based in the northern Argentine city of Rosario and generally serves smaller cities in the provinces. A passenger list released by the airline said nearly all all had Argentine residency or citizenship.