2 US tourists killed, 2 others injured after helicopter crash at Great Barrier Reef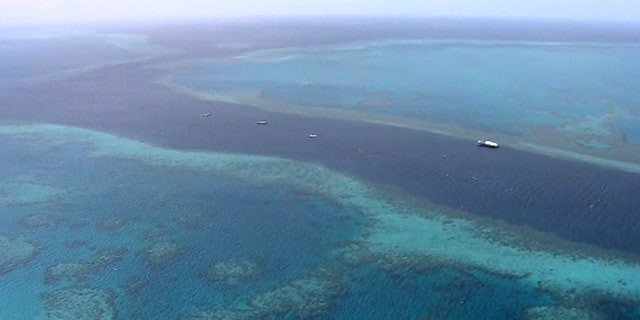 Two American tourists died and two others sustained minor injuries when a helicopter crashed on Australia's Great Barrier Reef on Wednesday, officials said.
Police Inspector Ian Haughton said the pilot pulled one of his four passengers from the wreckage after the crash at a coral-viewing pontoon northeast of the Whitsunday Islands. But desperate attempts to revive the 65-year-old woman failed.
Haughton said a 79-year-old man also died despite bystanders' attempts to resuscitate him.
The man and woman have not been identified, but are both Hawaii residents, the New York Times reported.
A 34-year-old man and a 33-year-old woman from Colorado were taken to the Australian mainland for medical treatment for non-life-threatening injuries, Haughton said.
All four tourists knew each other.
Police said the helicopter was on its final approach for landing at the Hardy Reef viewing pontoon on what was a routine flight. The people were also on a nearby dive and snorkel platform when the helicopter crashed, police told the Australian Broadcasting Corporation.
The five-seat, single-engine Eurocopter EC120 Colibri crashed 40 miles northeast of the Whitsunday Islands near a pontoon that has underwater viewing chambers to see coral and is a popular tourist destination.
The U.S. Embassy in Australia said in a statement it was aware that two U.S. citizens had died and was "providing all appropriate consular assistance."
Whitsunday Air Services suspended operations as it works with authorities to determine the cause of the crash, as an "independent, robust and transparent investigation" is underway, Haughton said.
He said the "consequences are tragic" for the people on board and that "you couldn't begin to imagine the impact" on them.
"We are extremely saddened by this incident and our deepest condolences are with the families of all of the passengers," the company said in a statement.
"It's just gut-wrenching," Andrew Willcox, the Whitsunday mayor, told the Australian Broadcasting Corporation. "My deepest sympathies goes out to those who lost their lives and those that were injured."
The Australian Transport Safety Bureau confirmed a crash investigation was underway.
The Associated Press contributed to this report.