2 dead as France World Cup victory celebrations take violent turn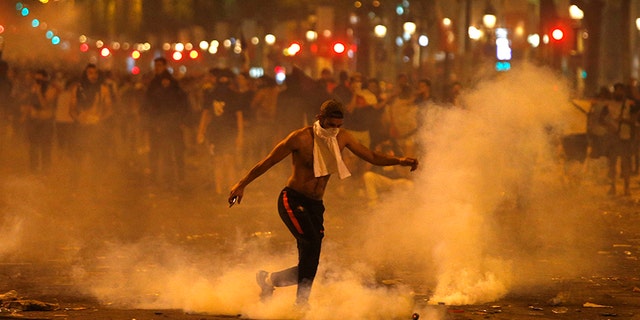 World Cup victory celebrations in France took a tragic turn after at least two citizens were killed and three children were hurt in connection with the frenzied festivities, while clashes broke out between Paris revelers and riot police.
In the city of Annecy, police said a 50-year-old man fatally broke his neck after leaping into a canal around the time the final whistle blew in France's 4-2 win over Croatia, while a man in his 30s was killed in Saint-Felix after crashing his vehicle into a tree during celebrations, according to The Local.
A 3-year-old boy and two 6-year-old girls also were reportedly seriously injured in Frouard after being hit by a motorcyclist, who then fled the scene.
In Paris, television broadcasts and social media videos showed crowds clashing with cops along the French capital's Champs Elysees.
One video from the AFP showed shirtless, masked partiers tossing objects at police as clouds of tear gas filled the area. The Local, citing an AFP journalist on the scene, said dozens of youths smashed windows at a drugstore and made off with bottles of wine and champagne.
"That's not how you celebrate," the website quoted a bystander as saying.
Other videos showed a car being flipped over before its rear bumper was ripped off.
There was no immediate word on arrests.