19 killed in bombings north of Baghdad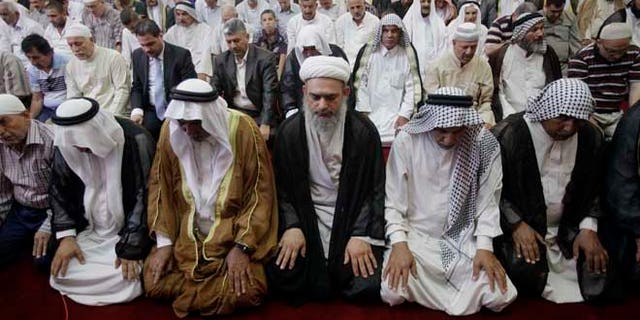 BAGHDAD – A suicide attacker and a car bombing killed at least 19 people and wounded 38 in separate attacks Friday targeting Shiites north of Baghdad.
There was no immediate claim of responsibility for the attacks, the latest in an increasing wave of violence across the country.
Iraq has been facing its deadliest outburst of violence since 2008, with more than 2,000 people killed since the start of April. The bloodshed appears to be largely the work of resurgent Sunni militants such as Al Qaeda's Iraq branch, feeding off Sunni discontent with the Shiite-led government.
The deadliest attack on Friday took place in Baghdad's Kiraiyat neighborhood as worshippers gathered after the evening call to prayers at the Hussienieh Ali Basha mosque. A suicide bomber walked in during the service and detonated his explosives, killing 15 worshippers and wounding 32, a police officer and a medical official said.
Both officials spoke on condition of anonymity as they were not authorized to talk to the media.
Earlier Friday, an explosives-laden vehicle detonated near a Shiite protest camp in the city of Samarra, a police officer said, speaking on condition of anonymity as he was not authorized to release information to the media.
The head of the Salahuddin provincial health directorate, Raed Ibrahim, later confirmed the casualty figures in the attack in Samarra, 95 kilometers (60 miles) north of Baghdad.
Since December, Iraq's Sunni minority has been staging demonstrations over what it calls second-class treatment by the Shiite-led government. In some place clashes have erupted between security forces and protesters.
Violence increased sharply in April and May, with frequent bombings in civilian areas raising concerns that a widespread sectarian conflict could once again break out in Iraq. The bloodshed accelerated after a deadly April 23 crackdown by security forces on a Sunni anti-government protest in the northern town of Hawija in which 23 people were killed.
Hoping to stem the violence with a sign of solidarity, both Sunni and Shiite worshippers gathered Friday at Abdul-Qadir al-Gailani Mosque in downtown Baghdad to kneel