Homelessness jumps 12 percent across Los Angeles County despite $619M in spending
LOS ANGELES – The number of homeless people in Los Angeles County jumped 12 percent over the past year, officials announced Tuesday, despite $619 million in government spending to help alleviate the problem.
The annual point-in-time count recorded nearly 59,000 homeless people countywide, with the largest number -- 36,000 -- coming from the city of Los Angeles. The Los Angeles Homeless Services Authority, a county agency which conducted the count, delivered its report to the Board of Supervisors at its Tuesday meeting.
The 2018 tally found a slight decrease in the homeless population at just over 53,000 people. Supervisor Janice Hahn called the new numbers "disheartening."
JIM BRESLO: CALIFORNIANS NEED TO COME FIRST – WHEN WILL STATE'S LOONY LEFT POLITICIANS GET IT?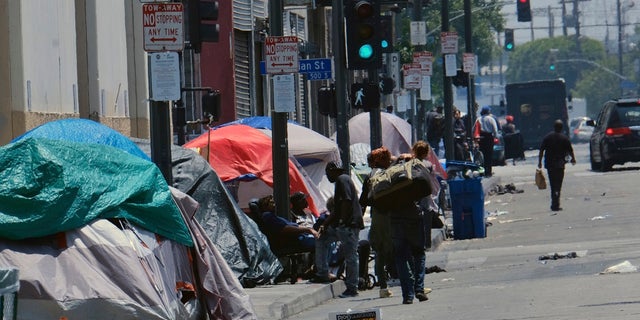 "Even though our data shows we are housing more people than ever, it is hard to be optimistic when that progress is overwhelmed by the number of people falling into homelessness," Hahn said.
Homeless advocates put the blame on elected officials for not doing enough to get people off the street.
"Delay, inaction and spin: this is all [Los Angeles] Mayor [Eric] Garcetti, City Hall and L.A. County officials have to offer on the human catastrophe of homelessness in Los Angeles as they try to spin the expected sharp jump in our homeless count despite over $619 million in spending on the problem in the region over the past year," said Michael Weinstein, president of the AIDS Healthcare Foundation. "Government policies and the official response to the homeless crisis in L.A. are simply not working."
The count found a 24 percent increase in homeless youth, defined as people under 25, and a 7 percent jump in people 62 or older. An estimated 29 percent of people experiencing homelessness are mentally ill or have substance abuse issues, officials said.
HOMELESS ENCAMPMENTS INCREASINGLY AFFECTING CALIFORNIA TRAIN TRAFFIC
In downtown Los Angeles, large homeless encampments have taken over multiple city blocks and have fueled a public health crisis as garbage pileups, rat infestations and outbreaks of disease have become common in recent years.
Similar counts in other parts of the state have shown increases in the homeless population as cities continue to struggle with a lack of affordable housing, soaring rents and cost of living expenses and resistance from residents to homeless shelters.
"If we don't change the fundamentals of housing affordability, this is going to be a very long road," Peter Lynn, executive director of the Los Angeles Homeless Services Authority (LAHSA), told The Los Angeles Times. "If we don't get ahead of affordability, we're going to be very hard pressed to get ahead of homelessness."
In nearby Orange County, supervisors last year overturned a plan to place emergency homeless shelters in three affluent cities after fierce opposition. In San Francisco, residents earlier this year collected over $60,000 after starting an online crowdsourcing campaign to fund a legal challenge against a proposed 200-bed homeless shelter.
Still, voters in Los Angeles County have heeded the call to confront the issue. Two years ago, they passed a tax hike and housing bond to make massive investments to help solve the homeless crisis.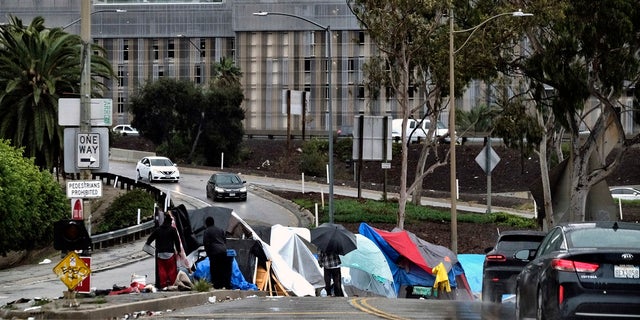 CLICK HERE TO GET THE FOX NEWS APP
The LAHSA said it helped 21,631 people move into permanent housing during 2018 — a pace that could end homelessness rapidly if increasing rents and stagnant wages for low-income earners had not pushed thousands more into the streets.
About a quarter of the people became homeless for the first time in the past year, and about half of those cited economic hardship as the primary cause, the authority said.
The Associated Press contributed to this report.