FOX NEWS FIRST: Trump-backed Balderson claims win in Ohio race too close to call; Jim Brown takes stand for flag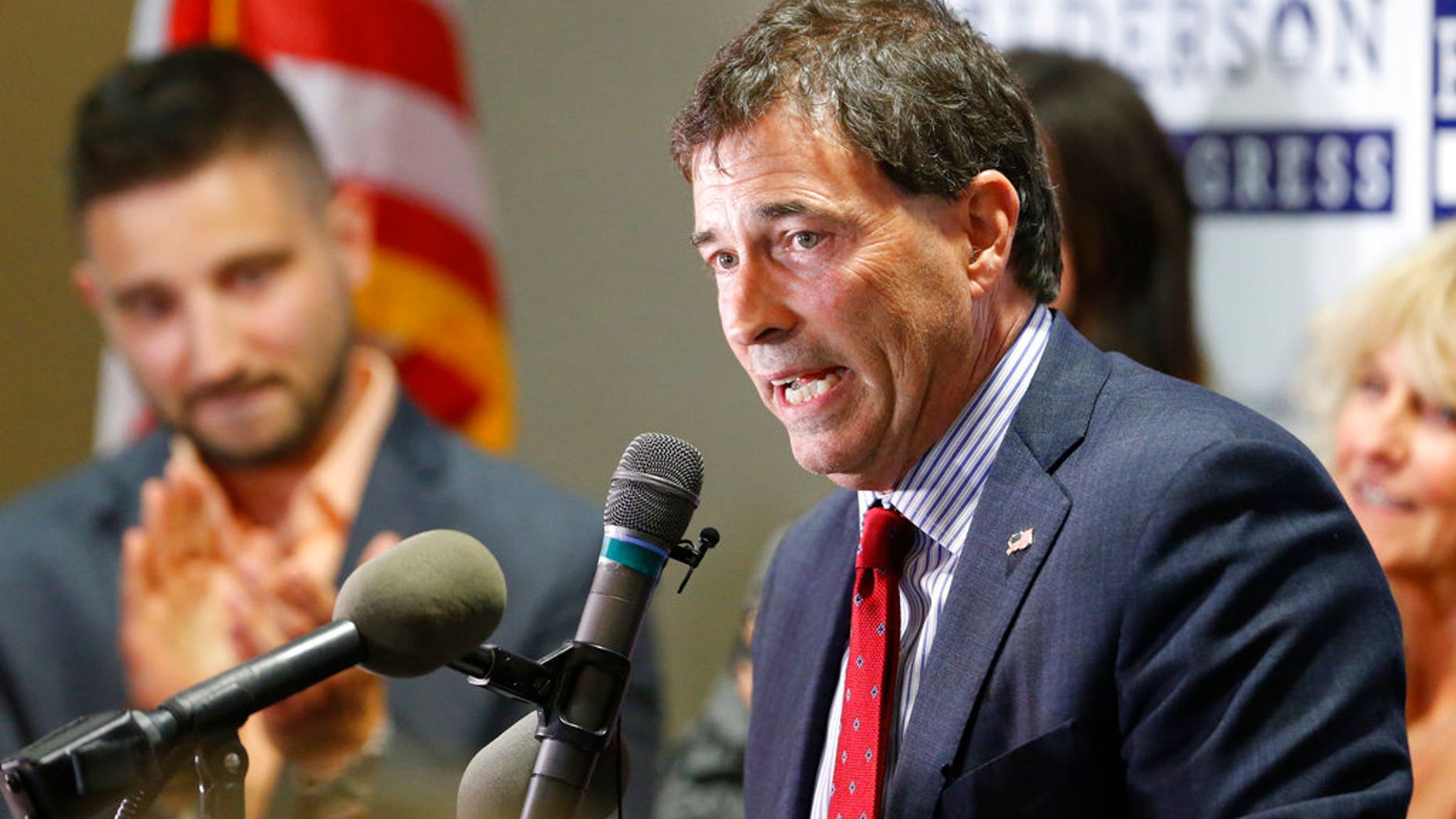 Welcome to FOX News First. Not signed up yet? Click here.
Developing now, Wednesday, August 8, 2018
President Trump and Republican state Sen. Troy Balderson claimed victory in Ohio's special congressional election Tuesday in a race too close to call
Rick Gates, the star witness in the fraud trial of ex-Trump campaign manager Paul Manafort, admitted having an extramarital affair in London as defense attorneys attempted to undermine his credibility
President Trump will make the final decision on whether he will be interviewed by Special Counsel Robert Mueller's team, Trump attorney Jay Sekulow told FOX News' Sean Hannity
More than 700,000 foreign nationals overstayed their visas in 2017, the Department of Homeland Security says in a new report
The Trump administration announced it will impose 25 percent tariffs on an additional $16 billion in Chinese imported products later this month
NFL legend Jim Brown says he would always respect the American flag and prefers that players always stand during the national anthem
THE LEAD STORY - TOO CLOSE TO CALL: Buoyed by a dramatic last-minute rally by President Trump, Republican state Senator Troy Balderson appeared to be inching closer to beating back a challenge by insurgent Democrat Danny O'Connor in Ohio's special election for a vacant House seat Tuesday ... A victory in the race for the Ohio's historically conservative 12th Congressional District would deny Democrats the major upset they had sought ahead of the November midterm elections. The winner takes the seat previously held by Republican Pat Tiberi, who resigned in January to take another job.
Speaking to cheering supporters Tuesday night, Balderson said O'Connor ran a "hard race" and claimed victory. And in a tweet Tuesday night, Trump wrote that Balderson had won a "great victory during a very tough time of the year for voting." But O'Connor has not conceded, and said in a statement released shortly before midnight that "we don't know the results quite yet." The race remained too close to call. Balderson held a slim one-percentage point lead with all precincts reporting, but there were at least 3,435 provisional ballots left to be reviewed and 5,048 outstanding absentee ballots. That's enough for O'Connor to potentially pick up enough votes to force a mandatory recount.
TURNCOAT ADMITS CHEATING: Rick Gates, the star witness testifying against his former boss, ex-Trump campaign adviser Paul Manafort, after taking a plea deal, acknowledged having an extramarital relationship in London while working for Manafort as the defense accused him of leading a "secret" and "second" life ... For the last two days in court, Gates has testified that he and Manafort committed bank and tax fraud together. But during cross-examination on Tuesday, the defense painted Gates as living a "secret life" in London and accused him of embezzling money from Manafort's foreign accounts at center of the trial to indulge in an extramarital affair in Britain. The questioning was part of the Manafort defense strategy of presenting Gates to the jury as someone who lies and cannot be trusted.
TRUMP'S CALL: President Trump will make the final decision on whether he will sit down with Russia Special Counsel Robert Mueller's team of investigators, despite his legal team's reservations against an interview ... Talks between both sides have been ongoing, but Trump attorney Jay Sekulow told FOX News' Sean Hannity Tuesday that he was strongly leaning against granting Mueller access to the president.
"Frankly it is the position of the legal team, and it's been pretty clear on this, is that there's not a constitutional basis to move an interview forward," he said on "Hannity." Sekulow cited several concerns with Mueller's probe, saying it was initiated in part because of the unverified DNC-funded Steele Dossier and what he described as politically motivated leaks by fired FBI Director James Comey.
OVERSTAYING THEIR WELCOME: More than 700,000 foreign nationals who were supposed to leave the U.S. in recent months overstayed their visas, the Department of Homeland Security said in a report released Tuesday ... The DHS determined that 701,900 people who entered the country by air or sea overstayed their visas between October 2016 and September 2017. Overall, an estimated 40 percent of the roughly 11 million people in the country illegally stayed past their visas. The total number of overstays is much larger but has not been quantified because it doesn't include how many people arrive by land.
TARIFF TIT-FOR-TAT: The Trump administration has finalized a set of tariffs against an additional $16 billion in Chinese goods, the U.S. Trade Representative's Office said Tuesday ... The 25 percent import duties will take effect beginning Aug. 23, when customs will begin collecting tariffs on 279 product lines. The U.S. has already slapped China with tariffs on $34 billion worth of goods, and Beijing responded with tariffs of equal value when the levies kicked in last month. China has said it would respond again with its own tariffs in an ongoing tit-for-tat trade dispute between the world's two largest economies.
'I'LL NEVER KNEEL': Jim Brown, Hall of Fame running back and civil rights champion, said Tuesday that he would always stand for "The Star-Spangled Banner" — and would prefer if players would, too ... Brown, 82, who spoke before the HBO premiere of "Hard Knocks," said: "I'll never kneel and I will always respect the flag." "I am not going to denigrate my flag and I'm going to stand for the national anthem," he said. "I'm fighting with all of my strength to make it a better country, but I don't think that's the issue. Because what is the top side? Are you not going to stand up? This is our country, man." While Brown said he preferred if players would stand for the national anthem, he also respected the players' right to do what they want — even if it is to kneel.
AS SEEN ON FOX NEWS
A MAN OF FAITH - "I'm proud of him for standing up for what he believes. I'm proud of him for putting God first." – Retired Florida State Seminoles' football coach Bobby Bowden, on "The Story with Martha MacCallum," praising Joe Kennedy, a Washington State high school coach fired for taking a knee in prayer on the field with his players. WATCH
THE FACE OF FAILURE: "This is what fascism looks like. People like this don't have jobs." – Greg Gutfeld, on "The Five," slamming the growing trend of leftist mobs harassing political foes in public. WATCH
THE SEARCH FOR MOLLIE TIBBETTS
Tibbetts' father pleads with daughter's potential kidnapper: 'Let Mollie go and turn yourself in.'
Tibbetts' dad: I believe she's still alive, and with somebody she knows.
TRENDING
Facebook nixes Farrakhan video opposing interracial marriage after outcry.
Dad attacks man at California Target after he allegedly snaps upskirt photos of his teen daughter.
Massachusetts man captures stunning video of shark leaping from water with jaws open.
THE SWAMP
Republican law limiting labor powers defeated in Missouri.
Senior UN official blasted for floating Israel's suspension from world body.
German central bank blocks $400 million cash delivery to Iran ahead of crippling U.S. sanctions.
ACROSS THE NATION
Two NJ detectives wounded in 'ambush' attack, police say.
Body found on New Mexico property where 11 children were found abused.
Legal pot a cash cow for Western states – but concerns abound.
MINDING YOUR BUSINESS
Elon Musk considers taking Tesla private in $70B deal | Did Musk violate securities regulations with his bombshell tweet?
Saudi Arabia invests $2B in Tesla: report.
Kennedy: How social media outlets suppress free speech.
Papa John's sales, shares plunge amid battle with company founder.
Home prices soar in these cities, states.
Amazon has yet to tackle these two trillion-dollar markets.
Inside monthly spending habits of a millennial.
FOX NEWS OPINION
Marc Thiessen: The Democrats' rhetoric is just as dangerous as Trump's.
John Stossel: Bernie Sanders is all over the internet – Here's what his videos are not telling you.
Newt Gingrich: Why THIS must happen next in Trump's economic revolution.
HOLLYWOOD SQUARED
'The View' wraps Season 21 with its best ratings since the Barbara Walters era -- is it the Trump factor?
Rachael Ray's dog food brand, Nutrish, sued for allegedly containing 'potentially harmful' herbicide: reports.
Ruby Rose set to star as lesbian superhero Batwoman for the CW.
DID YOU HEAR ABOUT THIS?
Plan to clear Great Pacific Garbage Patch, Texas-sized 'island' of trash in ocean, draws concerns.
Toxic algae bloom killing marine life, making people sick along Florida's Gulf Coast.
Bear steals pizza from Tennessee restaurant customers dining on patio.
Dubai tourist racks up $45,000 in speeding tickets in four hours.
STAY TUNED
On Facebook:
Check out 'FOX News Update,' our new Facebook-exclusive news program  hosted by Shepard Smith, Carley Shimkus and Abby Huntsman!
On FOX News: 
FOX & Friends, 6 a.m. ET: A breakdown of Tuesday's primary and special election results. Chicago in chaos: Is the real problem Mayor Rahm Emanuel and liberal policies? Former NFL head coach Tony Dungy weighs in on the NFL anthem controversy. And meet the owners of a Florida restaurant who are not buying the NFL TV package because they say players' protests disrespect our veterans.
FOX News @ Night, 11 p.m. ET: Special guests include: Rep. Andy Biggs.
On FOX Business:
Mornings with Maria, 6 a.m. ET: Special guests include: Health and Human Services Secretary Alex Azar; Porter Bibb, managing partner at Mediatech Capital Partners; Jim Farley, Ford Motor Company executive vice president; country music star Lyle Lovett.
Varney & Co., 9 a.m. ET: Rep. Louie Gohmert; David Avella, GOPAC chairman; Candace Owens, Turning Point USA communications director.
Cavuto: Coast to Coast, Noon ET: Carol Roth, former investment banker; Lee Spieckerman, president of SpieckermanMedia LLC.
The Intelligence Report, 2 p.m. ET: Carl Icahn, chairman of Icahn Enterprises; Ken Langone, co-founder of Home Depot; Lawrence Jones, editor-in-chief of CampusReform.org.
On FOX News Radio:
The FOX News Rundown podcast: The Trump administration has restored sanctions on Iran, ratcheting up pressure to stop their nuclear weapons programs. Rebeccah Heinrichs, senior fellow at the Hudson Institute, sheds insight on the move. The Environmental Protection Agency announced a proposal that will create opportunities for "new uses" of asbestos, sparking health concerns. Melanie Benesh, legislative attorney for Environmental Working Group, discusses the impact the new framework may have and whether health concerns are warranted. Plus, commentary by "MediaBuzz" host Howard Kurtz.
Want the FOX News Rundown sent straight to your mobile device? Subscribe through Apple Podcasts, Google Play, and Stitcher.
The Brian Kilmeade Show, 9 a.m. ET: Special guests include: the Wall Street Journal's James Freeman on his new book, "Borrowed Time: Two Centuries of Booms, Busts, and Bailouts at Citi." American Majority CEO Ned Ryun on the future of health care. Andrew McCarthy on the latest in the Robert Mueller investigation. Amb. Dennis Ross on the latest in U.S. relations with North Korea and Iran. Abby Huntsman on Tuesday's primary election results and their potential impact on the November midterms.
#OnThisDay
1974: President Richard Nixon, facing damaging new revelations in the Watergate scandal, announces his resignation.
2008: Former Democratic presidential candidate and vice-presidential nominee John Edwards admits having an extramarital affair with Rielle Hunter, a filmmaker hired to work for his presidential campaign. Edwards initially denies being the father of Hunter's love-child, but would eventually admit to being the baby-daddy in January 2010.
2009: Sonia Sotomayor is sworn in as the U.S. Supreme Court's first Hispanic and third female justice.
FOX News First is compiled by FOX News' Bryan Robinson. Thank you for joining us! Enjoy your day! We'll see you in your inbox first thing Thursday morning.