Mollie Tibbetts, University of Iowa student, found dead: A timeline of events
The search for missing University of Iowa student Mollie Tibbetts was closing in on its fifth week — with investigators actively continuing to comb through evidence — when the 20-year-old Iowa resident's dad gave a devastating update.
Rob Tibbetts confirmed to Fox News a body found in Iowa was his daughter. Hours later, investigators reported a suspect, identified as Cristhian Rivera, 24, was in custody for Tibbetts' murder and was being held on a federal immigration detainer.

The update came more than a month after Tibbetts was last seen jogging near her hometown of Brooklyn, Iowa, on July 18, about an hour's drive away from Pella. She was staying at her boyfriend's house at the time to watch his dogs while he was out of town.
The next day, when Tibbetts failed to show up for work, her boyfriend, Dalton Jack, and family became concerned and reported her missing.
MOLLIE TIBBETTS' FATHER SAYS HE IS PUTTING HIS FAITH IN THE INVESTIGATORS
Investigators interviewed dozens of people and searched a nearby hog farm, cornfields and other properties for any trace of Tibbetts — but their efforts had all come up short.
Here's what we know about the timeline of events leading up to Tibbetts' disappearance, and the investigation that is ongoing.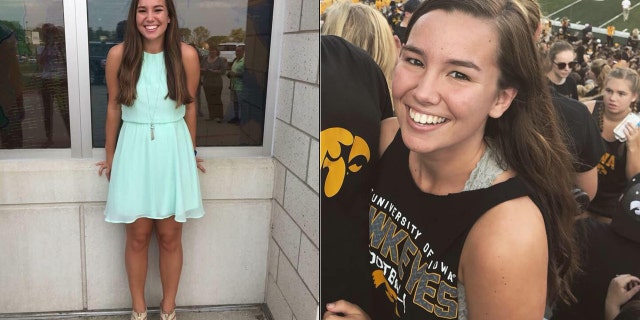 Sept. 19
Rivera pleads not guilty to murder charges at his arraignment. His trial is set to begin April 16, 2019.
Aug. 23
The state medical examiner's office reveals Tibbetts died as a result of "sharp force injuries." The medical examiner's office says further examination of her body "may result in additional findings."
Aug. 22
Rivera makes his first court appearance. He's being held on $5 million cash-only bond. If convicted, Rivera faces life in prison without the possibility of parole.
A preliminary hearing in the case was set for Aug. 31 at 2 p.m.
Minutes before Rivera entered the courtroom, Tibbetts' family issue their first statement since the arrest.
"Our hearts are broken," the statement reads. "On behalf of Mollie's entire family, we thank all of those from around the world who have sent their thoughts and prayers for our girl."
The statement continues: "We know that many of you will join us as we continue to carry Mollie in our hearts forever. At this time, our family asks that we be allowed the time to process our devastating loss and share our grief in private. Again, thank you for the outpouring of love and support that has been shared in Mollie's name. We remain forever grateful."
Aug. 21
The body of Tibbetts was found in a field covered with corn stalks Tuesday, her father and two sources tell Fox News.
A suspect in connection with Tibbetts' murder is in custody and is being held on a federal immigration detainer, officials report.
Rivera is charged with first-degree murder in Tibbetts' death, officials confirm. Investigators say they used surveillance footage to track down the suspect.
Aug. 14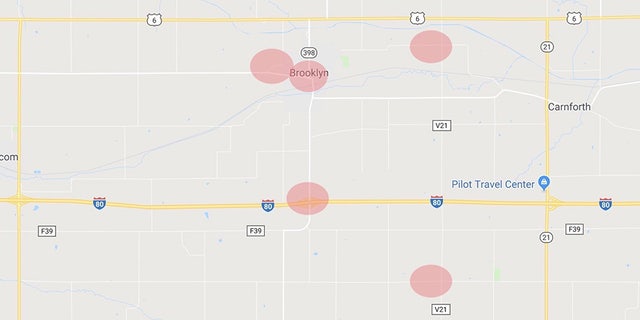 Investigators highlight five locations in and around the Brooklyn area on a map featured on Tibbetts' missing person website.
A car wash and a TA truck stop next to Interstate-80, along with various tracts of land, are included on the map.
"Law enforcement is currently seeking additional witnesses and wants to speak to anyone who was in the areas indicated below on July 18, 2018 between the hours of 5PM and 10PM," a notice on the website, findingmollie.iowa.gov, reads.
A reward for information that could lead to Tibbetts' discovery rises to nearly $400,000.
Aug. 13
Authorities launch a website dedicated to sourcing information regarding Tibbetts' whereabouts. The site, findingmollie.iowa.gov, sums up Tibbetts' case and encourages people to submit tips.
Aug. 12
Tibbetts' dad says his daughter is very spiritual and she often turns to prayer when she needed to be uplifted.
"Mollie's very spiritual, and so is her brother Scott and so we talked about that quite a bit," Tibbetts' dad, Rob, tells Fox News.
Rob asks everyone to pray and think positive thoughts as the search continues for his daughter.
The reward for Tibbetts grows to $331,000. Crime Stoppers tells Fox News it's the largest reward for its organization in Iowa state history.
Aug. 10
Tibbetts' dad, boyfriend and aunt travel to the Iowa State Fair to pass out buttons, T-shirts and missing person flyers to spread awareness about the 20-year-old's disappearance.
"Nothing is too big or too small," Tibbetts boyfriend comments. "Just let the authorities decide what's worth investigating."
Aug. 9
Iowa resident Devin Riley tells ABC News he may have been the last person to see Tibbetts — as she ran by his home on the evening of July 18.
"I've seen her probably three to four times per week," he explains. "She'd kind of jog down the street and towards the hill. I thought nothing of it until I heard somebody was missing, and it really hit me that I hadn't seen that runner since then."
Riley tells ABC News authorities took about 15 minutes to walk through his home, and they were "really polite."
A spokesman for Crime Stoppers of Central Iowa says the organization has passed on more than 830 tips to authorities investigating the disappearance of Tibbetts.
Aug. 8
Blake Jack, the brother of Tibbetts' boyfriend, tells Fox News exclusively on Aug. 8 there was no sign of a struggle at the Brooklyn home she was staying in at the time.
"She's small, but she would have done something," he adds.
The 23-year-old says both Tibbetts' Fitbit and phone are missing
Aug. 6
Tibbetts' father, Rob, reveals to Fox News he believes his daughter is alive, and with somebody she knows.
"It's totally speculation on my part, but I think Mollie is with someone that she knows, that is in over their head," Rob says. "That there was some kind of misunderstanding about the nature of their relationship and at this point they don't know how to get out from under this."
Aug. 5
Authorities say they are following "hundreds" of leads.
Police say the body of a woman in her early-to-mid-20s turned up in Lee County, more than an hour's drive southeast of Brooklyn.
However, state police tell Fox News the body was not Tibbetts; investigators plan to release the woman's identity after notifying her family.
Aug. 4
Farmer Wayne Cheney speaks to Fox News — one day after the FBI went back to his farm to question him in connection with Tibbetts' disappearance.
During the interview, Cheney says he would let the FBI search his entire property; he expressed confidence the bureau wouldn't find anything. So far, the FBI has searched his home and parts of his property, and looked through his cellphone.
He also claims he's never seen Tibbetts before, because he doesn't venture into Brooklyn, where she lives.
As for what the FBI has asked him about, his response was "I don't know."
Cheney says law enforcement asked him to take a polygraph test and he refused. He has not been charged with a crime and says he "has nothing to hide."
Aug. 3 
Kevin Winker, director of investigative operations with the Iowa Division of Criminal Investigation, speaks about the case at a news conference.
"Although we appreciated everyone that showed up today to this press conference, our position has not changed on the release of case facts, results and conclusions," Winker says. "I understand this is frustrating for many in the public and the media, but feel this is necessary for our investigation."
Winker is also asked about suspects while at the briefing.
"As far as suspects go, we continue to look at all possibilities," he says. "I'm not in a position right now to say, we have suspects, we don't have suspects, persons of interest or anything else."
Later, Winker says authorities are handling the case as "a missing persons investigation."
That same day, the FBI returned to a farm to again question Wayne Cheney in connection with Tibbetts' disappearance.
An FBI agent was seen by Fox News arriving and speaking to Cheney for about five to 10 minutes Friday afternoon.
Aug. 2
Search teams scan ditches for traces of Tibbetts near a farm investigators searched a week prior after a possible new clue to her disappearance — a red shirt spotted by a person mowing the lawn — was apparently found.
Aug. 1
Tibbetts' father, Rob, urges the public to come forward with any information regarding his missing daughter in an interview with Fox News Channel.
"The bottom line is somebody knows something," Rob says, adding Brooklyn is a small city and "you can't do anything there without someone seeing it."
Rob also reveals Tibbetts' phone has not yet been located, and she has not been responsive to messages.
Local farmer Wayne Cheney confirms to Fox News FBI investigators searched his property and home a week prior. Authorities held his cell phone overnight, checking it for any clues or communications regarding Tibbetts.
"I don't know who those two [officials] were but they took me down to the fire station Tuesday and questioned me for two hours," the farmer told WHO-DT. "I don't remember what they asked me."
WHO-DT, citing Iowa court documents, reports the farmer previously entered guilty pleas for two instances of stalking – one in Poweshiek County in 2009 and another in Marion County in 2014.
July 31
Police in Pella say a man being sought for taking pictures of female joggers on July 27 has turned himself in.
Investigator Kevin Winker says during an afternoon news conference that officials are continuing to follow every tip that comes in about Tibbetts.
Investigators are still unsure about what exactly happened to Tibbetts, Winker says, though they can confirm her disappearing on her own is "not consistent with her past."
July 28
Family members tell KCCI new evidence reveals Tibbetts' was doing homework on her computer late into the evening on July 18, suggesting she returned to the home where her boyfriend, his brother and the brother's fiancee live.
July 27
Pella Police receive a call about a suspicious man taking photos of female joggers from a parked car.
"As covertly as he possibly could, took photos of them unbeknownst to them, it seemed to be very creepy," Pella Police Chief Robert Bokinsky tells WHOTV.
However, authorities didn't say whether there was a link between the suspicious man and Tibbetts' disappearance.
"[There's] nothing illegal about taking a picture of somebody, if that's what he did," Pella, Lt. Shane Cox explains to Fox News.
July 26
Mitch Mortvedt, a spokesman for the Iowa Division of Criminal Investigation (DCI) tells Local 5 more than a dozen agents from his group and the FBI have been conducting searches of several properties in Iowa, including a hog farm, but nothing has been found. He added the searches have not expanded outside the state and there are currently no suspects in the case.
MISSING UNIVERSITY OF IOWA STUDENT MAY HAVE RETURNED TO HOME AFTER JOG: REPORT
July 25
Poweshiek County Sheriff Thomas Kriegel confirms to ABC News that Jack and his brothers have been cleared in the case.
July 24
FBI and state investigators take over the investigation, calling off various volunteer search efforts in the area.
July 20
The University of Iowa puts out a statement, saying it is "monitoring" the situation regarding Tibbetts' disappearance.
"Our thoughts are with Mollie Tibbetts' family and friends. The University of Iowa ... will offer support as needed," the school tweets.
July 19
Jack texts Tibbetts "good morning," but doesn't receive any response, according to The Washington Post. Tibbetts' coworkers attempt to call her when she doesn't show up at work the next day — eventually reaching out to Jack to inquire about her whereabouts, the Des Moine Register reports.
Afterward Jack calls Tibbetts' family members, who eventually call the police to report her missing.
July 18
Tibbetts was staying at her boyfriend's home, watching his dogs while he worked at a construction site in Dubuque — about 100 miles away.
7:30 p.m.
Tibbetts was last seen jogging around Brooklyn at 7:30 p.m., The Waterloo-Cedar Falls Courier reports. Police hope to find more concrete information from Tibetts' Fitbit, which family members say she wore frequently on her runs.
COPS SEARCH HOG FARM FOR MISSING IOWA STUDENT MOLLIE TIBBETTS AS OFFICIALS RULE OUT POTENTIAL SUSPECTS
"Her last known article of clothing is believed to be dark colored running shorts, a pink sports top and running shoes (color unknown)," the Iowa Department of Public Safety said in a news release.
10 p.m.
Tibbetts' boyfriend claims he received a Snapchat message from her after she would have returned from her run.
July 16
Jack tells ABC News he last saw Tibbetts, his girlfriend of two years, on July 16.
Fox News' Nicole Darrah, Matt Finn, Christina Corbin, Andrew Keiper, Matt Finn, Madeline Rivera, Greg Norman and The Associated Press contributed to this report.