Florida restaurant cancels NFL package over national anthem protests
A Florida restaurant decided to cancel its DirecTV NFL package over the controversy about players kneeling during the national anthem to protest social injustices.
Curtis West, who co-owns Beef O'Brady's in Brooksville with his wife Janet, told FOX13 Tampa Bay on Monday there will be no NFL games shown because of the "disrespect" the players have shown.
WATCH: VIDEO OF VIOLENT MCDONALD'S BRAWL MAY LEAD TO ARRESTS, POLICE SAY
"Last year, with the kneeling and the disrespect to our veterans and our flag and our country, I was very upset," West told the station.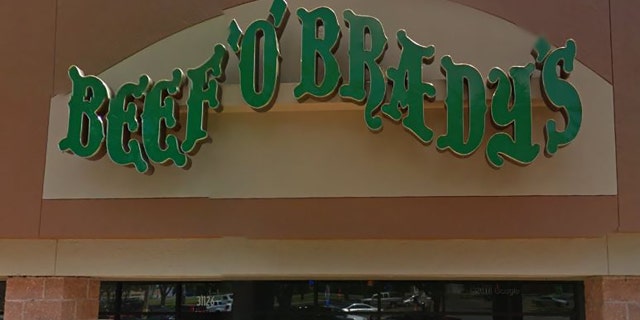 The restaurant will save more than $5,000 by canceling its package and instead will offer veterans 40 percent off on food Sundays during game days, the station reported.
SUSHI RESTAURANT MANAGER RESIGNS OVER VIDEO OF MAGGOT IN LEMON WEDGE
West hung up posters alerting his customers of the change.
"Beef O'Brady's will not be financially supporting the NFL this year due to their lack of compassion and gratitude for our American service members," the poster read. "Our National Anthem is one of the methods we as American citizens have always used to show our appreciation to all military service members, past or present, alive or dead. This tradition deserves respect and unfortunately, the NFL does not feel that same way. So, for this season, we will not be purchasing the NFL ticket. Perhaps, it will make a difference if it hits their wallets."
West said he didn't believe the players intended to disrespect veterans with their protest.
"Last year, with the kneeling and the disrespect to our veterans and our flag and our country, I was very upset."
"This is what we are doing, this is the stance we take, and the money we would've spent, we are going to spend on our vets," he said.
Beef O'Brady's will not be totally football-free. West said he will show NFL games on the local stations because he's not specifically paying for them.
FOLLOW US ON FACEBOOK FOR MORE FOX LIFESTYLE NEWS
West concedes Sundays probably will be much slower, but believes the risk is worth it.
"We are proud to support our troops, we don't kneel, and thank you for your service," West said as he read one of his posters. "It's a big deal to us."
The NFL's kneeling controversies began after former San Francisco 49ers quarterback Colin Kaepernick took a knee during the national anthem in 2016 in protest of social injustices in the U.S. Since then, protests against social injustices during the national anthem have been a hotly contested issue, even prompting responses from the White House.