FOX NEWS FIRST: Strzok escorted from FBI building, but still on payroll; Unruly Dems heckle Trump over immigration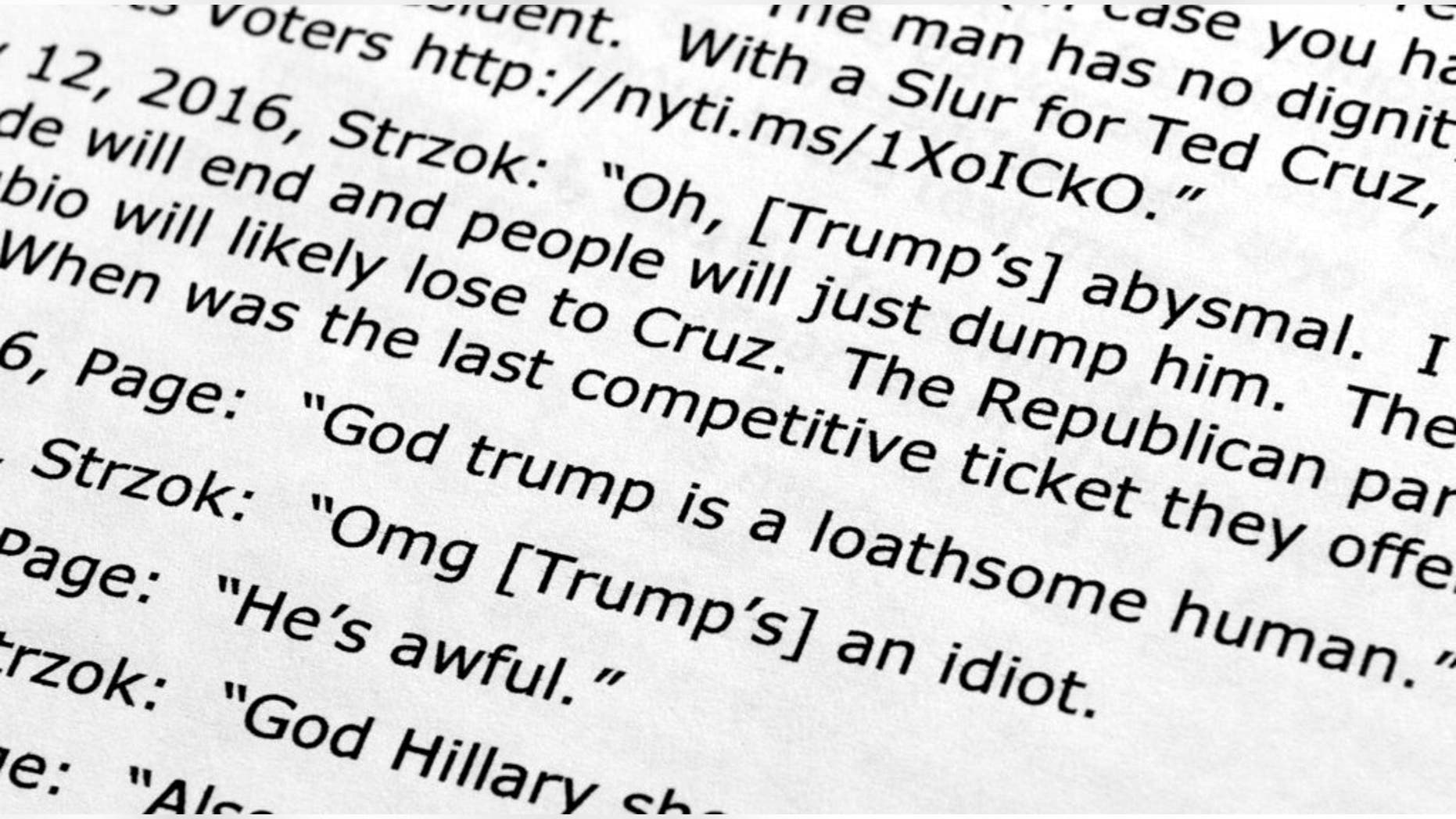 Welcome to FOX News First. Not signed up yet? Click here.
Developing now, Wednesday, June 20, 2018
Anti-Trump agent Peter Strzok was escorted from the FBI building, his attorney told FOX News, as some critics wonder why he has not been fired over politically biased texts
Democrats heckle President Trump on Capitol Hill as the debate over Trump's immigration policies reaches a boiling point
Several governors pull their state's National Guard troops from the U.S.-Mexico border in protest of Trump's 'zero tolerance' immigration policy
The U.S. plans to withdraw from the U.N.'s Human Rights Council, which U.N. Ambassador Nikki Haley calls 'a protector of human rights abusers'
After more than a century, General Electric will leave the Dow Jones Industrial Average, the result of a long stock decline for the one-time industry giant
Elvis Presley's $100 million fortune is gone due to poor investments, his daughter Lisa Marie claims in a lawsuit
THE LEAD STORY – STRZOK 'ESCORTED,' BUT STILL ON PAYROLL: Peter Strzok, the FBI agent under fire over a series of anti-Trump text messages, was "escorted" from the FBI building, his lawyer confirmed to Fox News ... Strzok's lawyer, Aitan Goelman, argued that even though his client has "played by the rules," he has been targeted by "unfounded personal attacks, political games and inappropriate information leaks." "All of this seriously calls into question the impartiality of the disciplinary process, which now appears tainted by political influence," a statement from Goelman said. Strzok is still employed by the FBI. News of his removal came after Justice Department Inspector General Michael Horowitz confirmed during a Congressional hearing earlier Tuesday that his office was looking into whether Strzok's anti-Trump bias played a role in the launch of the bureau's Russia probe.
FIGHT OVER IMMIGRATION GETS HEATED CAPITOL HILL: Tension over illegal immigration and family separations at the border boiled over on Capitol Hill Tuesday night, as President Trump was met with profanity and heckling, blue-faced Democrats on his way to a meeting with House Republicans ... First, as President Trump's entourage made its way to House Speaker Paul Ryan's office, a congressional intern yelled, "Mr. President, F--k you!" across the Capitol Rotunda. Then, several members of the Congressional Hispanic Caucus (CHC) gathered outside Trump's meeting with senior Republican officials. When Trump emerged, the representatives heckled him until some were blue in the face, holding signs and screaming.
It was unclear whether Trump had made progress with GOP lawmakers in the trying to find ways to handle the separation of illegal immigrant families at the border. After his meeting with House Republicans ended, the White House announced that Trump had endorsed legislation negotiated between GOP leaders and moderate Republicans that promises to "solve the border crisis and family separation issue by allowing for family detention and removal." A person in the room told Fox News that Trump also endorsed an immigration bill authored by conservative Rep. Bob Goodlatte, R-Va., but that measure was not expected to pass the House.
ZERO TOLERANCE FROM GOVERNORS: A group of governors banded together to protest President Trump's "zero tolerance" immigration policy as the uproar over the separation of migrant children from their parents at the border continues. Some are withdrawing National Guard troops from the U.S.-Mexico border, while others are pledging to withhold resources ... In April, Trump requested National Guard troops — around 2,000 to 4,000 — be deployed to the southern border. Arizona, California, New Mexico, Texas and Missouri were among the first states to agree to the president's request. At the time, governors from those surrounding states praised Trump for his commitment toward protecting the border. But some governors, both Republican and Democrat, have since changed their positions after Attorney General Jeff Sessions ordered a "zero-tolerance" policy in April, which has resulted in the separation of nearly 2,000 children from their families within a 6-week period.
U.N. 'CESSPOOL': The Trump administration announced Tuesday it was withdrawing the U.S. from the United Nations Human Rights Council, with U.N. Ambassador Nikki Haley calling the 47-member council "a protector of human rights abusers, and a cesspool of political bias" ... Haley noted the move came after a year where "we did not see any progress." Haley threatened the pullout last year, citing longstanding U.S. complaints that the council showed a "chronic bias" against Israel. Calling it "an organization that is not worthy of its name," Haley decried the membership of countries like China, Cuba and Venezuela — which also have been slammed for human-rights violations. The announcement, though, also came just a day after the U.N. human rights chief denounced the Trump administration for separating migrant children from their parents.
THE FALL OF GE: General Electric, one of the 30 original members of the Dow Jones Industrial Average, will be removed from the leading index amid a prolonged stock slide and financial difficulties that have forced the one-time giant to cut costs ... Walgreens Boots Alliance will replace GE on the index as of the start of trading on Tuesday, June 26. General Electric was the only remaining original stock on the Dow. However, with shares trading below $13 as of Tuesday, the company's stock "has a weight in the index of less than one-half of one percentage point," according to a Standard & Poor's/Dow Jones news release. General Electric had been the Dow's lowest-performing stock over the last 12 months, with shares plunging more than 50 percent. Shares fell 2 percent in after-hours trading, while Walgreens shares rose more than 2 percent.
'THE KING'S' FORTUNE HAS LEFT THE BUILDING: Elvis Presley's daughter can proceed with a lawsuit against her former business manager, whom she claims lost her father's $100 million fortune through poor investment decisions, a California Superior Court judge ruled this week ... During the hearing, the judge denied the motion of manager Barry Siegel to stop Lisa Marie Presley's lawsuit from moving forward, but gave Presley's ex-manager the opportunity raise the issue again in the future if deemed appropriate, City News Service reported. Lisa Marie Presley is the sole heir to the estate of her father, who died at age 42 in 1977. She alleges that Siegel and his company, Provident Financial Management, "enriched himself with exorbitant fees" while dwindling down the fortune to less than $15,000 via 'reckless and negligent' business decisions, the Daily Mail reported.
AS SEEN ON FOX NEWS
MAINSTREAM MEDIA AIDING TRAFFICKERS, TRUMP SAYS: "They're fake. They are helping these smugglers and these traffickers like nobody would believe."  – President Trump, speaking at the National Federation of Independent Business' 75th Anniversary celebration, accusing the "fake news media" of not reporting the truth when it comes to illegal immigration and migrant families becoming separated at the border. WATCH
THE DEFINITION OF BIAS: "These exact same FBI agents and attorney prejudged the outcome of the Russia investigation before it even began. If prejudging the outcome of an investigation before it ends and prejudging the outcome of an investigation before it begins is not evidence of outcome determinative bias, for the life of me I don't know what would be. That is textbook bias." – House Oversight Committee Chairman Trey Gowdy, in his opening statement in Tuesday's congressional hearing, challenging Justice Department Inspector General Michael Horowitz's determination that the FBI's handling of the Hillary Clinton email and Russia investigations was not motivated by political bias. WATCH
TRENDING
Video of cat being kicked like football prompts search for kicker, camera operator.
PHOTO: Texas billboard tells liberals to keep driving until they leave the state.
Police officers help out 9-year-old's lemonade stand after he was robbed.
LeBron James trolled by brewery with 'LeBron Tears' IPA.
THE SWAMP
Washington DC Mayor Muriel Bowser wins Democratic primary, near-certain second term.
Trump's Mark Sanford diss draws boos at closed-door GOP meeting.
Rep. Sheila Jackson Lee alleges GOP plot to oust Deputy AG Rod Rosenstein 'on Friday.'
Dem candidate in Kansas slammed for poster of Wonder Woman lassoing cop.
ACROSS THE NATION
California rethinking standard on police use of deadly force.
Charleston city council adopts resolution apologizing for slavery.
'Hurricane-proof' home selling for $4.9 million in South Carolina.
MINDING YOUR BUSINESS
FOX board to meet on Comcast's $65B bid | Disney's Bob Iger won't walk away from FOX bidding war: Porter Bibb
2018 Top CEOs hand-picked by employees.
Netflix hits all-time high as analysts tout subscriber growth.
Starbucks provides weak sales outlook, will close 150 stores.
SEC busts $102M Ponzi scheme that defrauded 600 investors.
FOX NEWS OPINION
John Stossel: Forget Facebook, Google. Here's what I worry about much, much more...
Jim Hanson: 'Commie cadet' deserves his discharge – Our military is no place for anti-American extremists.
Reps. McCaul, Ruppersberger and Sens. Rubio, Coons: Dems and GOP must work together on foreign policy.
HOLLYWOOD SQUARED
Sandra Bullock says she was 'afraid' of Harvey Weinstein.
Michael Jackson Broadway musical set for 2020.
James Van Der Beek shares photo of wife's placenta: 'Word of caution, if you're squeamish.'
DID YOU HEAR ABOUT THIS?
A guide to summer solstice, from Stonehenge to the earth's tilt.
Dogs versus cats: Scientists reveal which one is smarter.
McDonald's offering free 'Frylus' for National Selfie Day.
STAY TUNED
On FOX News: 
FOX & Friends, 6 a.m. ET: Guests include: Acting ICE Director Thomas Homan; Rep. Ron DeSantis; actor Dean Cain; an eagle for National American Eagle Day.
President Trump's Rally in Minnesota, 7:30 p.m. ET: Tune in for FOX News' live coverage and analysis.
FOX News @ Night, 11 p.m. ET: Guests include: Nigel Farage, former UK Independence Party leader.
On FOX Business:
Mornings with Maria, 6 a.m. ET: Guests include: Peter Navarro, director of the National Trade Council; Sen. Rand Paul; Rep. Roger Williams.
Varney & Co., 9 a.m. ET: Jim DeMint, former senator and chairman of Conservative Partnership Institute; Rep. Thomas Emmer; Stratton Sclavos, partner at Vision Venture Partners; Nick Johnston, editor-in-chief of Axios; Jason Whitlock, FOX Sports 1 host; Nigel Farage, former UK Independence Party leader; Kayleigh McEnany, RNC spokesperson.
Cavuto: Coast to Coast, Noon ET: Guests include: Karl Rove, Sen, Chuck Grassley.
The Intelligence Report, 2 pm ET: Austan Goolsbee, former Obama economic adviser; Art Laffer, former economic policy adviser under President Reagan; Rep. Mike Rogers; Rep. Ted Poe.
On FOX News Radio:
The FOX News Rundown podcast: How much of an impact will the policies of the Trump administration have on the 2018 midterms? Kyle Kondik, managing editor of Sabato's Crystal Ball, and Josh Kraushaar, politics editor at the National Journal, discuss the upcoming elections. The World Health Organization released a report on Monday that claims compulsive playing of video games is now classified as a mental health condition. FOX News Radio gaming reporter Eammonn Dignam and John Dyben, chief clinical officer of Origins Behavioral Health Care, weigh in. Plus, commentary by Brian Kilmeade.
Want the FOX News Rundown sent straight to your mobile device? Subscribe through Apple Podcasts, Google Play, and Stitcher.
The Brian Kilmeade Show, 9 a.m. ET: Daily Caller editor Derek Hunter on his new book, "Outrage, Inc." the battle over immigration and Tuesday's IG report hearing. Jason Chaffetz on the fallout from this week's hearings on the IG report. John Harkes, head coach of FC Cincinnati in the United Soccer League, on the latest from the World Cup and David Sanger on the United States withdrawing from the United Nations Human Rights Council.
#OnThisDay
2008: Model Naomi Campbell is sentenced in London to 200 hours of community service and fined 2,300 pounds ($4,600 U.S.) after she pleads guilty to kicking, spitting and swearing at two police officers during an argument over lost luggage while aboard a plane at Heathrow Airport.
1967: Muhammad Ali is convicted in Houston of violating Selective Service laws by refusing to be drafted and is sentenced to five years in prison. (Ali's conviction would be ultimately overturned by the U.S. Supreme Court).
1782: Congress approves the Great Seal of the United States, featuring the emblem of the bald eagle.
Fox News First is compiled by Fox News' Bryan Robinson. Thank you for joining us! Enjoy your day! We'll see you in your inbox first thing Thursday morning.