FOX NEWS FIRST: How the Russia probe has boomeranged on Mueller; Melania defends son, Barron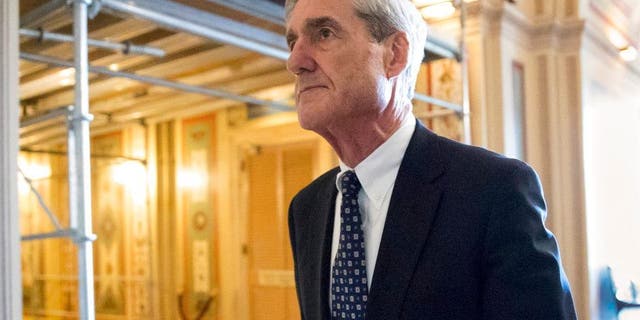 Welcome to FOX News First. Not signed up yet? Click here.

Developing now, Friday, Dec. 14, 2018
THE LEAD STORY – RUSSIA PROBE BACKFIRING ON MUELLER? - Alleged wrongdoing by investigators in the special counsel's Russia probe may have been exposed when attorneys for former Trump adviser Michael Flynn claimed in a sentencing memo Wednesday that he was pressured into talking to FBI officials without a lawyer being present.
U.S. District Judge Emmet G. Sullivan ordered Mueller to turn over all of the government's documents and "memoranda" related to Flynn's questioning by 3 p.m. ET Friday. The Wall Street Journal's Kimberley Strassel writes, "Robert Mueller has operated for 19 months as a law unto himself, reminding us of the awesome and destructive powers of special counsels. About the only possible check on Mr. Mueller is a judge who is wise to the tricks of prosecutors and investigators. Good news: That's what we got this week."
SEEKING ANSWERS ON A MYSTEROUS RAID: The Justice Department and FBI have missed a deadline this week to provide information about the government's mysterious raid on a former FBI contractor-turned-whistleblower's home last month ... Sixteen FBI agents on Nov. 19 raided the home of Dennis Nathan Cain, who reportedly gave the Justice Department's inspector general (IG) documents related to the Uranium One controversy and potential wrongdoing by former Secretary of State Hillary Clinton.
Senate Judiciary Committee Chairman Chuck Grassley, R-Iowa, whose panel has oversight of the Justice Department, penned a letter to FBI Director Christopher Wray and Justice Department IG General Michael Horowitz, requesting information on the justification for the raid. Grassley gave Wray and Horowitz until Dec. 12 to respond to his request. That deadline has come and gone, and neither the FBI nor DOJ has produced any documents or response. - Reported by Gregg Re (@gregg_re on Twitter)
NEW TRUMP PROBE INSPIRED BY MICHAEL COHEN: The Trump administration and the president's inaugural committee said Thursday they had no knowledge of a reported investigation by federal prosecutors into whether the committee misspent some of the money it raised to stage Trump's swearing-in last year ... The Wall Street Journal reported that the U.S. attorney's office in Manhattan was in the early stages of the probe exploring whether big-money donors gave cash to the committee in the hope of access to -- or influence within -- the administration or policy concessions.
According to the Journal, the investigation arose in part out of materials seized as part of the federal investigation into Michael Cohen. - Reported by Samuel Chamberlain (@SChamberlainFOX on Twitter)
SENATE TAKES STAND ON KHASHOGGI KILLING: The Senate on Thursday passed a resolution calling on the U.S. to end military assistance for the Saudi-led coalition's war in Yemen against Iran-backed Houthis, in a bipartisan vote that saw Republicans break with President Trump ... The Senate voted 56-41 for the measure, which came as U.N. negotiators hashed out a ceasefire between the two sides in talks in Sweden and amid continued controversy over the killing of activist Jamal Khashoggi.
All Democrats voted aye, and were joined by seven Republicans -- including Sens. Susan Collins, R-Maine, Jeff Flake, R-Ariz., and Rand Paul, R-Ky. Three senators, all Republicans, did not vote. In a second Saudi rebuke, a joint resolution saying Saudi Crown Prince Mohammad bin Salman was responsible for the killing of Khashoggi passed by a voice vote. - Reported by Adam Shaw
MISSING ANTI-TRUMP LOVEBIRD TEXTS: MYSTERY SOLVED? - In a comprehensive report issued Thursday, the Department of Justice's internal watchdog blamed a technical glitch for a swath of missing text messages between anti-Trump ex-FBI officials (and former lovers) Peter Strzok and Lisa Page -- and revealed that government phones issued by Special Counsel Robert Mueller's office to Strzok and Page had been wiped completely clean after Strzok was fired from the Russia probe … The DOJ's inspector general (IG) said that, with help from the Department of Defense, it was able to uncover thousands of missing text messages written by Strzok and Page and sent using their FBI-issued Samsung phones from Dec. 15, 2016, through May 17, 2017, "as well as hundreds of other text messages outside the gap time period that had not been produced by the FBI due to technical problems with its text message collection tool."
But when the IG went looking for the iPhones separately issued to Strzok and Page by the Mueller team, investigators were told that "[Strzok's] iPhone had been reset to factory settings and was reconfigured for the new user to whom the device was issued." - Reported by Gregg Re
MELANIA: BARRON SHOULD BE 'OFF LIMITS' - In an exclusive interview with FOX News' Sean Hannity, first lady Melania Trump blasted the press and other critics who have used her son Barron to attack his father, President Trump ... Hannity asked Mrs. Trump if Barron should be immune from criticism. "Children should be off limits," she said. "I protect him and I want to give him as normal a life as possible [and] give him the childhood he deserves." - The FOX News Insider
THE SOUNDBITE
BUILD THAT WALL - "We certainly do need a wall. Talk to any border agent and they will tell you that." - Carla Provost, chief of the U.S. Border Patrol, on "Your World with Neil Cavuto," arguing that Democrats are wrong when they say a border wall is not useful in stooping illegal immigration. WATCH
.
THE WEEKEND'S MUST-READS
Dr. Marc Siegel: Screen time is doing serious harm to our teens.
ICYMI: FOX News Special Report - Confronting the U.S. Opioid Crisis:
Part 1: As doctors taper or end opioid prescriptions, many patients driven to despair, suicide.
Part 2: Doctors caught between struggling opioid patients and crackdown on prescriptions.
Part 3: Health experts offer solutions for unintended consequences of opioid crackdown.
MINDING YOUR BUSINESS
Bloomberg's former campaign manager gives his picks for 2020.
Apple vs. Amazon: A tale of new headquarters.
Alan Greenspan: U.S. economy not accelerating by any means.
The U.S.-China 'trade war' is really a conflict over technology. Huawei proves it.
Report: Workers are 'ghosting' employers in booming US labor market.
China, Russia ties with Africa may pose a new trade war threat for the U.S.
STAY TUNED
On FOX News:

FOX & Friends, 6 a.m. ET: Homeland Security Secretary Kirstjen Nielsen discusses the fight for the border wall. U.S. Sen. Cory Gardner, R-Colo., weighs in on the border wall funding battle. Tom Shillue tests viewers' knowledge about Christmas decorations. And meet one of the winners of the "Dining with Doocy" contest.
Hannity, 9 p.m. ET: An interview with outgoing U.S. ambassador to the UN Nikki Haley. (Had been previously scheduled Thursday, but was pre-empted.)
On FOX Business:
Mornings with Maria, 6 a.m. ET: Special guests: Rick Rieder, managing director and global chief investment officer of fixed income at BlackRock Institutions; Alex Sanchez, Florida Bankers Association president and CEO; U.S. Rep. Chuck Fleischmann, R-Tenn.; Bruce Van Saun, Citizens Financial Group CEO.
Varney & Co., 9 a.m. ET: Special guests include: Michael Pillsbury, senior fellow and director of the Center for Chinese Strategy at the Hudson Institute; Brandon Judd, National Border Patrol Council president; Nelson Balido, chairman and CEO of the Border and Commerce Security Council; Dan Clifton, partner and head of policy research at Strategas.
Cavuto: Coast to Coast, Noon ET: Allen Questrom, former chairman and CEO of JCPenney.
Countdown to the Closing Bell with Liz Claman, 3 p.m. ET: Scott Fischer, CEO of Dippin' Dots; David O'Sullivan, European Union ambassador to the U.S.
Lou Dobbs Tonight, 7 p.m. ET: Special guests: Diamond & Silk.
On FOX News Radio:
The FOX News Rundown podcast: Brand-new network capabilities that will transform business are on the way in 2019 with the arrival of 5G technology. FOX News' Brett Larson and former FCC Commissioner Jonathan Adelstein explain what the fifth-generation network is and why American executives have urged the government to keep Chinese companies out of America's newest telecoms market. Six years after the tragic shooting at Newtown, Conn., more than 1000 newly released documents shed more insight into the mind of the shooter. Former FBI profiler Mary Ellen O'Toole discusses the revelations. Plus, commentary by "FOX News Sunday" host Chris Wallace.
Want the FOX News Rundown sent straight to your mobile device? Subscribe through Apple Podcasts, Google Play, and Stitcher.
On FOX News Weekend:
Cavuto Live, Saturday, 10 a.m. ET: House Ways and Means Committee chairman Kevin Brady on the showdown over a possible government shutdown. And former Whitewater special prosecutor Robert Ray on allegations of the FBI pressuring former National Security Adviser Michael Flynn to answer questions without having a lawyer present.
FOX News Sunday, Sunday, 2 p.m. and 7 p.m.ET: An exclusive interview with Bill Gates, co-chair of Bill & Melinda Gates Foundation and co-founder of Microsoft Corp.
#TheFlashback

2012: A gunman with a semi-automatic rifle kills 20 first-graders and six educators at Sandy Hook Elementary School in Newtown, Conn., then commits suicide as police arrive; the 20-year-old had also fatally shot his mother at their home before carrying out the attack on the school.
2008: An Iraqi journalist hurls his shoes at President George W. Bush during a news conference in Baghdad; Bush ducks the flying footwear as they whiz past his head and land against the wall behind him.
1964: The U.S. Supreme Court, in Heart of Atlanta Motel v. United States, rules that Congress was within its authority to enforce the Civil Rights Act of 1964 against racial discrimination by private businesses (in this case, a motel that refused to cater to blacks).
FOX News First is compiled by FOX News' Bryan Robinson. Thank you for joining us! Enjoy your day and weekend! We'll see you in your inbox first thing Monday morning.