Justice Dept IG blames FBI-wide software failure for missing Strzok-Page messages
NEWYou can now listen to Fox News articles!
In a comprehensive report issued Thursday, the Department of Justice's internal watchdog blamed a technical glitch for a swath of missing text messages between anti-Trump ex-FBI officials Peter Strzok and Lisa Page -- and revealed that government phones issued by Special Counsel Robert Mueller's office to Strzok and Page had been wiped completely clean after Strzok was fired from the Russia probe.
The DOJ's Inspector General (IG) said that, with help from the Department of Defense, it was able to uncover thousands of missing text messages written by Strzok and Page and sent using their FBI-issued Samsung phones from December 15, 2016 through May 17, 2017, "as well as hundreds of other text messages outside the gap time period that had not been produced by the FBI due to technical problems with its text message collection tool."
But when the IG went looking for the iPhones separately issued to Strzok and Page by the Mueller team, investigators were told that "[Strzok's] iPhone had been reset to factory settings and was reconfigured for the new user to whom the device was issued."
The records officer at the special counsel told the IG that "as part of the office's records retention procedure, the officer reviewed Strzok's DOJ issued iPhone" on September 6, 2017 and "determined it contained no substantive text messages" before it was wiped completely -- just weeks after Strzok was fired from Mueller's team for anti-Trump bias and sending anti-Trump text messages.
The officer wrote a note in an official log after reviewing Strzok's phone: "No substantive texts, notes or reminders." But the officer told the IG that she did "not recall whether there were any text messages on Strzok's phone," although "she made an identical log entry for an iPhone she reviewed from another employee on the same day that she specifically recalled having no text messages."
Strzok was removed from Mueller's team in late July 2017 after the FBI discovered he had been sending politically charged anti-Trump text messages -- including several to Page, with whom he was engaged in an extramarital affair.
In one text message that was not initially turned over by the FBI to the IG -- but which was recovered by the watchdog after it conducted its own independent in-depth forensics analysis -- Strzok assured Page that Trump would not become president because "We'll stop" it from happening. (The FBI was, however, able to produce Page's question to Strzok just hours earlier about whether Trump would be elected.) Strzok was fired from the FBI entirely in August 2018.
STRZOK, WHO INTERVIEWED FLYNN, IS BACK IN SPOTLIGHT AS JUDGE DEMANDS HIS SECRET INTERVIEW DOCS
Similarly, the IG's investigators were told that the special counsel's office was simply "unable to locate the iPhone previously assigned to Page, which had been returned to DOJ's Justice Management Division (JMD)" after she left the Mueller team on July 15, 2017. Page resigned from the FBI entirely on May 4, 2018.
More than a year later, in September 2018, the JMD said it had found Page's iPhone and turned it over to the IG. But, like Strzok's phone, "Page's iPhone had been reset to factory settings on July 31, 2017," even though it had not been reassigned to a new FBI official.
"Neither [Mueller's office] nor JMD's Office of the Chief Information Officer had records reflecting who handled the device or who reset it after Page turned in her iPhone on July 14, 2017," the IG reported.
Senior DOJ leaders told the IG that it is routine practice to reset iPhones before they are reassinged to new users, and after a forensic review, the IG could not find "any data related to Page's use of the device" on the wiped phone.
FBI MISSES SENATE DEADLINE TO PROVIDE DOCS ON MASSIVE RAID OF CLINTON WHISTLEBLOWER
Unlike with Strzok's phone, the records officer on Mueller's team stated that "she did not receive the phone following Page's departure from the [special counsel's office] and therefore she did not review Page's iPhone for records that would possibly need to be retained prior to the phone having been reset."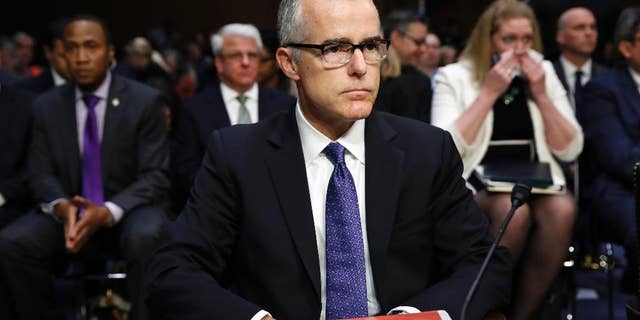 While the FBI maintains a system to wirelessly collect text messages sent to, or received by, FBI-issued mobile devices, the IG found that the system had failed systemically while Strzok and Page were texting.
"Approximately 9,311 text messages were recovered from Strzok's [phone] during the collection tool failure period," the IG wrote. "Approximately 10,760 text messages were recovered from Page's [phone] during the collection tool failure period."
The agency switched to a new model of phone for agents amid the problems with the automated system, according to the IG. And in its response to the IG's report, the FBI acknowledged that "text message collection failure, and rate of collection failure, has been an issue the FBI has worked to understand and correct since its identification in 2014."
"During calendar year 2017, the FBI phased out use of the Samsung Galaxy S5 devices by its employees and replaced them with Samsung Galaxy S7 devices because of software and other issues that prevented the data collection tool from reliably capturing text messages sent and received via FBI issued Samsung Galaxy SS mobile devices," the IG wrote.
As an example of the purported tech problem, the IG noted that the FBl's collection program "had collected (and therefore produced to the OIG) the text message on August 8, 2016, from Page to Strzok that stated, 'He's not ever going to become president, right? Right?!'"
But the FBI text-message collection program had not collected Strzok's response later in the day, which stated, "No, No he's not. We'll stop it."
"It was only through the enterprise.db extraction that the OIG obtained this Strzok text message," the IG noted, referring to its deep-level probe of a file on Strzok's FBI-issued phone.
GOP REP UNLOADS ON 'SMIRKING STRZOK: 'HOW MANY TIMES DID YOU LOOK SO INNOCENT INTO YOUR WIFE'S EYES AND LIE TO HER?'
The development comes as Strzok -- one of the two agents who personally interviewed since-fired National Security Adviser Michael Flynn at the White House in January 2017 -- is at the center of yet another allegation of possible misconduct. Former FBI Director James Comey has admitted that the decision to send Strzok to interview Flynn without going through the White House Counsel's office broke protocol.
The judge preparing to sentence Flynn on one count of lying to Strzok in that interview about whether he had spoken about sanctions with the then-Russian ambassador has ordered Mueller to produce documents by Friday, after Flynn alleged in a bombshell filing that the FBI pressured him not to bring a lawyer to the meeting. Flynn is set to be sentenced Dec. 18, but the new revelations could delay that date -- or lead to further unexpected developments in Flynn's case.
Strzok has adamantly denied wrongful conduct in fiery congressional testimony, saying that while he had political opinions, he did not let it affect his work. In their court filing Tuesday, Flynn's legal team seemingly took a shot at Strzok for not taking responsibility.
"Even when circumstances later came to light that prompted extensive public debate about the investigation of General Flynn, including revelations that certain FBI officials involved in the January 24 interview of General Flynn were themselves being investigated for misconduct, General Flynn did not back away from accepting responsibility for his actions," Flynn's lawyers wrote.
Texts released in September showed Strzok and Page discussing a "media leak strategy" amid the Russia probe -- even as Strzok's attorney claimed the text merely referred to efforts to stop leaks. Two text exchanges in April 2017 between Strzok and Page in particular attracted the attention of Rep. Mark Meadows, R-N.C., who wrote a letter to the DOJ arguing that the texts raised "grave concerns" about an "apparent systemic culture of media leaking" at the FBI.
FBI GAVE INCORRECT ASSURANCES TO FISA COURT THAT IT HAD INDEPENDENT CORROBORATION OF DOSSIER USED TO SURVEIL TRUMP AIDE CARTER PAGE
"I had literally just gone to find this phone to tell you I want to talk to you about media leak strategy with DOJ before you go," Strzok texted Page on April 10, 2017, according to Meadows, who cited recently produced documents from the Justice Department.
In response, Strzok lawyer Aitan Goelman said the line in question referred to an effort to stop leaks.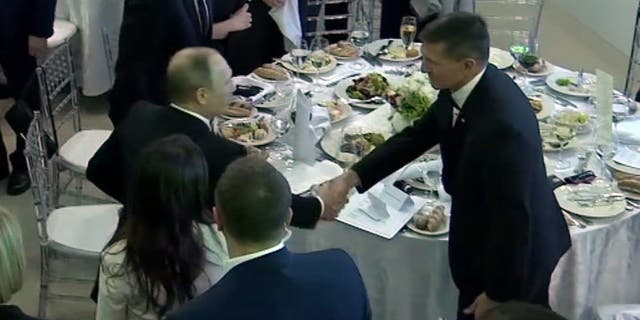 "The term 'media leak strategy' in Mr. Strzok's text refers to a Department-wide initiative to detect and stop leaks to the media. The President and his enablers are once again peddling unfounded conspiracy theories to mislead the American People," he said in a statement.
On April 22, though, Strzok wrote, "article is out! Well done, Page," and on April 12 he told her that two negative articles about Page's "namesake" would soon come out, according to Meadows. That was an apparent reference to Carter Page, the former Trump adviser whom the FBI surveilled for months after obtaining a warrant from the Foreign Intelligence Surveillance Act (FISA) court. Meadows' initial letter to Rosenstein stated the "Well done, Page" text was sent on April 12, but in an updated letter Tuesday, he stated that it actually occured later in the month.
On April 11, 2017, the Washington Post published a story titled, "FBI obtained FISA warrant to monitor former Trump adviser Carter Page. The article, citing "law enforcement and other U.S. officials," reported that the DOJ and FBI had convinced a FISA judge there was "probable cause to believe Page was acting as an agent of a foreign power, in this case Russia."
The text message exchanges "should lead a reasonable person to question whether there was a sincere desire to investigate wrongdoing or to place derogatory information in the media to justify a continued probe," Meadows, who serves on the House Oversight Committee, wrote.
Page, who has not been charged with any wrongoing despite lengthy surveillance by the FBI, has sued the Democratic National Committee (DNC) for defamation.