FOX NEWS FIRST: Hawaii volcano destroys paradise; Giuliani: Trump doesn't have to comply with Mueller subpoena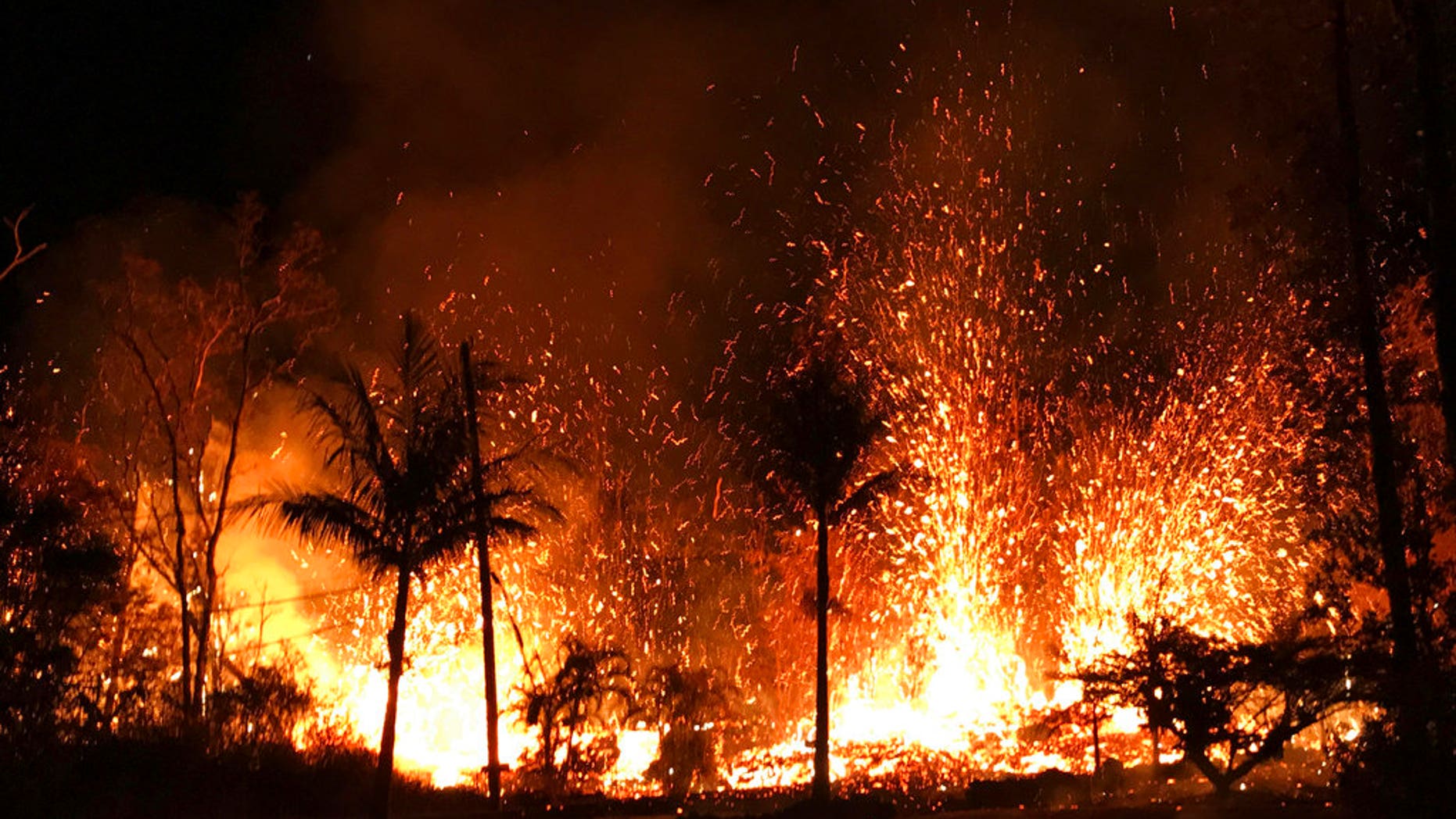 Welcome to Fox News First. Not signed up yet? Click here.
Developing now, Monday, May 7, 2018
Hawaii's Kilauea volcano has now destroyed at least 26 homes, almost three times the initial figure reported over the weekend, as scientists have reported lava spewing more than 200 feet into the air. 
Rudy Giuliani says President Trump does not have to comply with a potential subpoena from Special Counsel Robert Mueller, says Michael Cohen could have paid off other women besides Stormy Daniels
House Intel Committee Chairman Devin Nunes says he wants Attorney General Jeff Sessions held in contempt of Congress for allegedly ignoring a classified letter, subpoena in the investigation of suspected FISA abuses by the Justice Department and FBI
The White House is standing by Gina Haspel, Trump's pick to lead the CIA, ahead of her Senate confirmation hearing Wednesday, vowing that partisan politics will not derail her nomination
Michelle Obama tells a women's summit she still questions why women voted for Trump in 2016
THE LEAD STORY - VOLCANIC PATH OF DESTRUCTION: Lava erupting from Hawaii's powerful Kilauea volcano has now destroyed at least 26 homes, officials announced Sunday, citing grim findings from an aerial survey by the fire department ... Scientists reported lava spewing more than 200 feet into the air. More than 1,700 people have evacuated, and some said they may have to stay away from their homes for a long time. There was no initial word of anybody injured. Earlier in the day, officials had said the lava destroyed nine homes.
PRESIDENTIAL PRIVILEGE: President Trump's attorney Rudy Giuliani said his client did not have to comply with a potential subpoena from special counsel Robert Mueller in the Russia investigation ... "He's the president of the United States," Giuliani told ABC News' "This Week." He continued, "We can assert the same privilege as other presidents have. President Clinton negotiated a deal in which he didn't admit the effectiveness of the subpoena. [Independent Counsel Kenneth Starr] withdrew it." In the interview, Giuliani also addressed the investigation into Trump's personal attorney Michael Cohen, saying Cohen may have paid off other woman accusing the president of misconduct aside from adult-film star Stormy Daniels: "I have no knowledge of that, but I would think if it was necessary, yes." When asked if Trump would be willing to testify before a grand jury in the Russia investigation, Giuliani said he was looking for "the Hillary Clinton treatment," a reference to the FBI's interview of the former secretary of state during the investigation into her personal email server.
CONTEMPT FOR SESSIONS?: House Intelligence Committee Chairman Devin Nunes is going to push Congress to hold Attorney General Jeff Sessions in contempt of Congress ... The Californian Republican's committee has been looking into allegations that the Justice Department and the FBI abused the Foreign Intelligence Surveillance Act in their scrutiny of the Trump campaign. "On Thursday we discovered that they are not going to comply with our subpoena," Nunes said on "Fox and Friends," adding, "The only thing left to do is we have to move quickly to hold the attorney general of the United States in contempt and that is what I will press for this week."
Two weeks ago, Nunes sent to Sessions a classified letter, which he said was not acknowledged, and then he sent a subpoena. However, the Justice Department said it responded to Nunes' letter, as Maria Bartiromo reported on "Sunday Morning Futures."
WHITE HOUSE STARTS TO RALLY BEHIND TRUMP PICK FOR CIA: The White House is standing behind President Trump's nomination of Gina Haspel to run the CIA, saying Sunday that "partisan critics" would not torpedo the president's pick ... The administration's response came after multiple reports said Haspel, who would be the first woman to head the CIA, offered to withdraw her nomination Friday because of her past support and oversight of controversial interrogation methods such as waterboarding. Fox News could not independently verify those reports. Raj Shah, a White House spokesman, Haspel's nomination "will not be derailed by partisan critics who side with the ACLU over the CIA on how to keep the American people safe." A senior White House official also said Sunday that Haspel will not withdraw her nomination. Haspel's confirmation hearing in front of the Senate Intelligence Committee is set for Wednesday.
MICHELLE OBAMA 'CONCERNED' ABOUT PRO-TRUMP WOMEN: Former first lady Michelle Obama said over the weekend that she was "concerned about us as women and how we think" in the wake of Donald Trump's victory over Hillary Clinton in the 2016 presidential election ... Obama was the keynote speaker Saturday at the United State of Women Summit in Los Angeles, where she was joined on stage by "Black-ish" star Tracee Ellis Ross. "When the most qualified person running was a woman, and look what we did instead, I mean that says something about where we are," said Obama in reference to the election, in which 41 percent of all women -- and 52 percent of white women -- pulled the lever for Trump.
AS SEEN ON FOX NEWS WEEKEND
THE DIVIDED STATES OF OBAMA: "It's been so black and white, the conversation, and I blame [Barack] Obama. His eight years in office did a lot of damage in terms of race relations in this country."  – Candace Owens, communications director for Turning Point USA, on "Fox & Friends Weekend," saying former President Barack Obama caused "damage" to race relations in the United States during his two terms in office. WATCH
JOHN KERRY UNDER FIRE: "This is real collusion. When are FBI agents with guns drawn going to raid his house? ... Because this is the largest state-sponsored terrorism."  –  Sebastian Gorka, sounding off on "Fox & Friends Weekend" on the report that former Secretary of State John Kerry sat down twice in recent months with Iranian Foreign Minister Javad Zarif to strategize in saving the Iran nuclear deal. WATCH
TRENDING
McCain says Trump should skip his funeral, wants Pence to attend.
Lady Antebellum botches part of national anthem at NHL playoff game.
Woman's $18 bet on Kentucky Derby day wins $1.2 million.
THE SWAMP
GOP outsider Blankenship emerges as factor in West Virginia Senate race, ahead of four state primaries Tuesday.
California's Orange County may play key midterm election role.
Illinois counties form 'sanctuaries' for gun owners to thwart state's push for gun control.
ACROSS THE NATION
Florida deputy responding to reported dispute shot, critically wounded.
College football player who died in Mexico was murdered, family says.
Grandma, 70, shoots alleged home intruder: 'Kill him before he kills me.'
MINDING YOUR BUSINESS
Stocks and oil move higher to start the week | The Week Ahead: Oil hits a high note
Nestle to pay $7.15 billion to Starbucks in coffee tie-up.
New York City drops minimum wage 'bomb' on restaurants.
WEEKEND WITH WARREN
Fox Business' Liz Claman sits down with Warren Buffett and Charlie Munger for a Live Countdown to the Closing Bell at 3 p.m. ET!
Warren Buffett should invest under radar: Mario Gabelli.
Five key takeaways from Berkshire Hathaway's annual meeting.
Buffett's Berkshire operating profit soars, but suffers $1.14B net loss.
FOX NEWS OPINION
YJ Fischer: Trump's top priority in the Middle East should be avoiding a catastrophic war between Israel and Iran.
Chuck DeVore: Blue State blues -- Trump's tax cut is supercharging job growth in low tax states.
Michael Goodwin: Trump is putting the U.S. back on top.
HOLLYWOOD SQUARED
Ivana Trump makes surprise appearance on Italy's 'Dancing with the Stars' in see-through red dress.
'Avengers: Infinity War' scores second-highest week 2 ever, becomes fastest film to break $1 billion.
How Robin Williams was being torn apart and couldn't fight back.
DID YOU HEAR ABOUT THIS?
NYC muggers jump teen for $2G Air Jordans, which turn out to be fake.
'Game of Thrones' star named 2018 World's Strongest Man.
British Airways passengers greeted at airport with live music, whiskey after inaugural flight to Nashville.
STAY TUNED
On Fox News: 
Fox & Friends, 6 a.m. ET:  Guests include: Jason Chaffetz; House Majority Leader Kevin McCarthy; Dan Bongino; Dr. Oz; Richard Grenell, newly-confirmed U.S. ambassador to Germany; UK Foreign Secretary Boris Johnson.
On Fox Business:
Mornings with Maria, 6 a.m. ET: Guests include: Rep. Ron DeSantis; Ari Fleischer; Mark Hurd, Oracle CEO.
Cavuto: Coast to Coast, Noon ET: Andy Puzder, former CKE Restaurants CEO.
Countdown to the Closing Bell, 3 p.m. ET: Fox Business' Liz Claman sits down with Warren Buffett and Charlie Munger. 
The Evening Edit, 5 p.m. ET: Guests include: Art Laffer, economic policy adviser under President Reagan; Brad Blakeman, former deputy assistant for President George W. Bush; Ben Stein; Glenn Jacobs (aka WWE wrestler Kane), candidate for Knox County, Tenn. Mayor.
Lou Dobbs Tonight, 7 p.m. ET: Rep. Andy Biggs.
On Fox News Radio:
Benson & Harf, starting at 6 p.m. ET: Don't miss the premiere of the new show hosted by Guy Benson, political editor at Townhall.com and Marie Harf, former senior adviser of strategic communications at the State Department.
The Fox News Rundown podcast: Time is winding down for President Trump to make a decision on the Iran nuclear deal. Fox News' Eric Shawn speaks with Amb. Robert Joseph, a specialist in nuclear nonproliferation who says he doesn't trust the Iranians at all. Plus, commentary by Guy Benson, co-host of "Benson & Harf."
Want the Fox News Rundown sent straight to your mobile device? Subscribe through Apple Podcasts, Google Play, and Stitcher.
The Brian Kilmeade Show, 9 a.m. ET: New York Post columnist Michael Goodwin on how Trump is putting the U.S. back on top; Amb. Dennis Ross on whether Trump will pull the U.S. out of the Iran nuclear deal; Gen. Anthony Tata and historian Jay Winik on Trump's anticipated meeting with Kim Jong Un.
#OnThisDay
1998: The parent company of Mercedes-Benz agrees to buy Chrysler Corp. for more than $37 billion.
1984:  A $180 million out-of-court settlement is announced in the Agent Orange class-action suit brought by Vietnam veterans who said they'd been injured by exposure to the defoliant.
1915: A German U-boat torpedoes and sinks the British liner RMS Lusitania off the southern coast of Ireland, killing 1,198 people, including 128 Americans, out of the nearly 2,000 on board.
Fox News First is compiled by Fox News' Bryan Robinson. Thank you for joining us! Enjoy your Monday! We'll see you in your inbox first thing Tuesday morning.