FOX NEWS FIRST: Critics argue IG report let Comey off too easy; Trump vows not to settle NY AG lawsuit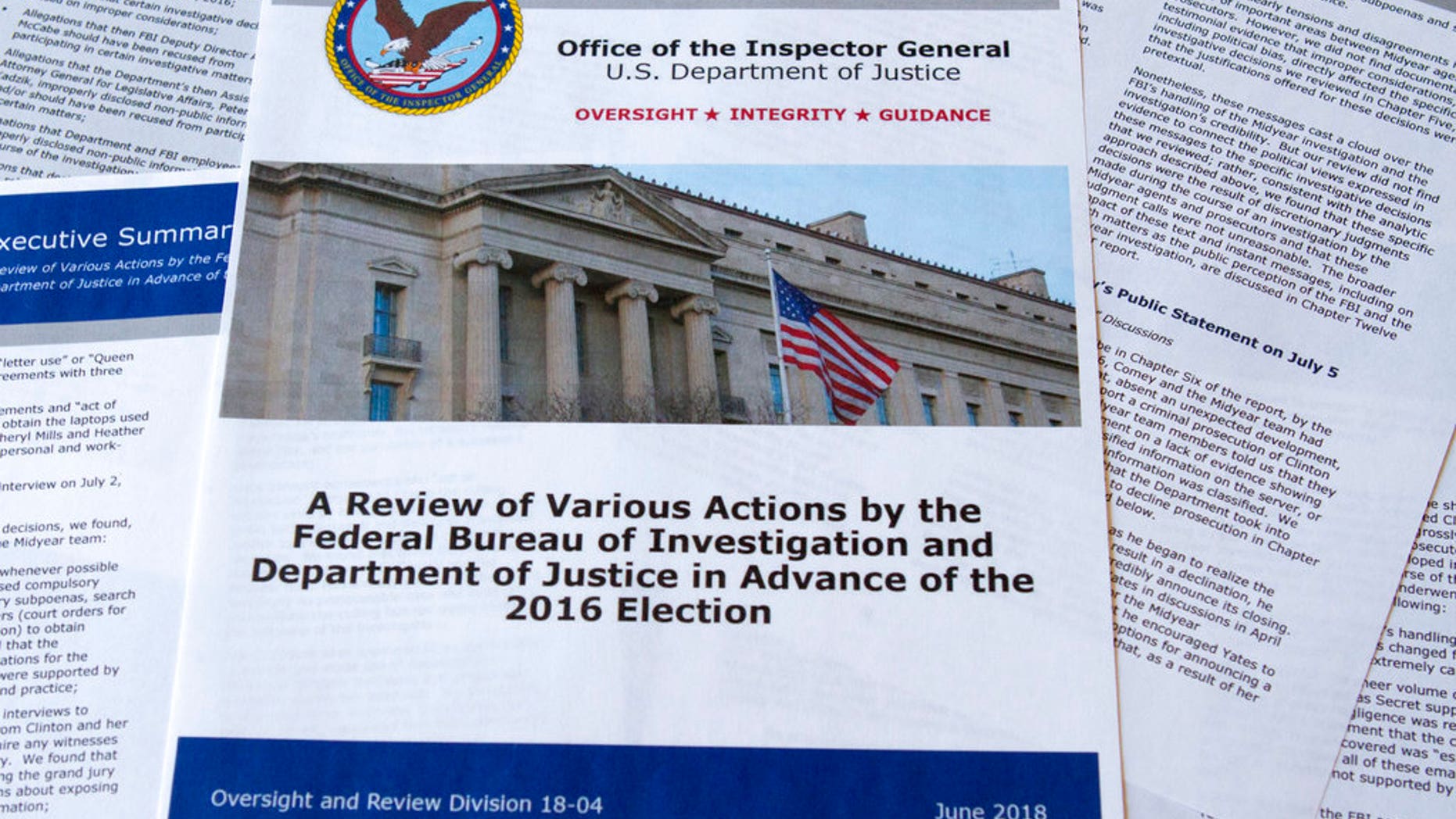 Welcome to FOX News First. Not signed up yet? Click here.
Developing now, Friday, June 15, 2018
Fired FBI Director James Comey gets away almost unscathed after an inspector general's report, some critics say, noting it doesn't call for criminal charges or hold Comey to account for political bias in the Hillary Clinton email probe. But the watchdog's report, released Thursday, blasts the FBI and Justice Department and rebukes Comey's actions as 'insubordinate.'
Following release of the IG's report, Hillary Clinton appears to take a Twitter jab at Comey, while the former FBI director posts an odd photo of himself on social media
President Trump vows not to settle a lawsuit filed by New York state's attorney general against the Trump Foundation alleging illegal conduct
Trump approves a plan to impose tariffs on approximately $50 billion in Chinese goods as early as Friday
THE LEAD STORY - TAKEAWAYS FROM THE WATCHDOG REPORT: Justice Department Inspector General Michael Horowitz, in a comprehensive and at-times scathing report on the handling of the Hillary Clinton email investigation, exposed extraordinary text messages by a top FBI official vowing to "stop" Donald Trump -- while calling then-FBI Director James Comey's actions in the case "insubordinate" ...  The long-awaited report was released Thursday afternoon, spanning nearly 600 pages and scrutinizing the actions of numerous figures who played a key role in the Justice Department and FBI's investigation. The DOJ watchdog reviewed a variety of critical decisions over the course of the investigation -- including how authorities conducted the summer 2016 interview with Clinton, and why top FBI and DOJ officials with political connections didn't immediately recuse themselves from the probe. Horowtiz's report also outlines new information concerning apparent bias at the FBI and DOJ that he says undermines the public trust in each agency.
Still, the report said investigators found "no evidence that the conclusions by the prosecutors were affected by bias or other improper considerations."
1.     New texts between FBI lovers Strzok and Page were 'disappointing' and cast a shadow over the integrity of the entire Clinton email probe
2.     Five unnamed FBI employees -- including one lawyer who later worked on the Mueller probe -- are under scrutiny for anti-Trump bias
3.     President Obama was one of the 13 individuals with whom Hillary Clinton had direct contact using her clintonemail.com account
4.     Despite Clinton connections, former Assistant Attorney General Peter Kadzik and former Deputy Director Andrew McCabe didn't fully recuse themselves
5.     'Insubordinate' Ex-FBI Director James Comey repeatedly violated policy and inaccurately described the legal situation surrounding Clinton's emails
6.     Former Obama Attorney General Loretta Lynch made errors in judgment during the Clinton probe
7.     FBI agents' actions surrounding the DOJ/FBI interview of Hillary Clinton were 'inappropriate' and created appearance of bias
Comey responded to the report by tweeting that he believes the "conclusions are reasonable, even though I disagree with some."
'BUT MY EMAILS,' GNOMEY COMEY: Hillary Clinton took a jab at former FBI Director James Comey on Thursday after it was revealed in a watchdog report on the bureau's handling of her email investigation that the fired bureau chief himself used an unsecured account to "conduct unclassified FBI business" ... "But my emails," Clinton wrote on Twitter in response to the report released by the Justice Department, which disclosed that Comey told investigators he used his personal Gmail (Google Mail) accounts for some of his work at the FBI. Inspector General Michael Horowitz wrote he found the former director's use of personal email to be "inconsistent with Department policy."
Meanwhile, Comey apparently wasted no time trying to put the report from the Justice Department's watchdog behind him, posting a somewhat odd photo to social media amid the political frenzy. He took to Instagram later in the day and posted a photo of himself standing next to a massive statue of a gnome. The caption was simple, and it rhymed: "Comey's Gnomey."
TRUMP TO 'SLEAZY' NY DEMS: 'I WON'T SETTLE': The New York state attorney general's office filed a lawsuit against the Donald J. Trump Foundation for alleged illegal conduct and "unlawful political coordination" to benefit personal and business interests, drawing a harsh Twitter rebuke from President Trump ... The suit was brought Thursday, following a months-long investigation led by "disgraced" - in Trump's words - former Attorney General Eric Schneiderman. Acting Attorney General Barbara Underwood filed over the foundation's alleged "persistent illegal conduct" which occurred over "more than a decade."
Trump fired back over Twitter: "The sleazy New York Democrats, and their now disgraced (and run out of town) A.G. Eric Schneiderman, are doing everything they can to sue me on a foundation that took in $18,800,000 and gave out to charity more money than it took in, $19,200,000. I won't settle this case!"
TRADE FIGHT BREWING: President Trump approved assessing tariffs on about $50 billion of Chinese goods, said individuals familiar with the decision, as the U.S. ratcheted up its trade fight with Beijing ... The approval followed a White House meeting with senior White House officials and senior representatives of the Treasury and Commerce departments, U.S. Trade Representative's Office and national security officials. Beijing has made clear that it intends to impose its own tariffs on a corresponding amount of U.S. goods.
AS SEEN ON FOX NEWS
'POLITICS AT ITS VERY WORST': "What we have seen is Eric Schneiderman thought he was going to make his political career going after Donald Trump and his family and the foundation. At the same time he was asking for donations when he was running for office, so that's the hypocrisy of New York politics."  – Former Trump campaign manager Corey Lewandowski, on "The Story," slamming the New York attorney general's lawsuit against the Trump Foundation. WATCH
COMEY 'DISASTER': "The first and most important thing I take away from this is James Comey is ruined. This is the full ruination of James Comey. We see now why he wanted to get his book out. We see why he did the aggressive publicity tour. This is horrible for him." – Chris Stirewalt, on "Fox News @ Night," on the potential impact of the inspector general's report on the FBI and DOJ's handling of the Hillary Clinton email probe. WATCH
TRENDING
Scalise 'back in the game' at congressional baseball event one year after being shot.
Dad buys billboard for son after school doesn't recognize him as valedictorian.
Boy befriends bear at Nashville Zoo.
THE SWAMP
Another House Democrat says he won't support Nancy Pelosi.
House leadership's text of new immigration bill revealed.
Neighbor who assaulted U.S. Sen. Rand Paul faces sentencing.
Sarah Sanders slams CNN's Jim Acosta in tense briefing: 'It's hard for you to understand even short sentences.'
Supreme Court to tackle immigration, voting rights, unions: A look at major cases on justices' agenda.
ACROSS THE NATION
Feds net 162--including convicted rapist-- in Southern California sweeps.
One dead, two 'critical' among four victims of Colorado shooting, police say.
Roller coaster riders thrown, rescued at Daytona Beach boardwalk after car derails.
Fox News Poll: Political correctness has gone too far, NFL fumbling.
U.S. OPEN
Tiger Woods, Jordan Spieth among U.S. Open favorites with $12M at stake.
Topgolf brings the U.S. Open to fans across the country.
U.S. Open serving short ribs, local snacks, beer you can only find there.
MINDING YOUR BUSINESS
These major companies have announced big layoffs this month.
AT&T completes Time Warner takeover.
Amazon, Microsoft stealing Oracle's business: JPMorgan.
Kellogg issues massive Honey Smacks recall over salmonella risk.
What is a backdoor Roth IRA?
FOX NEWS OPINION
David Bossie on IG report: Some FBI employees desperately wanted to stop Trump from being elected.
Alan Dershowitz: The final nail in the ACLU's coffin.
Karl Rove: My mom's suicide was preventable.
HOLLYWOOD SQUARED
Bill Cosby fires his legal team ahead of sentencing over sexual abuse.
'Kevin Can Wait' star Leah Remini tapped to play conservative lesbian in upcoming sitcom.
'The Jerry Springer Show' stops production, could end for good after move to the CW.
DID YOU HEAR ABOUT THIS?
Rare whale dolphin mysteriously washes ashore.
Reese's-obsessed Mom wins contest for naming daughter after favorite candy bar.
'Priceless' Revolutionary War medal goes on display.
STAY TUNED
On FOX News: 
FOX & Friends, 6 a.m. ET: Insight from Rudy Giuliani, House Majority Leader Kevin McCarthy; columnist and former federal prosecutor Andrew McCarthy and Diamond & Silk. Steve Doocy gives a behind-the-scenes look at the congressional baseball game. 3 Doors Down performs in the next edition of the All-American Summer concert series.
Your World with Neil Cavuto, 4 p.m. ET: Lou Ferrigno, "Incredible Hulk" actor, bodybuilding legend and new member of the President's Council on Sports, Fitness, and Nutrition, sits down with Neil Cavuto.
The Story with Martha MacCallum, 7 p.m. ET: Adm. Karl L. Schultz,  26th Commandant of the U.S. Coast Guard, sits down for a must-see interview.
On FOX Business:
Mornings with Maria, 6 a.m. ET: Guests include: Former U.S. attorney Bud Cummins; Rep. Chuck Fleischmann; Dave Portnoy, Barstool Sports founder; Rep. Peter King; Michael Gregoire, CA Technologies CEO ; Mark Penn, former senior adviser to the Clintons; Robert Ray, former Whitewater independent counsel.
Varney & Co., 9 a.m. ET: Rep. French Hill; Rep. Jim Jordan; Matt Schlapp, American Conservative Union chairman; Candace Owens, Turning Point USA communications director.
Cavuto: Coast to Coast, Noon ET: Rep. Chris Stewart.
The Intelligence Report, 2 p.m. ET: Heather Zumarraga, Vision 4 Fund senior vice president and marketing strategist.
Countdown to the Closing Bell, 3 p.m. ET: Gordon Chang, author of "The Coming Collapse of China"; Tom Werner, Sunpower chairman & CEO.
On FOX News Radio:
The FOX News Rundown podcast: The long-awaited Department of Justice watchdog report on the FBI's handling of the Hillary Clinton email case has been released. RealClearPolitics  associate editor A.B. Stoddard breaks down its findings. The 2018 FIFA World Cup has kicked off without a team from the United States. Former U.S. Men's National Team coach Bruce Arena discusses what went wrong and what should be done to make the U.S. more competitive in the soccer world. FOX News' Tonya J. Powers has the good news of the day. Plus, commentary from Judge Andrew Napolitano.
Want the FOX News Rundown sent straight to your mobile device? Subscribe through Apple Podcasts, Google Play, and Stitcher.
The Brian Kilmeade Show, 9 a.m. ET: Kimberly Guilfoyle, Andrew McCarthy and Shannon Bream dissect the findings in the inspector general's report; Abby Huntsman looks back on the Trump-Kim summit and sounds off on the inspector general's report; Dodgers legend Steve Garvey on the current state of Major League Baseball and sports betting.
The Tom Shillue Show, 3 p.m. ET: What does the inspector general report mean for President Trump and his legal battles? Attorney and columnist Jonna Spilbor joins Tom Shillue.
On FOX News Weekend: 
Cavuto Live, Saturday, 10 a.m. ET: Guests include: House Freedom Caucus member Rep. Jim Jordan on the DOJ watchdog's report on the handling of the Clinton email probe; former Trump White House press secretary Sean Spicer on the media reaction to the inspector general's report; Rob O'Neill on the fallout from President Trump's summit with North Korean dictator Kim Jong Un.
FOX News Sunday, Sunday, 2 p.m. and 7 p.m ET:  Don't miss Chris Wallace's interview with House Oversight Committee Chairman Trey Gowdy.
"Three Days in Moscow," Sunday, 8 p.m. ET: A documentary based on "Special Report" anchor Bret Baier's new book looks at President Reagan's efforts to reach a nuclear agreement with Gorbachev. WATCH A PREVIEW
#OnThisDay
1988: The baseball romantic comedy "Bull Durham," starring Kevin Costner and Susan Sarandon, is released by Orion Pictures.
1977: The New York Mets trade future Hall of Fame pitcher Tom Seaver to the Cincinnati Reds
1969: The variety show "Hee Haw" debuts on CBS.
1934: President Franklin D. Roosevelt signs an act making the National Guard part of the U.S. Army in the event of war or national emergency.
Fox News First is compiled by Fox News' Bryan Robinson. Thank you for joining us! Enjoy your day and weekend! We'll see you in your inbox first thing Monday morning.