FOX NEWS FIRST: Bush 41 to be laid to rest after emotional state funeral; Probe of Obama, Clinton allies heats up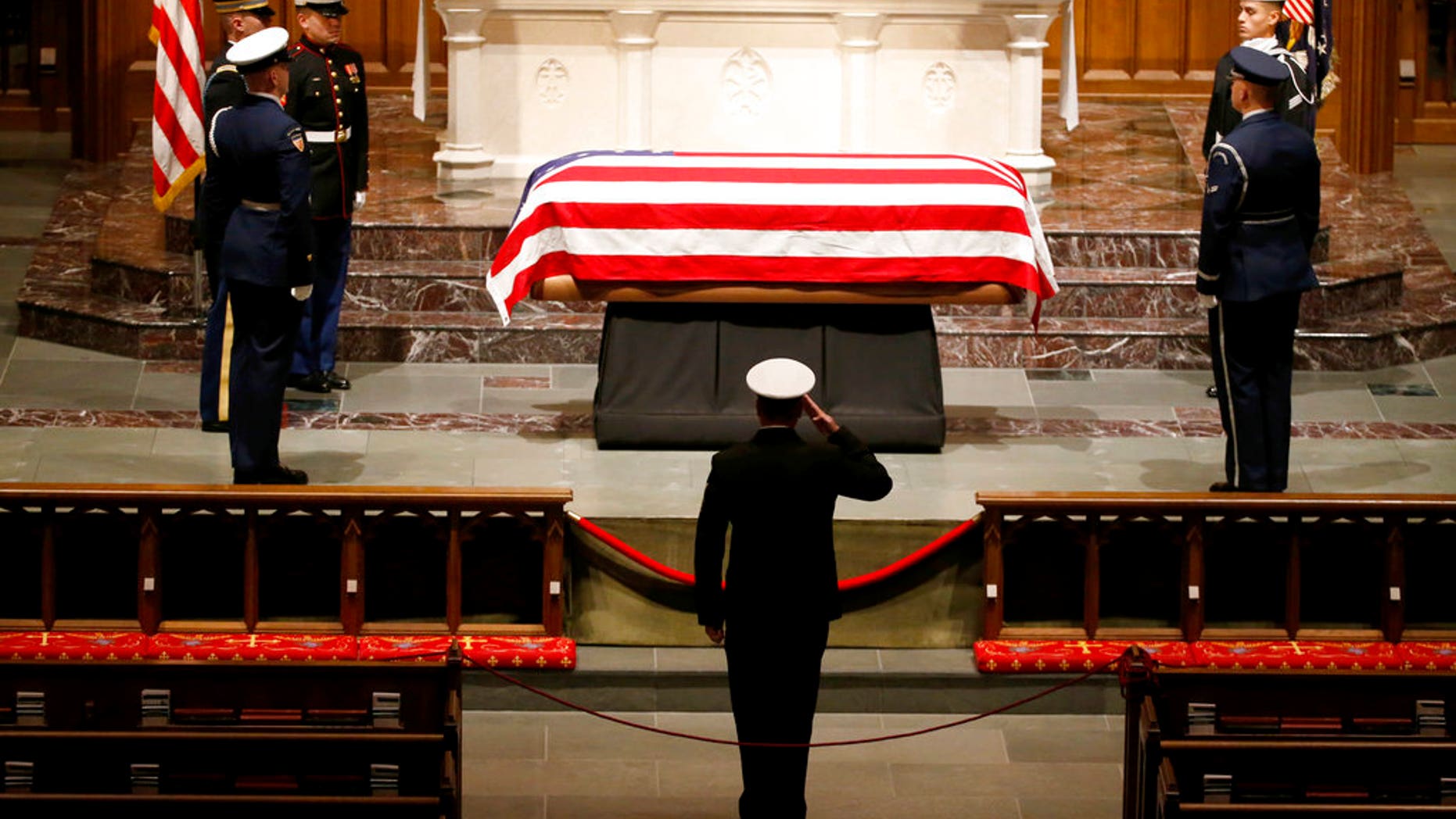 Welcome to FOX News First. Not signed up yet? Click here.
 
Developing now, Thursday, Dec. 6, 2018
THE LEAD STORY - BUSH 41 COMES HOME: Former President George H.W. Bush will be laid to rest Thursday after a funeral at his family's favorite church in Houston ... Well-wishers lined up overnight to pay final respects at St. Martin's Episcopal Church, where Bush lay in repose until his funeral there Thursday morning. The casket carrying the former president returned home to Texas on Wednesday night after a moving state funeral at the Washington National Cathedral. President Trump and all living former presidents, as well as world leaders and other distinguished guests, gathered to honor Bush's legacy. Former President George W. Bush welled-up with tears as he eulogized his father and called him a "great and noble man" and "the best father a son or daughter could have."
George H.W. Bush will be buried on the grounds of his presidential library and museum near his beloved wife, Barbara, and their daughter Robin, who died of leukemia in 1953 at age 3.
'COMPLICIT' IN 'MURDER': A bipartisan group of six senators introduced a nonbinding resolution Wednesday stating that Saudi Crown Prince Mohammed bin Salman was "complicit" in the October killing of activist Jamal Khashoggi at the kingdom's consulate in Istanbul ... The resolution says the Senate believes the crown prince, known informally as "MbS," "was in control of the security forces at the time of Jamal Khashoggi's murder" and "based on evidence and analysis made available to this institution, has a high level of confidence" in his complicity in the Oct. 2 killing. The resolution was introduced by Sens. Lindsey Graham, R-S.C.; Dianne Feinstein, D-Calif.; Marco Rubio, R-Fla.; Ed Markey, D-Mass.; Todd Young, R-Ind.; and Chris Coons, D-Del. - Reported by Samuel Chamberlain (@SChamberlainFOX on Twitter) 
PROBE OF CLINTON, OBAMA ALLIES HEATS UP: An investigation referred to Justice Department prosecutors by Special Counsel Robert Mueller earlier this year into possible criminal activity by Clinton-linked Washington insider Tony Podesta and former Obama White House Counsel Greg Craig is heating up, according to a new report ... The inquiries center not only on Craig and Podesta -- a Democratic lobbyist and co-founder of the onetime lobbying powerhouse known as the Podesta Group -- but also on Vin Weber, a former GOP congressman from Minnesota.
The probes had been quiet for months. But in a flurry of new activity, Justice Department prosecutors in the last several weeks have begun interviewing witnesses and contacting lawyers to schedule additional questioning related to the Podesta Group and Mercury Public Affairs, people familiar with the inquiry anonymously told the Associated Press. - Reported by Gregg Re (@gregg_re on Twitter)
WISCONSIN GOVERNOR'S PARTING SHOT: As top Democrats in the state call them "sore losers" and "disgraceful," Wisconsin Republicans on Wednesday passed sweeping legislation to limit the powers of Democratic Gov.-elect Tony Evers, who takes office in January ... Evers in November defeated Republican Gov. Scott Walker, who has signaled that despite fervent protests, he will sign the legislation that rescinds authority the legislature had previously delegated to the governor. But Evers said Wednesday afternoon that if he cannot persuade Walker to veto the proposals, he will consider lawsuits and any other option "to make sure that this legislation does not get into practice." - Reported by Gregg Re
EXCLUSIVE: GM's CEO SPEAKS OUT - In an exclusive interview with FOX Business, General Motors CEO Mary Barra defended the company's decision to cut 15 percent of its salaried workforce in North America, adding that the automaker's focus right now is on its workers and ensuring that GM is in a position to lead in a rapidly changing auto industry ... "We need to make sure that General Motors is around for the next several decades," she said after a meeting with Ohio's two U.S. senators, Democrat Sherrod Brown and Republican Rob Portman. Barra added that GM workers may have an opportunity to find employment at the many growing GM factories around the country. - Reported by Henry Fernandez
KAMALA HARRIS CAUGHT 'UNAWARE' OF AIDE'S SCANDAL: A senior adviser to U.S. Sen. Kamala Harris, D-Calif., resigned Wednesday over inquiries about a $400,000 harassment lawsuit against him while working at the California Department of Justice ... Larry Wallace resigned after the Sacramento Bee asked about the 2017 settlement, the paper reported. "We were unaware of this issue and take accusations of harassment extremely seriously," Harris spokeswoman Lily Adams said. "This evening, Mr. Wallace offered his resignation to the senator, and she accepted it." The lawsuit filed by Danielle Hartley accused Wallace of demeaning her based on her gender while she worked as his assistant. - Reported by Louis Casiano

THE SOUNDBITE
'A GREAT AND NOBLE MAN' - "We're going to miss you. Your decency, sincerity, and kind soul will stay with us forever. So, through our tears, let us see the blessings of knowing and loving you -- a great and noble man, and the best father a son or daughter could have. And in our grief, let us smile knowing that Dad is hugging Robin and holding Mom's hand again." - Former President George W. Bush, honoring his father George H.W. Bush, during his eulogy. WATCH
TODAY'S MUST-READ: Fate of 'Baby It's Cold Outside' being assessed by multiple radio stations after song was pulled by Ohio station.
STAY TUNED
On FOX News: 
 
FOX & Friends, 6 a.m. ET: Dana Loesch is among the special guests. A police chief explains why police department job applications are plummeting. Plus, a look at U.S. Sen. Bernie Sanders' climate change hypocrisy
The funeral of George H.W. Bush, 11 a.m. ET: Tune in for FOX News' coverage of former President George H.W. Bush's funeral in Houston, anchored by Shepard Smith.
Your World with Neil Cavuto, 4 p.m. ET: Former U.S. Sen. Bob Dole reflects on his relationship with George H.W. Bush.
On FOX Business:
Mornings with Maria, 6 a.m. ET: Special guests include: Stephen Harper, former prime minister of Canada.
Lou Dobbs Tonight, 7 p.m. ET: Heather Zumarraga, senior vice president and market strategist for Vision 4 Fund Distributors.
On FOX News Radio:
The FOX News Rundown podcast: Chris Stirewalt discusses the life and legacy of George H.W. Bush and whether reflections on his civility will have a lasting impact on today's political climate. The Supreme Court is set to hear the case Gamble vs. the United States, which involves a little known Alabama felon, but could decide the fate of former Trump campaign chairman Paul Manafort. Judge Andrew Napolitano, FOX News' senior judicial analyst, discusses the implications of this double jeopardy case. Plus, commentary by Van Hipp, former deputy assistant secretary of the U.S. Army.
Want the FOX News Rundown sent straight to your mobile device? Subscribe through Apple Podcasts, Google Play, and Stitcher.
The Brian Kilmeade Show, 9 a.m. ET: President George H.W. Bush's funeral, the Mueller investigation, protests in France and U.S-China trade truce will the topics of discussion with the following Ed Rollins, Stuart Varney, Chris Wallace, Jonathan Swan and Chris Stirewalt. Plus, a flashback of Brian Kilmeade's interview with Bush 41.
The Todd Starnes Show, Noon ET: Todd Starnes speaks with House Majority Whip Rep. Steve Scalise about the incoming Congress and his new book, "Back in the Game." Plus, FOX News medical correspondent Dr. Marc Siegel will answer your questions.
Benson & Harf, 6 p.m. ET: Andrew McCarthy, FOX News contributor and contributing editor of the National Review, discusses Special Counsel Robert Mueller's memo recommending a lenient sentence for former Trump national security adviser Michael Flynn.
#TheFlashback
 
1923: A presidential address is broadcast on radio for the first time as President Coolidge speaks to a joint session of Congress.
1907: The worst mining disaster in U.S. history occurs as 362 men and boys die in a coal mine explosion in Monongah, W. Va.
1865:  The 13th Amendment to the U.S. Constitution, which abolishes slavery, is ratified as Georgia becomes the 27th state to endorse it.
FOX News First is compiled by FOX News' Bryan Robinson. Thank you for joining us! Enjoy your day! We'll see you in your inbox first thing Friday morning.