Flood Unease Builds South Along the Mississippi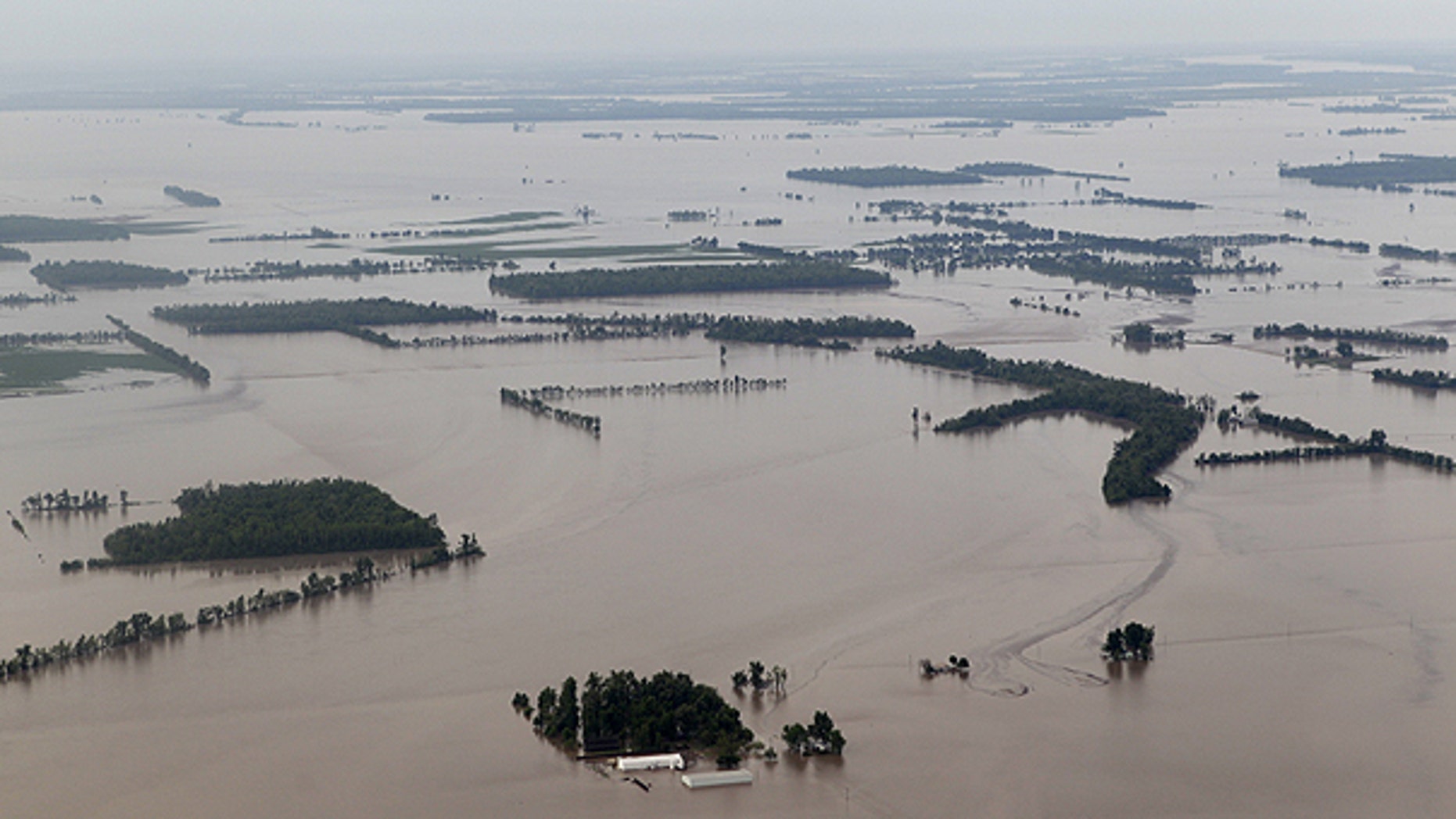 MEMPHIS, Tenn. – HICKMAN, Ky. -- People along the lower Mississippi River and its tributaries packed their belongings and emergency workers feverishly filled sandbags as high water pushed its way downstream Wednesday in a slow-motion disaster that could break flood records dating to the 1920s.
From Illinois to Mississippi, thousands of people have already been forced from their homes, and anxiety is rising along with the mighty river, even though it could be a week or two before some of the most severe flooding hits.
"I've never seen it this bad," said 78-year-old Joe Harrison, who has lived in the same house in Hickman since he was 11 months old. Floodwaters from the Mississippi turned his house into an island -- dry but surrounded by water. He has been using a boat to get to his car, parked on dry ground along a highway that runs by his house.
Up and down the Big Muddy, farmers braced for a repeat of the desperate strategy employed earlier this week in Missouri, where Army engineers blew up a levee and sacrificed vast stretches of farmland to protect populated areas upstream.
Forecasters and emergency officials said some of the high-water records set during the great floods of 1927 and 1937 could fall. On Wednesday, for example, the Mississippi eclipsed the 46-foot mark set in 1937 in Caruthersville, Mo., uare miles from West Virginia to Louisiana.
Lifelong Hickman resident H.L. Williamson, 77, was a boy when he and his family fled to the highest point in town. He recalled little of the experience except that his brother wouldn't eat black-eyed peas or grapefruit for years because that was all they had during the flood.
This time, Williamson packed up and left his home, which was still dry thanks to a hill just inches higher than the floodwaters. He took only a few belongings, including the Navy uniform he hopes to be buried in.
The U.S. Army Corps of Engineers' demolition of a Missouri levee on Monday eased flood worries for some communities. In Cairo, Ill., a town of about 2,800 people at the confluence of the Ohio and Mississippi rivers, the Ohio dropped a foot and a half.
But the relief downstream in Kentucky, Arkansas, Tennessee, Mississippi and Louisiana is probably only temporary because the water will eventually find its way back into the Mississippi River.
In Arkansas, a 23-mile stretch of westbound Interstate 40 was closed where it crosses the White River, adding a detour of about 52 miles to the route between Little Rock and Memphis. Eastbound traffic will eventually face an even longer detour, perhaps beginning overnight.
Arkansas recorded its eighth death since the rains started April 25. Authorities found the body of a man in the floodwaters in eastern Arkansas' Prairie County. The man has not yet been identified.
In Kentucky, about 3,800 residents have left their homes because of flooding.
"We're making a lot of unfortunate history here in Mississippi in April and May," said Jeff Rent, a Mississippi Emergency Management Agency spokesman.