Canada Air flight comes within 100 feet of planes on runway at San Francisco International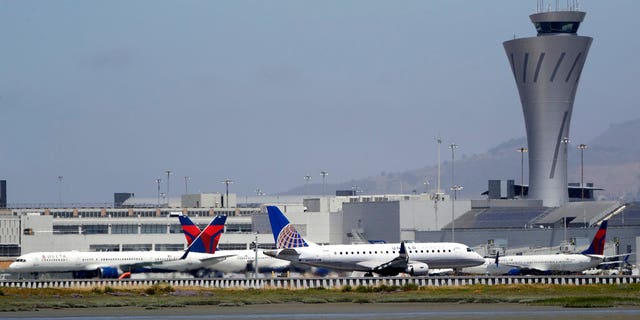 An Air Canada plane that landed at San Francisco International Airport last week reportedly came within 100 feet of crashing into two planes lined up for take off on the runway.
The plane, which was flying from Toronto on July 7 with 140 people aboard, could have caused one of the worst disasters in commercial aviation history.
Instead of properly lining up to land on the runway, the pilot of the flight mistakenly descended toward another taxiway that was parallel to the right of where four planes were lined up for take off.
JETBLUE LEAVES GRANDMOTHER WITH ALZHEIMER'S AT WRONG GATE AT BOSTON AIRPORT
Canada's Transportation Safety Board released a preliminary report of the incident, which U.S. authorities are still investigating.
The report said Air Canada Flight 759 had already traveled one-quarter of a mile over the taxiway before aborting the landing.
Collisions on the ground are particularly dangerous because planes waiting to take off are loaded with fuel.
The deadliest crash in aviation history occurred in 1977 when a KLM Boeing 747 taking off in the Canary Islands plowed into a Pan Am 747 that was waiting to take off. 583 people died in the crash and fires.
The Associated Press contributed to this report.