World's Hottest Celebrity Spas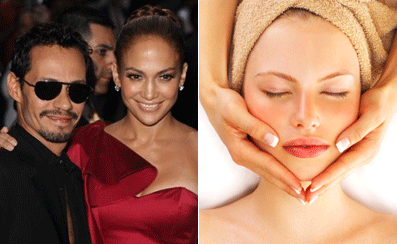 Visiting a destination spa to refresh and rehab is a long-celebrated Rx for the celebrity set. It might explain how so many of them consistently look so darn good on the outside -- despite how terrible they often treat their poor insides!
Traveling for a four-hand massage, or, to shvitz in a eucalyptus-infused sauna can be extreme on the wallet – but not as much as going under-the-knife or to Promises for a "sabbatical." Here are a few to consider saving for.
Siesta vs. Fiesta in Mexico
Mexico has invested millions building and revamping resorts with world-class spas and indulgent treatments. The Hilton Los Cabos Beach and Golf Resort's Spa Oasis has seen John Travolta, George Clooney and Michael Jordan surrendering to relaxing rubdowns like the Baja Sacred Stone and Thai Yoga Massages. Within the "cocoon of well-being" at Cabo's Capella Pedregal's Auriga spa, where Drew Barrymore, Will Smith, and Zoe Saldana have found harmony, there are treatments that reflect the phase of the moon, and incorporate sound therapy with acupressure for chakra alignment. Fifty Cent and Barrymore are said to have explored the ancient, traditional folk practices of Auriga's resident Curandera (a local healer) who handcrafts healing tonics from local herbs for her massage and energy work.
For more ways to pamper yourself in Mexico, go to FoxNews.com's Cancun Travel Guide >>
Tee Down in Hawaii
We all know that some professional duffers are fans of "stress-releasing bodywork," but at the Grand Wailea Spa Grande in Hawaii men unwind post-golfing in a more domestically legit, wife-pleasing fashion. Athletes like Magic Johnson and Emmitt Smith recalibrate with the "Tune-Up," a three-part treatment where the body responds to "deep muscle and tissue relaxation, stress and blood pressure reduction, a balance of chi, and mental and spiritual rejuvenation." The Hydrotherapy Terme Circuit, which includes a Roman Tub, Swiss Jet Showers and a Japanese Furo, all sound like the good kind of exotic torture -- they've kept funny guys Adam Sandler and Cuba Gooding Jr. fresh and focused.
Looking for a place to tee up before you wind down? FoxNews.com's Maui Travel guide can help get you on the green. >> 
Boozing Sober Style in Puerto Rico
Just because you want to take the edge off of things doesn't mean you have to be a lush! At the Edouard de Paris Spa in the El San Juan Resort & Casino in Puerto Rico, there are treatments like the Mojito and a Pina Colada massages that only intoxicate from the outside in. Then there's the Hangover massage, which detoxes debauched bodies using toxin-releasing lymphatic and acupressure techniques. Edouard de Paris attracts party pairs like: Beyonce and Jay Z, Jennifer Lopez and Marc Anthony, and Nick Lachey and Vanessa Minnillo. Benicio del Toro flies solo for the deep tissue and reflexology massages. Richard Dreyfuss it turns out is a footman and kicks his heels up for a Platinum Pedicure.
Keep the Family Together in St. Lucia
Sadly; David Duchovny and Tea Leoni have separated again. Perhaps the on-again-off-again couple could use another trip like their April vacation to Sugar Beach Residences in St. Lucia. Resort insiders tell us that Dad Duchovny basked in Californication-free free-time on the beach, while the ladies hit the Amer-Indian-inspired Rainforest Spa replete with Awarak huts designed by local Rastafarians. Leoni splurged on a trifecta of body love with a massage, the Caribbean Glow sea salt and coconut body scrub and the surgery-free CACI (Computer Aided Cosmetology Instrument) Facial. The daughters ordered off the kid's menu with the decadent Chocolate Wrap.
Blissful Beauty in Bali
Bali is known as the Pamper Capital of Asia and the Ayana Resort's Spa on the Rocks is a top spot for jetsetters seeking locally-inspired treatments like lava stone reflexology and hot seashell massage from the perch of a limestone cliff overlooking the Indian Ocean. (There's an underwater massage too!) Global Glamazon's like the 2011 Miss Universe Contestants recently decompressed here. Alternative rock band Third Eye Blind also blew off steam in the Thermos Marines Thalassic aqua tonic seawater therapy pool. For uber-indulgence, there's the Crème de la Mar, sea quartz, and diamond dust facial.