Technicality keeping traveler's 201-nation trek out of Guinness Book of World Records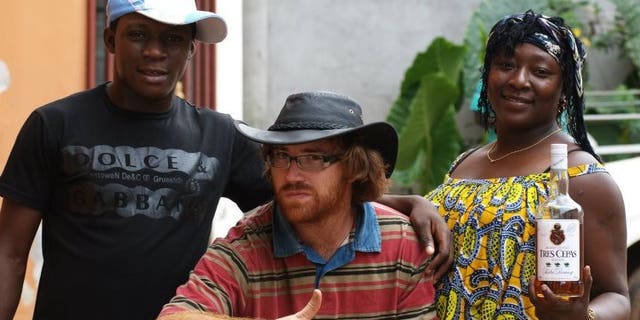 Graham Hughes spent the last four years traveling to all 201 countries in the world without flying, a feat that cost him his girlfriend and his job, landed him in jail twice and prevented him from being at the side of his dying sister -- all in order to earn a place in the Guinness Book of World Records.
But when the 33-year-old resident of Liverpool, England, wrapped up his record-breaking voyage in January, he learned that a technicality could cost him place in the record books. He entered one of the countries -- Russia -- illegally, and since the keepers of the record book can't be seen as encouraging any law breaking, Hughes' feat doesn't count in their eyes.
Hughes freely acknowledges that he waded across a river to enter Russia, knowing it was "a bit dodgy." But he has gone back to retrace his steps and is hoping the Guinness folks will allow it to count.
[pullquote]
"I was a little annoyed that it happened to be Russia, which is so easy and not a big deal to get into, compared to the island nations," Hughes told FoxNews.com.
Rules are rules, according to Jamie Panas, spokesman for Guinness World Records, which published its first record book in 1955.
"Guinness World Records does not encourage anyone to engage in illegal activity in order to achieve a record," Panas told Foxnews.com. "Regardless of the illegal activity involved, we do not currently even have a record designation for the record in question."
Documenting his travels was a painstaking endeavor, even without the screwup at the Russian border. Proving he was in a certain place at a particular time requires GPS coordinates, visas, a copy of his passport showing customs stamps, photos and videos. Hughes had one advantage, though. He completed much of his adventure on a NatGeo program called "Graham's World," and many pictures of his travels can be found on his website.
Hughes is dutifully working to resubmit his record bid and said Guinness has kept in touch with him.
"It's honestly a pain, but it's understandable," Hughes said. "I do think it is fair. You don't want to encourage putting people in danger [with illegal activity]."
Along the way, Hughes collected enough stories for a book of his own. His first scrapes with the law came in Africa, where he said police in several West African nations would pull him over and subtly demand a bribe. Not paying the bribe would mean jail time, and the amount being sought "really depended on their mood," he said.
When he tried to enter Cape Verde, the tiny island nation off the coast of West Africa, he was arrested, had his phone confiscated and was brought to a police station. Unable to contact anyone, Hughes was held for two days before a police officer loaned him his cellphone. Hughes text-messaged the British Embassy and, two days later, was free and back on his mission. A generous sailor gave him a ride to the mainland, he said.
A more harrowing situation occurred in the Republic of Congo. During a diesel-choked, three-hour ride to the border in the back of a cramped truck, Hughes and his fellow passengers passed through several military checkpoints. Only later would Hughes realize that he got through the checkpoints on the word of a Congolese soldier who followed the truck and repeatedly vouched for him. When the soldier disappeared, problems began.
"The police at this place were very obviously drunk," Hughes said.
They began asking to check his bag, and asked why he had so many videotapes. After viewing the tapes, the police suspected Hughes was a journalist and that he had been lying to them about being a traveler. As the tension mounted, his captors commandeered the car of a passerby and drove him to a police station, where he was kept overnight, he recalled. The next day, Hughes said, he was taken to a run-down concrete building in an isolated area where he was permitted to go online on a laptop and tell friends and family what was happening.
Later that evening, while chatting with his girlfriend on Skype, 10 police officers barged in, forced him to strip him down to just his jeans and locked him in a small cell with a hole in the ground for a toilet.
"I had absolutely no intention of using that squat toilet, so I stopped eating." Hughes told Foxnews.com.
Once they were convinced of his intentions, police seemed mostly concerned with what he would tell the world about the Republic of Congo, Hughes said. Still, he remained in the tiny cell, yelling out in frustration from the window. Eventually, with the help of a British consul, he won his freedom.
"It was such a relief. I remember walking out of the station, putting on my hat, taking a deep breath, and away I was on my journey again!"
Back home, the Congo incident made news and Hughes was proud to learn that his father told a local reporter that the ordeal would not end his quest, saying, "My son's no quitter!" But another news dispatch from home brought sadness. Hughes' sister died of cancer in 2011, and had a dying wish for her brother: "Don't give up because of me," she said.
Hughes said the adventure brought him a lifetime's worth of memories and friends.
"I did many great things that are unforgettable, but it was even better to just meet all of these people, and now I have friends around the world," Hughes said. "I've found that the world really is not this big scary place. Not once for this entire trip was I robbed, beaten or anything. What really caused problems were the governments. The people were all great."
Hughes is hoping to hear soon from Guinness about whether his global trek makes the record book.