Single Travelers Find True Love While Touring the World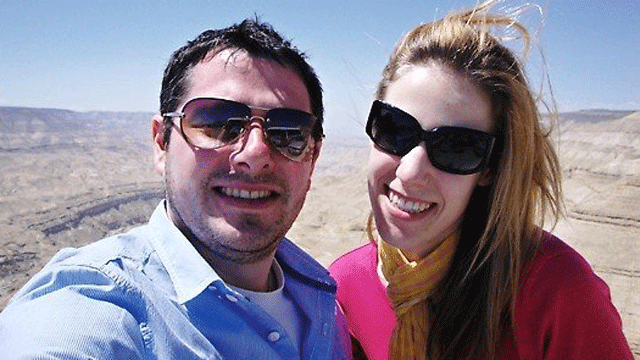 By the time Kristina Wegscheider was 26 years old, she had already been to six of the seven wonders of the world.
Realizing she was only missing the ancient Jordanian city of Petra, Wegscheider booked a trip alone from her home in San Jose, Calif. with G Adventures.
Mike Bullock had friends living in Dubai. He decided to add a G Adventures trip to his Middle East itinerary when he traveled there from Leeds in the United Kingdom.
Wegscheider and Bullock, now both 28, were looking for adventure, but also they found love.
After meeting on the trip the pair kept in touch, traveled more than 66,000 miles over the next two years to see one another and next April will be married in Roatan, Honduras.
"I didn't go to Jordan looking for love. I feel like when you reach a certain age in every other facet of your life you are on the prowl," said Wegscheider, who works as a HR professional and is the co-founder of the website called Do It While You're Young.
"But I went to Jordan and my guard was down, so it was so casual to meet someone on that trip. The cool experiences we had together helped to build our connection faster."
Relationship expert Tracey Steinberg says that kind of intimacy, combined with the excitement of creating shared new experiences and typically small group size lays a solid groundwork for lasting love.
"I know a lot of people who have met their spouses on organized group tours. I think that happens because you get to meet people in real life without having to deal with any of your real life responsibilities," Steinberg said. "I also think it is because everyone is relaxed and enjoying themselves so they are naturally at their most attractive."
As more singles are opting to take adventurous tour vacations alone, long-term love and even marriage are becoming a happy byproduct of these trips.
"In our 21-year history, we've seen a number of travelers meet for the first time on a G Adventures trip, get engaged and then married. What better story to tell than 'meeting your significant other while exploring the awe-inspiring wonders of our planet on an adventure'," explained Bruce Poon, G Adventures founder.
Tours like G Adventures, Intrepid Travel and Contiki which cater to young adults aged 18-35 and offer adventurous group travel provide a self-selected pool of people who share at least one common interest—travel.
"I always wanted to find someone who loved to travel," Wegscheider said. "When I would go on dates in the city after meeting online or through friends a guy would tell me he liked to travel and then it came up that he went to Mexico like six years ago. I always used to joke that having a passport was a requirement to date me."
Jillian Dunn received her Contiki tour as a gift after she graduated from Penn State University seven years ago. During her three weeks in Europe she hooked up with a fellow American halfway through the trip. They spent the second half of the tour through Switzerland and Paris as a couple. They got married this August with six of their fellow Contiki travelers in their wedding party.
"You learn a lot about someone by traveling with them. On these tours you're with the same people from six in the morning until late at night," Dunn said. "That's what made it so exciting. We experienced so many shared memories together that we already had this history when we returned from the trip."
Meeting people outside of the dating meat market is one of the perks to group travel, says Contiki vacations president Greg Fischbein.
"On Contiki, you see people at their best enjoying in the direct experience with life. From lifelong bonds and lasting friendships, we boast countless engagements, honeymooners, and couples celebrating anniversaries among our guests," Fischbein said.
Unlike many tours, which typically pack up to 45 people on a tour bus, Intrepid Travel purposely keeps their trips small, which makes means travelers have a more intimate experience.
"Intrepid's trips are small, 10 people on average, and introduce travelers to new experiences and cultures, sometimes pushing them outside their comfort zones. These shared experiences create bonds, and lasting friendships and romances have been known to blossom," explains Intrepid representative Kimberly Greiner.
"Intrepid Travel's trips are a great way to meet like-minded people who share a love of exploration, and most people will agree you truly get to know someone when you travel together and encounter new things and the inevitable bumps in the road that come with international travel," she said.