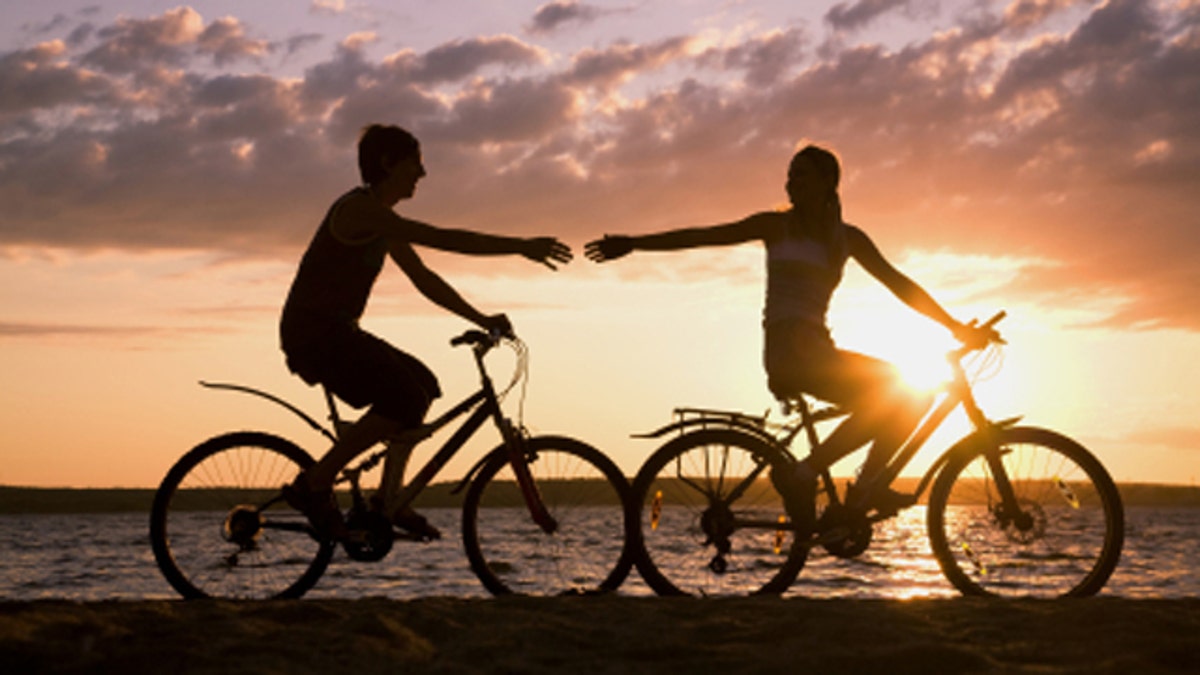 Even experienced bicyclists learn the hard way that it's important to check what time the sun sets.
Former tour guide Madeline Clarke Jhawar recalls "leading a group of six people on an extra loop in the Veneto region of Italy one October, and the last time I'd done the trip had been May, when I'd also done the extra loop. Not only was sunset earlier, but we hit some thick fog about halfway through the extra loop and it got dark very quickly. We were on narrow, winding roads in the countryside with no shoulder and we still had about 10 miles to go. We flagged down a tractor pulling an empty crate on wheels from the grape harvest, threw our bikes in the crate, and jumped in to chug-chug-chug back to the hotel. We gave the farmer a good chunk of change for his favor."
Perhaps not an optimal experience for a bike tour, but chances are those seven bikers will be talking affectionately about that experience for the rest of their lives. Lower key experiences await biking tourists, too. "The absolute best part of touring is that you see the countryside in a totally different manner than [by] car," says Shawna Brown, owner of D&B Bike Adventures, as your day "is broken down into miles and hills [and] every bend, corner, and scenic pull-out becomes a different memory," adding that "the total body workout isn't a bad way to spend your vacation, either."
Ah yes, the physical strain. Aside from the importance of wearing a bike helmet, perhaps the most common caution issued by the bicycling enthusiasts sourced for this article was anticipating saddle soreness. "The hardest part is the time on the bicycle, not the actual bike riding," says Maria Elena Price, co-owner and manager of ExperiencePlus! Bicycle Tours.
Adds Jim Johnson, president of BikeToursDirect, "many people are surprised [about] how much time they spend on their bikes each day, even on short-distance tours, because bike tourists tend to ride more slowly than at home. Most tours require little more than average conditioning and a good attitude. Still, the more you ride before your tour, the more you'll enjoy it."
That said, if you're not in the best shape of your life, don't sweat it, says avid cyclist Tina Weiss, noting that on a tour she and her friends took of Maryland's eastern shore "our trip had a range of ages from the 20's to the 70's and we spent the trip at the back of the pack, and age-wise we were in the middle. Formal bike tours will have a SAG (support and gear) van if you are not able or interested in riding, there is usually an option for a shorter route, and someone always rides "sweep" so if you are last you won't get left out on the road... at least in theory."
Also bear these other things in mind to avoid getting left out on the road on a biking vacation.
Know what to ask a bike tour operator.
The most important thing to know about a bike tour ahead of time is the difficulty, both physical and technical, says Jeff Barber of singletracks.com. "If you're out of shape you don't want to take on a tour will a lot of hills; likewise, if you haven't ridden a bike since you were a kid you may want to steer clear of off-road tours or downhill mountain biking. It's also a good idea to find out how long the tour is [in terms of] mileage and average time to complete. Find out if the tour operator provides the bike or if you will you need to rent elsewhere or bring your own. Also ask if the operator will provide maps and accessories like helmets," Barber says.
Find out if there's a SAG vehicle or if you'll be expected to carry your own gear on your bike, says Stephen Weinstein, who recently returned from a bicycling trip around Anchorage. Also inquire about what the overnight accommodations and food options are like, whether there are scheduled stops along the way, and whether you're responsible for repairing your own bike breakdowns, he says.
"It will be important to consider the season of your trip and what the weather will be," says Jeff Kaplan, who "rode across Italy two years ago at the end of July and the temperature was 95-plus degrees each day." Also ask "how many days of the trip are actually spent bicycling," says Alisa de Gaspe Beaubien, vice president of DuVine Adventures. "A 10-day trip could have two days of transfers, compiled with an arrival and departure day," she suggests. Plus, ask if the trip is "guaranteed to operate" and if the tour company will provide you with local references, she says.
Know how to prepare if you're biking solo.
If you're renting a bicycle, pick "a place with a wide variety of bikes, in case one doesn't work out or fit well," says Jeff Barth, tour guide for Bicycle Adventures in Washington State. "They should provide advice as to what type of bike you will need depending on your route. [Do you need] a road bike with the drop bars or a hybrid bike [that's] more upright? Also, "ask if you can swap out seats if one doesn't have the right shape or padding for you."
Adds Jhawar, "make sure you are familiar with basic bike mechanic skills, so know how to change a flat and have the repair kit with you. Before leaving the shop, ask them how to adjust the brakes and gears should they start rubbing." Also keep in mind that "the wrong seat height will make your knees hurt after a few hours," she says. Adds Barth, "many people set their seats too low so their legs are bent. Your seat should be set so that your leg is almost fully extended when at the bottom of your pedal."
If you want to bring your own bike, "take it to a bike shop before you leave for a thorough check up," Barth says. "For an added fee, many shops will pack up and ship it to your destination -- they will make sure it's packed correctly, and they can ship to another bike shop who can then unpack it properly." Also ask yourself if you can "read the local road signs," de Gaspe Beaubien says. If not, ask if "the bicycle rental company [will] provide [you with] route maps in your language. Always inquire about traffic patterns, [and] speed limits on the roads you will be cycling," she says.
Regarding where to ride, "look for established and marked routes first," says Dave Overfelt, who has biked extensively in Missouri, California, Colorado, and Belgium. "Many cities have maps for cyclists and if you can ride in bike lanes or dedicated paths you should always do so. If you plan to take a longer trip from city to city, consider buying a few maps from the Adventure Cycling Association. They are expensive but useful. If you are a novice cyclist, don't try to ride across the country, I promise you are not ready for it."
Know what essentials to pack.
"I always ride with a portable GPS and on many occasions it's saved me from getting horribly lost," Barber says. "Don't forget to bring plenty of water and snacks if you'll be away from shops and restaurants." Bring spare parts, says Overfelt, "spare tubes and cables are the key parts here. If you can repair a flat and a broken cable, your bike can keep going forward."
Invest in some biking gloves, says bicyclist Dan Austin, owner of Austin-Lehman Adventures, as they "help [you] ride comfortably but in the unlikely event you do go down, the first thing everyone puts down is their hands and picking gravel out of gloves is more fun then out of your skin."
How crazy do you need to get with the spandex? "They may look strange to some, but the cycling shorts -- spandex tighties or cargo style -- with crotch padding are the best for preventing any unforeseen chafing from sitting on a bike," says Aaron Christopher Gafner of Portugal-based tour company BlueCoastBikes. "Jerseys with pockets are good to have the extra storage if needed, without having to carry an extra fanny pack. We advise our guests to dress in layers, but lightweight layers if possible. It's pretty easy to fold up a light rain poncho or even lightweight thermal long-sleeve, but leave the alpaca sweaters at home."