Halloween Horror Nights at 25 years: Bigger, badder, better
'Tis the season when theme parks become scream parks whose sole purpose is to scare the bejeezus out of us. And there is no ticket more coveted than Universal Orlando's Halloween Horror Nights, which draws hundreds of thousands from around the world, consistently breaks its own attendance records and is celebrating its 25th anniversary this year.
"We've heard a lot about it and wanted to come for a long time," said Oliver Fogg of Sheffield, England, who attended the event last week with his girlfriend, Chloe Thomas. "This is one of the main things of our holiday in the U.S."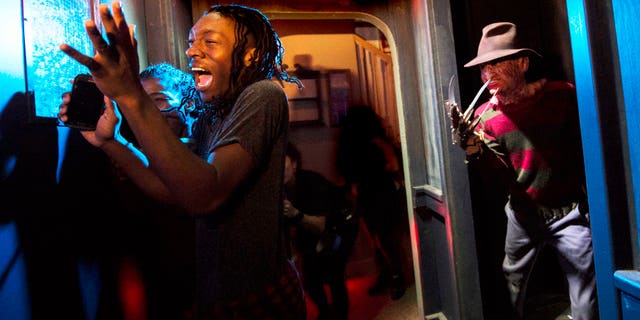 "We're really looking forward to it," Thomas said as they waited to enter Universal Studios Florida. "I had a friend who came another year and she said the whole thing was absolutely petrifying."
"Some people love ghosts. For other people, it's slashers. Some people are deathly afraid of clowns. We always want to make sure we cover all the bases."
What separates Halloween Horror Nights from other same-themed events is its combination of hallmark original characters — most notably the demonic master of ceremonies, Jack the Clown — and its high-quality haunted houses, many of which are themed to franchises like "Nightmare on Elm Street," "Friday the 13th," "Insidious" and "The Walking Dead."
From their chilling sound effects and hideous creatures to their visual tricks and realistic props, these dark, labyrinthine houses use every trick in the book to make you jump. Just strolling through the streets of the park puts you in a shadowy scare zone filled with roaming "scareactors" depicting chainsaw-wielding clowns and asylum escapees. And no two seasons are ever the same. There's a new lineup of haunted houses and live shows every year.
"Each of us has something that scares us," said Charles Gray, the event's show director in charge of haunted houses. "Some people love ghosts. For other people, it's slashers. Some people are deathly afraid of clowns. We always want to make sure we cover all the bases."
Halloween Horror Nights has won Amusement Today's Golden Ticket Award for the best Halloween event eight years in a row, and it has upped the ante for its 25th anniversary. It's bigger, with more nights and more haunted houses than ever. And it's badder, said Arthur Levine, theme parks expert at About.com.
"The anniversary gave the HHN team a great reason to mine its long history and bring back some old characters," he said.
For instance, HHN has featured both "Nightmare on Elm Street" and "Friday the 13th" over the years, but this year it has brought them together in a Freddy vs. Jason mashup house.
"Freddy vs. Jason really freaked me out," said Levine. "While there were plenty of effective scares from the two main characters, the sight of the little girls jumping rope (an iconic scene from 'Nightmare on Elm Street') literally gave me the shivers."
Universal has also brought back a maze from two years ago. The "An American Werewolf in London" house, a near replica of one introduced in 2013, "is wonderful," said Levine, who gave it a 5-out-of-5 rating on his About.com site. "It's one of the best houses — if not the best house — that HHN has ever presented. I think it makes sense to bring it back for the anniversary event.
"It is a great homage to a classic film, includes some spectacular sets and is loaded with gotcha scares. The werewolves are even more ominous in this year's version."
"It's a definite must-see," agreed Gray. "It was one of our highest rated houses ever, and John Landis, the film's creator, gave us the OK to bring it back again. It's the first time we ever brought back a house in its entirety, but of course we added a few additional surprises."
Conceiving and painstakingly creating the detailed haunted houses for Halloween Horror Nights is a full-time job for Gray and his team. In fact, they're already working on next year's event.
Gray's top tip for conquering the haunted houses? "Pay attention to details. Go in with your head up and your eyes wide open.
"If you go through with your head buried, you'll miss a lot. It's high risk, but also high reward. You'll see some amazing things, and you also might get scared more.
"Remember, it's all in fun. We try to push the limits as far as we can, but it's all escapism and we want people to have a good time."
Halloween Horror Nights takes place on select nights through Nov. 1. The event is not recommended for children under 13.