Widow of soldier killed in Niger says Facebook 'post' slamming Frederica Wilson is fake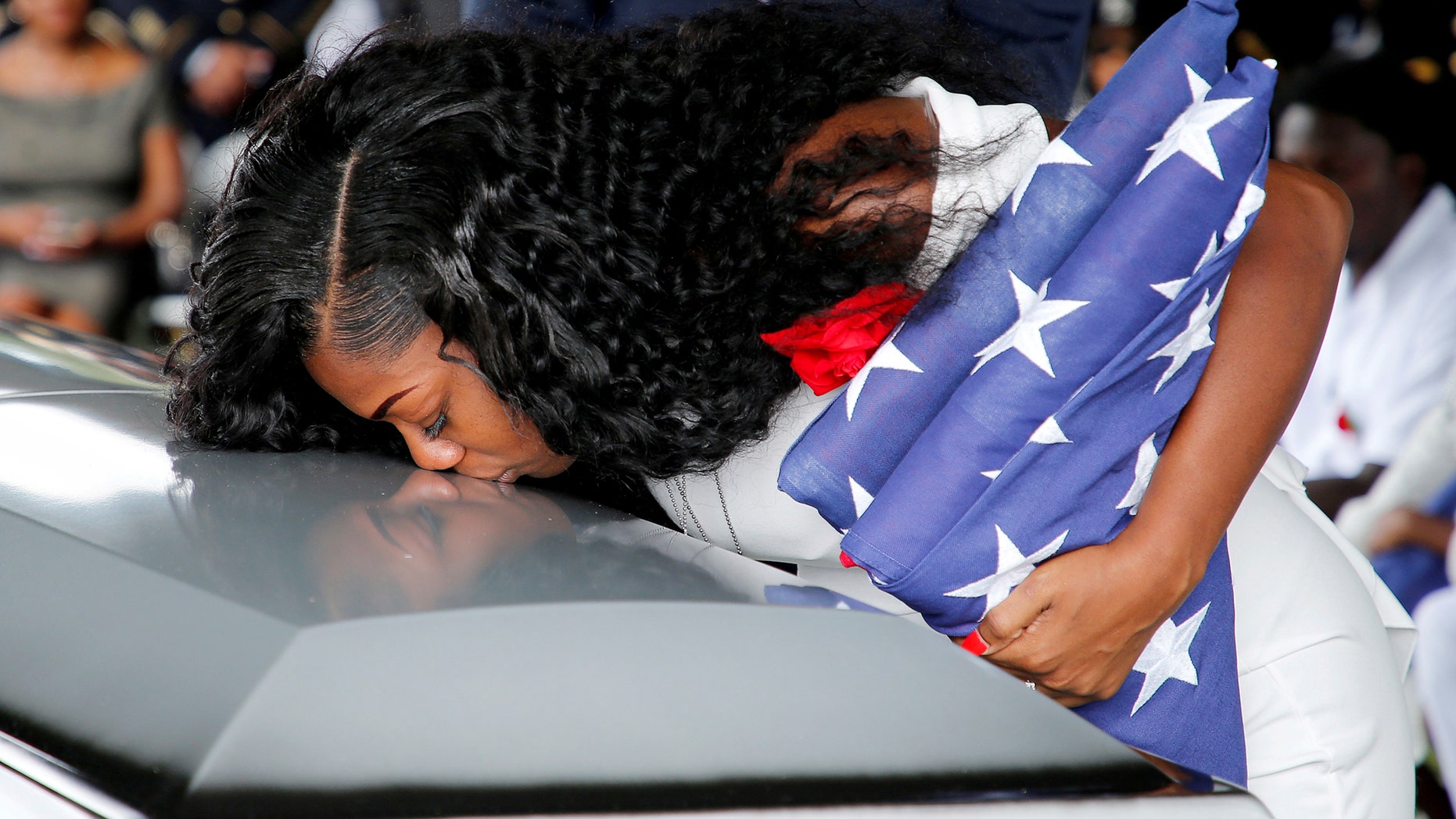 The widow of fallen Army Sgt. La David T. Johnson says a purported Facebook post that circulated with her name slamming a Democratic congresswoman is fake, according to a news report.
The post reportedly has been shared as a screenshot on Twitter.
Johnson's pregnant widow, Myeshia Johnson, told ABC News that she did not write the post blasting Rep. Frederica Wilson, D-Fla., and defending President Trump. Wilson and Trump have been locked in a war of words about a phone call the president made to Myeshia Johnson.
The fake post says: "I want to set the record straight! I'm getting sick and tired of this so-called politician using my husband as a political platform. Even buy [sic] her own words she did not hear all of the conversation; she only heard part of it."
Johnson, 25, was one of four U.S. Special Forces – or Green Berets – killed in Niger when they were attacked Oct. 4 by militants tied to the Islamic State.
The row between Wilson and Trump began Oct. 17 when the Miami-area Democrat said Trump told Myeshia Johnson in a phone call that her husband "knew what he signed up for" and didn't appear to know his name, a version later backed up by Johnson's aunt. Wilson was riding with Johnson's family to meet the body and heard the call on speakerphone. She was principal of a school Johnson's father attended.
SGT. LA DAVID T. JOHNSON, US SOLDIER SUBJECT OF POLITICAL FRACAS, LAID TO REST
Trump tweeted Wilson "fabricated" his statement and the fight escalated through the week. Trump in other tweets called her "wacky" and accused her of "SECRETLY" listening to the phone call.
ABC News reported Sunday that Myeshia Johnson did not write the post, which resembled a post from a Facebook timeline.
Fact-checking website Snopes also noted that the post is 'dated' Oct. 17 at 3:27 p.m., about an hour before the reported time of Trump's call to Johnson. Additionally, the profile picture accompanying the post is square. "The social media site implemented an update in August 2017 that changed the shape of users' profile pictures in the Facebook newsfeed from square to round," Snopes explained.
In an interview with "Good Morning America" Monday, Myeshia Johnson said that Wilson's version of the phone call was "100 percent correct."
Johnson was laid to rest in Florida Saturday.
Staff Sgt. Bryan C. Black, 35, of Puyallup, Washington; Staff Sgt. Jeremiah W. Johnson, 39, of Springboro, Ohio; and Staff Sgt. Dustin M. Wright, 29, of Lyons, Georgia, were killed along with Johnson in Niger.
Twitter declined to comment on this story when contacted by Fox News.
The Associated Press contributed to this article.
Follow James Rogers on Twitter @jamesjrogers