Samsung Series 5 Ultra Touch Hands-On: Touch Without the Tablet, 8 Second Boots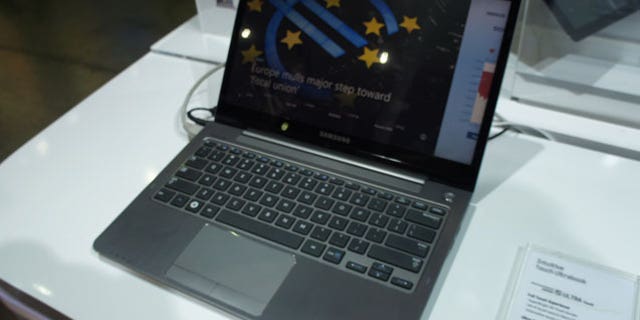 At Computex Taipei, it seems like just about every notebook we see turns out to actually be a tablet in disguise, but what's out there for users who just want a Windows 8 clamshell without a bendable, flippable or detachable screen? Fortunately, Samsung has been thinking of just this market with the Series 5 Ultra Touch, an updated version of its current Series 5 Ultrabook with a touch screen, an Ivy Bridge processor and Windows 8.
We had a chance to go hands-on with the Series 5 Ultra Touch at Samsung's Computex booth and noted how quickly the notebook, which has a 500GB hard drive with a 24GB SSD cache, was able to cold boot. After we powered down the system and start it up again, we timed the cold boot at 7 to 8 seconds. Waking from sleep was near instantaneous.
The 14-inch, 1366 x 768 touch screen was responsive to our swipes, but not particularly bright or colorful under the harsh lights of the convention center. Perhaps it will look better in a more typical setting.
The chassis on the Series 5 Ultra Touch is similar to that of the Samsung Series 5 Ultrabook we reviewed in February. but with a few tweaks. There's no optical drive or VGA port like the Serie 5 Ultrabook had and the sides taper from thick in the back to think in the front because of the lesser need for ports. Users will appreciate the subtle gray aluminum deck and lid, along with the dark brown chiclet-style keys that offer a reasonable amount of tactile feedback.
One real differentiator for the original Series 5 Ultrabook and now for the Series 5 Ultra Touch is its discrete-buttoned touchpad These days, most Ultrabooks come with clickpads, a lot of which are jumpy and inaccurate just for the sake of looking good. The Series 5 Ultra Touch's touchpad is extremely accurate, because it has two discrete buttons below it. In our use, the cursor never jumped because the pad didn't have to interpret whether we went to meant to click or swipe when we touched it.
Inside, the Series 5 Ultra Touch has a low voltage, 1.7-GHz 3rd Generation Intel Core i5 CP, 4GB of RAM, and that 500GB hard drive + 24GB SSD combo. Everything we did on the device seemed smooth, especially surfing in IE 10. When we visited laptopmag.com on the demo system, the page loaded and rendered very quickly. We were also able to return to the page we were on before by swiping backward and then go back to laptopmag.com again by swiping forward in IE. The ability to swipe in a web browser is one reason you'd really benefit from having touch on a clamshell-only notebook.
Whether the market believes that an Ultrabook with touch but no slate is a good idea remains to be seen, but in our brief hands-on time at the show, we definitely saw the advantage of being able to tap tiles in Metro or swipe around in the browser. There's no word yet on pricing or availability for the Series 5 Ultra Touch, but we can expect it to come out sometime after Windows 8 ships in the fall.