Lavabit founder closes business and can't even say why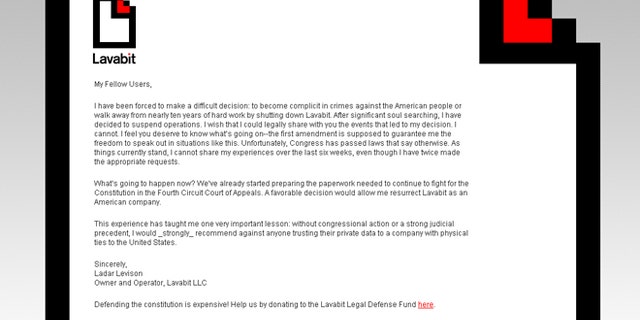 Ladar Levison says the U.S. government forced him to either commit "crimes against the American people" or close his business. Now, he says, the government forbids him from even saying why.
Did a FISA court demand information from Lavabit, Levison's secure email service used by leaker Edward Snowden? Did the NSA require him to install snooping software to monitor his customers?
In a phone conversation Friday night with Levison and his legal counsel, the 32-year-old Texan told FoxNews.com he could not answer any of those questions.
"It bothers me that I know things I'm uncomfortable with and I can't share them," he told FoxNews.com.
Levison abruptly shut down his nearly 10-year-old company Lavabit on Friday, saying he would rather walk away from the business than "become complicit in crimes against the American people." He couldn't say it, but the timing of the incident clearly suggests a connection to the U.S. government's pursuit of the 30-year-old Snowden, whose disclosures have blown the lid off the NSA's secret domestic surveillance.
'It bothers me that I know things I'm uncomfortable with and I can't share them.'
While Levison bit his tongue, his lawyer -- Jesse Binnall, of the Fairfax, Va. law firm Bromley and Binnall -- was quick to note the central problem with the secret court orders that Apple, Google, Facebook, Microsoft and other technology giants have fought back against in recent months.
"This is exactly what as Americans we're not supposed to have to do -- worry about breaking laws when we're talking to the press," Binnall fumed.
Levison's secure e-mail service was developed in response to the original Patriot Act, he told FoxNews.com. And from the outset, it was intended to store only a username and password, instead of a user's personal information such as a name or phone number.
"The FBI could send national security letters without judicial review. I decided I wouldn't collect the kind of personal information that the FBI could collect with those letters," he told FoxNews.com.
"I just didn't want to be in a position where I had information to turn over."
Over the years, a variety of government agencies requested information from the company, including the FBI and local authorities. Levison says he complied when required and has kept copies of the requests in his office.
"I've got a stack of them in my files," he said. So what changed this time around?
"What would prompt me to shut down the service was a request that would compromise the privacy of all my users," Levison told FoxNews.com. "Obviously things are different now and I can't get into that," he said.
His Lavabit service encrypts messages with both public and private keys, secured via a user's password. The service was incredibly secure, one of the reasons Lavabit had some 410,000 users, he said. Or so it seemed.
Levison said in addition to keeping limited customer information, the encryption he employed was extra secure, helping him attract over 400,000 users.
"I made certain assumptions when I built the system that I couldn't be forced to do a handful of things," he said. "And I may or may not have been wrong about that."
Although he was unable specify his legal challenge, Levison said he's taking his fight to the Fourth Circuit Court of Appeals.
"We plan on vigorously defending the privacy rights of Lavabit users and the entire American public through the appropriate channels in the court system," Binnall told FoxNews.com.
"And if we win, Lavabit will return," Levison added.
"I understand the need for keeping who was under investigation secret. I don't see the Constitutional basis for keeping the methods used to investigate as secret as they are."
He added, "Our government shouldn't be hiding what it's doing."