iPhone X: How does it stack up against the Galaxy S8?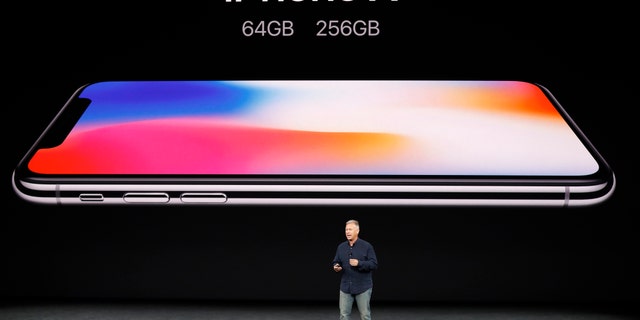 NEWYou can now listen to Fox News articles!
Announced on Tuesday, Apple's iPhone X will compete with Samsung's newest flagship phone, the Galaxy S8.
Fox News has not done a full review yet, so some features can not be accurately compared. However, we've prepared a quick compare and contrast of both phones as they get set to enter the market place.
Here's how the iPhone X and the S8 break down on key features and price.
APPLE UNVEILS IPHONE 8, IPHONE X
Price: The iPhone X (pronounced "10") is Apple's most expensive iPhone yet.
Starting at $999 for the 64GB model, that's over $200 more than the 64GB Galaxy S8 typically retails for at carriers. Verizon, for example, lists the S8 at $756. The price difference will be less glaring if you sign a monthly contract with a carrier.
"Although the S8 can't compete on coolness with the iPhone's 3D facial recognition sensor…all things being equal, the Galaxy seems to be the better value because it's purely cheaper," Michael Bonebright, Consumer Analyst and Blog Editor with DealNews, told Fox News in an email.
The iPhone X will be available to pre-order on Oct. 27 and go on sale on Nov. 3.
Display: With its first organic light-emitting diode (OLED) display, Apple is finally catching up to Samsung with its large 5.8-inch edge-to-edge "Super Retina" OLED display.
OLEDs are on track to surpass liquid crystal displays (what Apple has used previously) on most image quality and performance metrics. However, Samsung is reportedly supplying Apple with its iPhone X OLED display. So, don't expect Samsung to supply a better display to Apple than it uses on its own phones.
"Given that the [iPhone X] will be an OLED manufactured by Samsung Display, it will be really interesting to see what the hardware differences are between it and the OLED displays in the Galaxy S8 and Galaxy Note8," Raymond Soneira, President of DisplayMate Technologies, told Fox News in an email.
"The Galaxy S8 sports an impressive Quad HD+ Super AMOLED screen that also runs edge-to-edge," said Bonebright.
WILL CONSUMERS PAY $1,000 (OR MORE) FOR THE NEXT IPHONE?
Face ID: This is a huge upgrade for Apple, as the home button is now gone.
Apple's Face ID projects 30,000 infrared dots and uses a neural network to recognize your face instantly with "just a glance," as Apple said during the keynote on Tuesday. If it works as Apple claims, it will be very fast and very secure.
Samsung offers iris scan, face unlock and fingerprint scan on the S8. The iris scan is one of the most secure methods for unlocking. The face unlock (separate from iris scan) has had some issues, while Samsung's fingerprint sensor is typically the go-to biometric unlocking option, despite its questionable placement next to the rear camera, according to the Verge.
It remains to be seen how good Apple's Face ID is in practice.
Camera: The iPhone X comes with 12MP wide-angle and telephoto rear cameras with both wide angle and telephoto optical image stabilization.
Samsung also offers a 12MP camera (not dual-camera like the iPhone X) with optical image stabilization. Samsung's Galaxy S8 camera has generally gotten good reviews.
The biggest difference between the two phones might turn out to be Apple's front-facing "TrueDepth" camera that's used for Face ID and can be used for secure payments via Apple Pay.
Wireless charging: The iPhone X's glass back allows you to set the iPhone X down to charge it up, like the Apple Watch. Apple will also offer an AirPower charging pad to simultaneously charge the iPhone X, Apple Watch Series 3, and AirPods.
Samsung has had wireless charging for a while so Apple is catching up here.
APPLE IPHONE 8 LIVE BLOG RECAP
The X factor: During Apple's presentation, the notch (which houses various sensors) at the top of the display was prominent in videos.
Samsung doesn't have a notch but the screen doesn't go as far to the edge at the top as the iPhone X.
We'll have to see if consumers are fazed -- or not – by the iPhone X's notch.