Google CEO acknowledges controversial Chinese search project after being slammed by White House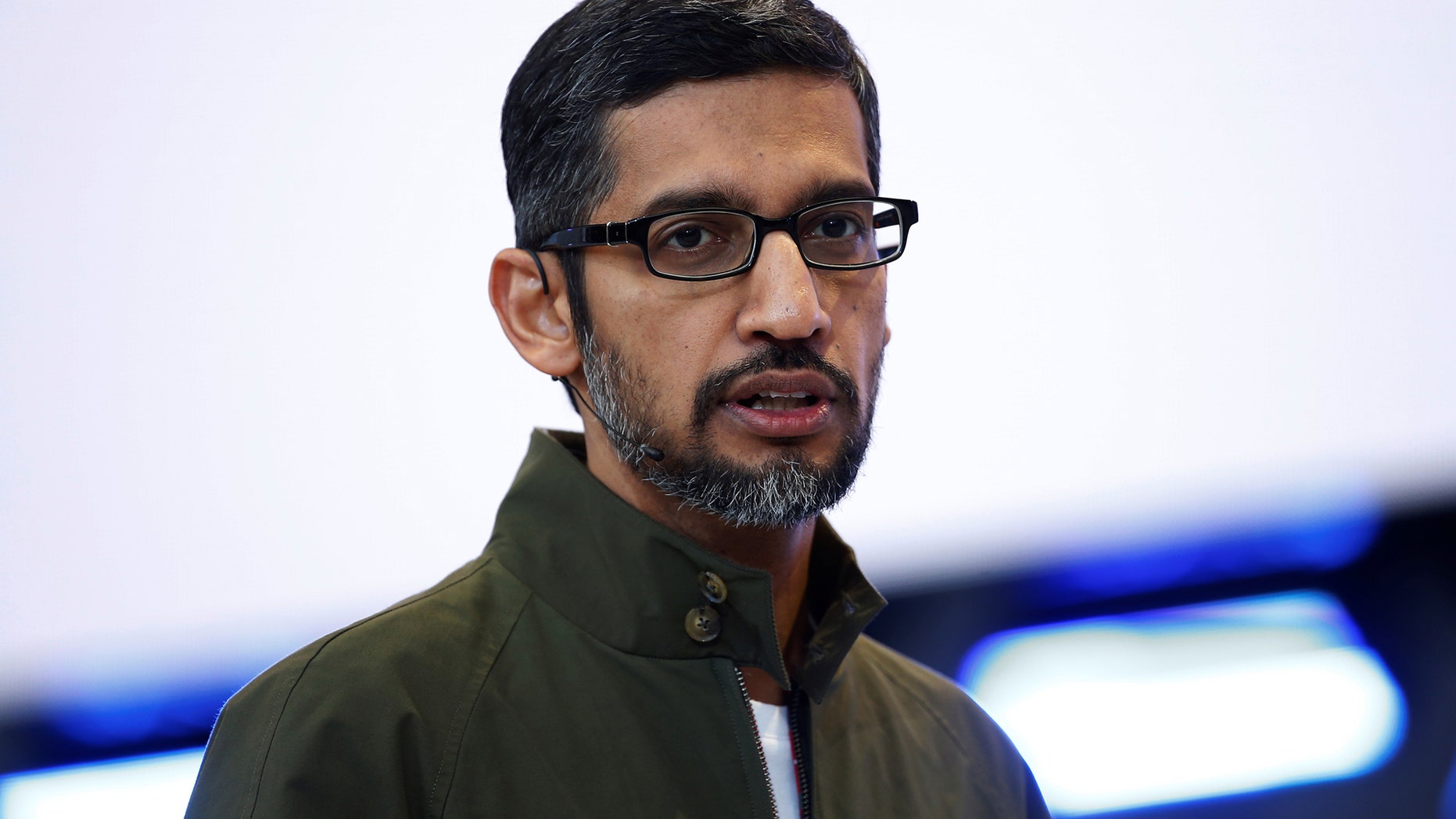 Days after the White House and Vice President Mike Pence slammed Google and called on it to abandon its controversial censored search engine project for China, CEO Sundar Pichai has acknowledged it publicly for the first time.
The CEO, who took the top spot at the search giant in 2015, said Google would be able to "serve well over 99 percent of the queries" and "there are many, many areas where we would provide information better than what's available."
"We wanted to learn what it would look like if Google were in China, so that's what we built internally," Pichai said on Monday night, according to the BBC. "It's very early, we don't know whether we would or could do this in China but we felt like it was important for us to explore. I think it's important for us given how important the market is and how many users there are," he said.
GOOGLE IS FINED $5B BY EU IN ANDROID ANTITRUST CASE
The remarks were made at Wired's 25th anniversary summit in San Francisco on Monday night. Google had spoken previously about the project in August, at the time saying: "...our work on search has been exploratory, and we are not close to launching a search product in China."
Heat from the inside and outside
The search giant, owned by internet holding company Alphabet, has come under considerable scrutiny, both internal and external, about its intentions for the search engine, internally known as Project Dragonfly, which would be app-based, and any perception that it would be kowtowing to the Chinese government's demands for censorship.
In remarks made at the Hudson Institute earlier this month, Vice President Pence specifically called out Google by name and said it should abandon the project. "More business leaders are thinking beyond the next quarter, and thinking twice before diving into the Chinese market if it means turning over their intellectual property or abetting Beijing's oppression," Pence said in his prepared remarks. "But more must follow suit. For example, Google should immediately end development of the 'Dragonfly' app that will strengthen Communist Party censorship and compromise the privacy of Chinese customers…"
In August, Google employees revolted over the controversial project, with more than 1,000 of them writing a letter to company management expressing their displeasure with the proposed search engine. Employees demanded that the company be more transparent about its decisions, and the letter also calls the project's ethics into question.
Following the letter from its own employees, more than a dozen human rights groups sent a separate letter, calling on the search giant to abandon its controversial initiative. Organizations such as Amnesty International, Human Rights Watch and Reporters Without Borders wrote to CEO Pichai that complying with Chinese censorship would represent "an alarming capitulation by Google on human rights."
"The Chinese government extensively violates the rights to freedom of expression and privacy; by accommodating the Chinese authorities' repression of dissent, Google would be actively participating in those violations for millions of internet users in China," the letter said.
REPORT REVEALS GOOGLE IS TRACKING YOU IF YOU LIKE IT OR NOT
And just last month, several employees reportedly quit their jobs over the project, citing a lack of accountability and transparency at the company.
Project Dragonfly
The search engine would remove items that contain certain words or phrases and would apply to image search, suggested search features and automatic spell check. It would also "blacklist sensitive queries" so no results are shown when a person looks for a specific word or phrase, according to The Intercept, which first reported the existence of the initiative.
The app will also identify topics and websites that are blocked by China's Great Firewall, according to the documents. The Intercept reported that censored sites would include British broadcaster BBC and Wikipedia.
Fox News reported the search engine would also link users' searches to their personal phone numbers—therefore making it easier for the Chinese government to monitor its citizens' queries.
In 2010, Google famously announced it was leaving China, specifically mentioning China's censorship tactics as a reason for pulling out of the country. Rumors of the Chinese-based search engine have circulated over the past several weeks after The Intercept's initial report.
The Associated Press and Fox News' Christopher Carbone contributed to this report. Follow Chris Ciaccia on Twitter @Chris_Ciaccia