'Giraffes' join the Navy and hunt enemy threats
'Giraffes' are protecting U.S. Navy ships – and also a powerful new military base that can float anywhere in the world supporting special operations and other combat missions.
Onboard warships, Sea Giraffes radar systems are constantly conducting surveillance around the ship – scanning the air and the water surface – looking out for any possible threat large or small. The floating base's Giraffe can even detect small, fast threats like enemy rockets, missiles and more.
When a threat is heading toward a U.S. Navy ship, these Sea Giraffes spot it early, giving the ship the maximum amount of time to respond to the threat. Every fraction of a second counts in reducing risk.
In response, the ship can defend itself, launching counter-measures to prevent impact. The threat data can also be transmitted to other nearby assets, such as fighter jets, which can assist in intercepting the threat.
BIGGEST-EVER BRITISH WARSHIP JOINS FORCES WITH MOST POWERFUL AMERICAN STEALTH FIGHTER JETS
These talented 'giraffes' haven't been recruited from the zoo. They are state-of-the-art devices created by Saab. Sea Giraffe is a multi-mode surveillance radar that already plays a vital role on multiple U.S. ships for national defense.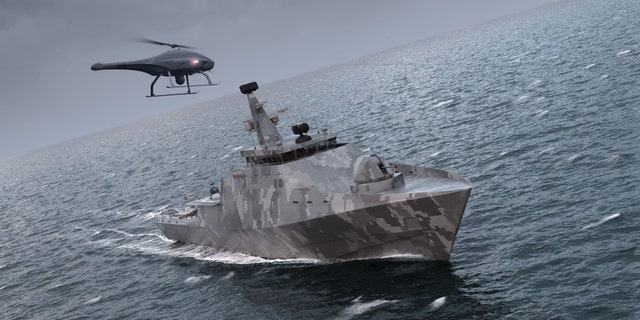 The Navy has announced that the Sea Giraffe AMB Multi Mode Radar will now also be joining the Navy's Expeditionary Sea Base (ESB) class ship USNS Hershel "Woody" Williams, ESB 4.
PODCAST: MEET AN INCREDIBLY BRAVE NAVY CROSS, IRON MAN WORLD RECORD-HOLDING MARINE
Sea Base Missions
The Navy's new warships, ESBs, are floating sea bases that can be used to enhance combat power. In fact, the ESB used to be known as the "Afloat Forward Staging Base' which is an apt description but describes only one aspect of the huge flexibility and capabilities it can provide.
The U.S. military can leverage platforms like an ESB to "lily pad" access to just about anywhere inland. Given the Earth is about 71 percent water that's phenomenal access. These floating bases can sidle up to shore and handle littoral environments, such as getting a Navy SEAL team closer to riverine areas they can use to travel covertly inside a hostile country.
A MILITARY HELICOPTER DRONE THAT CAN FIGHT WILDFIRES
For SOF (Special Operations Forces), there is a lot of potential - from sea-to-shore teams in small boats, to aviation assault squadrons and more. They could also be vital as a place for special operations teams to safely resupply and rest in between missions while helicopters and boats undergo maintenance and refueling.
For counter-terrorism, Fleet Antiterrorism Security Team (FAST) platoons could also leverage the ESBs.
Other missions could include counter-piracy, launching surveillance drones, Airborne Mine Counter-Measures, maritime security, and crisis response.
'FORCE FIELD' TECHNOLOGY COULD MAKE US TANKS UNSTOPPABLE
ESBs could prove vital for supporting safe movement at sea for the U.S. military. For example, they could support sweeping water areas for mines before an incursion of forces. Mine countermeasures in advance would certainly reduce risk and save lives before a "storming the beaches" scenario.
An ESB could potentially provide much closer opportunities for aircraft to refuel. Rather than fly a long distance, say across a country's border to an ally where there is an established base, aircraft could merely head towards water and refuel right offshore, thereby reducing time to return and provide vital air support and evacuation of casualties.
If there are no substantial medical facilities nearby, then an ESB could potentially be hugely useful to provide a floating medical hub for war zone evacuations. It could also potentially save countless lives if deployed to support disaster relief missions and provide humanitarian aid.
PODCAST: FIND OUT WHAT THE FIRST BATTLE IS LIKE FROM A TEXAN MARINE 
What's on an Expeditionary Sea Base?
The ESBs are based on Alaska class crude oil carriers built by General Dynamics National Steel and Shipbuilding Company (NASSCO).
STORMBREAKER: POWERFUL BOMB PENETRATES BAD WEATHER, SPELLS BAD NEWS FOR BAD GUYS
One of the most evident adaptations is the flight deck with room for four helicopters and tiltrotor aircraft added on top. There's also a hangar and a huge mission bay complete with cranes and equipment for small boat and unmanned vehicle operations.
The ESBs are 785-feet long with a 164-foot beam and can reach speeds of 15 knots with a range of 9,500 nautical miles. Fully loaded their displacement is 90,000 tons.
The floating bases are currently designed around providing four key capabilities: aviation, berthing personnel, support for equipment staging and what's needed for command and control. Their Expeditionary Transfer Dock (ESD) siblings focus more on vehicle staging areas and vehicle transfer from sea to shore.
BLACK HAWK ARMY HELICOPTERS GET FUTURISTIC NEW COCKPIT
The warship carries 34 Military Sealift Command personnel and can carry 250 military personnel for missions.
Now the compact, low weight Sea Giraffe AMB will be onboard as well. This ultra-advanced surveillance radar resists enemy attempts to jam it and will remain accurate even in the littoral environment.
How does it work so well in tough maritime environments? Saab describes the MMR as a 3D, electronically scanned phased array radar providing high-radiated power, selectable waveforms, and modern signal processing.
USS Lewis B. Puller (ESB 3) was the first Expeditionary Sea Base delivered with Hershel "Woody" Williams (ESB 4) and Miguel Keith (ESB 5) still under construction.
OTHER NAVAL SHIPS
'Giraffes' are protecting several classes of national defense ships.
In addition to the ESB, Saab's Sea Giraffe AMB radar, (aka AN/SPS-77), is currently deployed on the U.S. Navy's Independence-class Littoral Combat Ship.
U.S. Naval Air Systems Command has a version underway, the AN/SPN-50, for air traffic control.
The Navy's ESB announcement comes on the heels of the Navy purchasing more 'Giraffes' for the U.S. Coast Guard.  In 2017, Sea Giraffe MMR was first selected for the U.S. Coast Guard's newest class of ship, the Offshore Patrol Cutter.