Cell Wars Heat Up: Verizon Unveils Motorola Droid X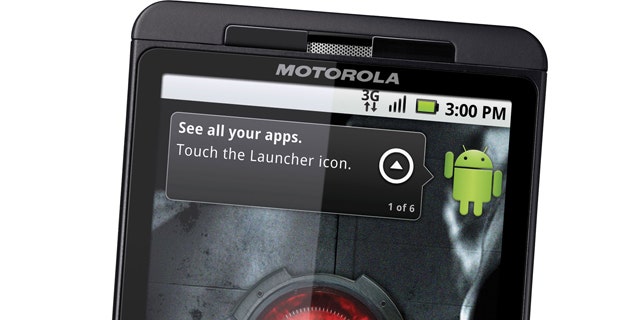 NEW YORK -- Verizon Wireless will start selling Droid X, the latest phone from Motorola based on Google's Android software, starting July 15.
The move comes as all three companies try to keep pace in the intensely competitive smartphone market, which this week will see Apple roll out its much-anticipated iPhone 4.
Verizon Wireless, the biggest U.S. mobile provider, said the Droid X phone will go on sale July 15 for $199.99 after a $100 rebate to customers signing a two-year contract.
The Droid X will have a 4.3 inch screen and an 8 megapixel camera, according to Verizon Wireless, which already depends on Motorola's Android phone as a key weapon in competing against AT&T, the exclusive U.S. provider for iPhone.
But Current Analysis analyst Avi Greengart noted that as well as battling iPhone, the latest Motorola phone will also have to fight for prominence on Verizon Wireless store shelves against HTC Corp's popular Droid Incredible.
"This won't dissuade somebody who wants an iPhone 4 but it will keep customers who want to stay with Verizon Wireless happy," said Greengart.
Among other features, the Droid X allows consumers to rent and buy movies from Blockbuster to watch on the phone. Movies cost $9.99 to purchase and $3.99 to rent using the Wi-Fi network. Unlike iPhone 4, the Droid X will support Adobe Flash.
The Droid X also acts as a hotspot that can connect up to five devices at a time using its short-range Wi-Fi connection.
And while AT&T recently ended an unlimited data download service offering, Verizon Wireless is hoping to stay competitive by keeping a $29.99 a month unlimited data download service for Droid X customers.
For its part, Google's Android system has been gaining some ground on iPhone in the last year. Google's head of engineering, Andy Rubin, said at the Droid X phone launch that about 160,000 Android phones were being sold every day.
Verizon Wireless, a venture of Verizon Communications and Vodafone, also announced on Wednesday that any customers coming to the end of their contract in 2010 would be able to immediately upgrade to any smartphone, including the Droid X.