Zach Werenski will miss the rest of the season after taking a puck to the face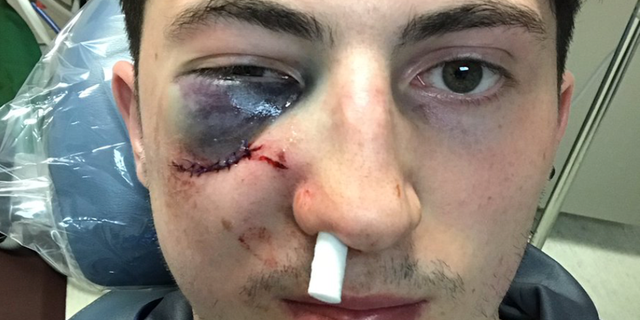 Blue Jackets' defenseman Zach Werenskitook a puck straight to the face during Sunday's Game 3 in Columbus, and he did his best to battle through it. He made it further than most of us non-hockey folk would have by getting stitched up and returning to the game sporting a massive, swollen black eye with a gnarly cut underneath.
Werenski eventually had to leave the game once the eye was too swollen to see out of, and the picture he shared after the game was pretty horrific:
On Monday morning, the Blue Jackets announced that Werenski's season was over due to a facial fracture.
That season may only be one more game (the Penguinscurrently lead the Jackets three games to none in their opening-round series) but losing Werenski is a huge blow. The 19-year-old rookie has been tremendous on Columbus' blue line this season.
If it's any consolation, he'll be going out in the good graces of his teammates, coaches and fans. Following Sunday's loss, the perpetually-cranky Blue Jackets coach John Tortorella praised Werenski, saying he has"balls as big as the building."