World Cup 2014: Brazil Team Profile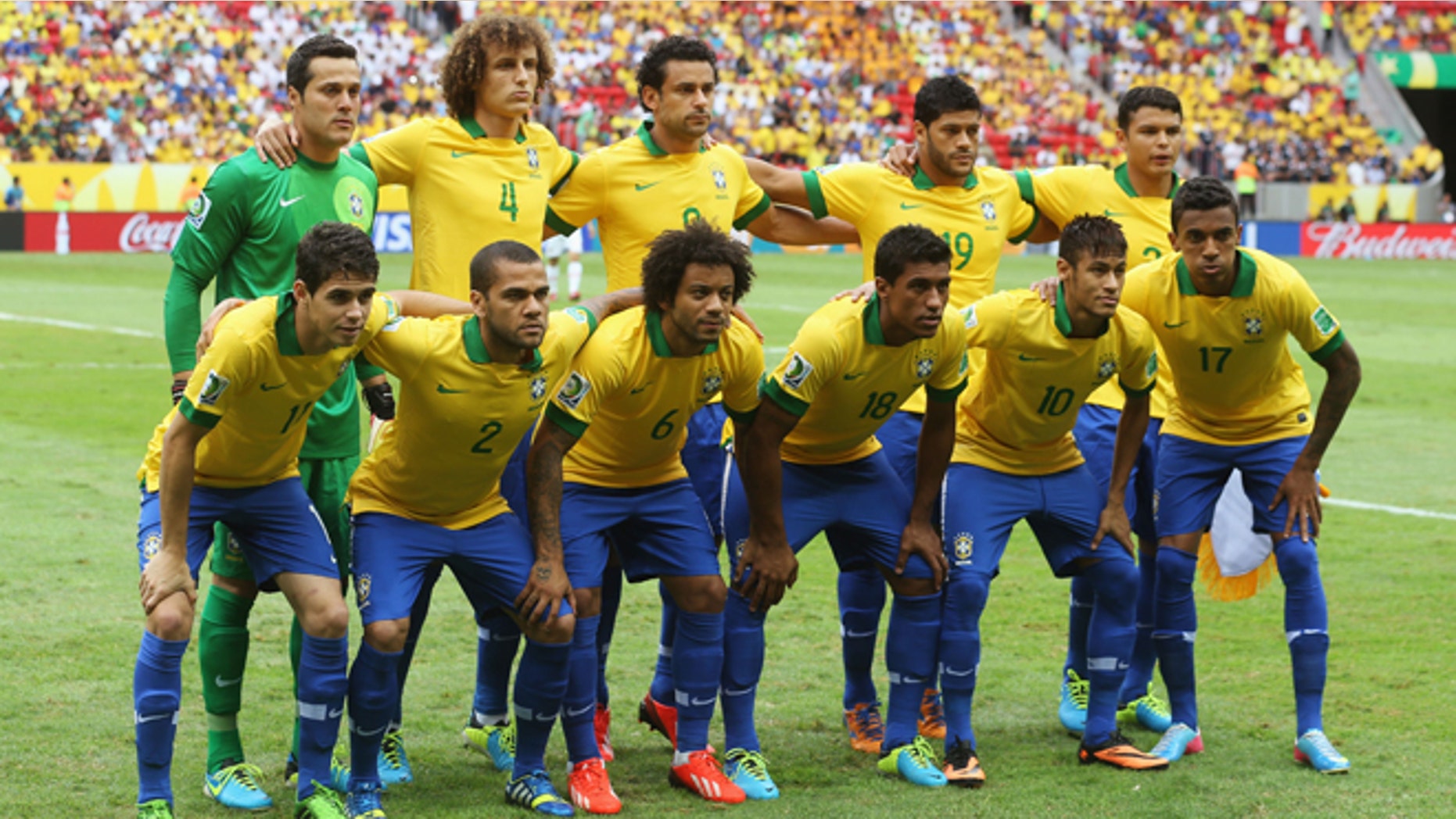 Brazil's World Cup record is unmatched, having appeared in all 19 previous editions of the tournament, won it five times (one more than Italy) and reached the semifinals or final 10 times (two less than Germany/West Germany).
Despite that, the host nation hasn't won since 2002, failing to reach the quarterfinals, even. As host, the pressure is such for the Canarinhos that nothing short of a championship will do.
A satisfying defeat in last year's Confederation's Cup final of reigning World Cup champ, Spain, along with a roster featuring some of the sport's biggest names – Dani Alves, Thiago Silva and the electrifying Neymar – suggest that Brazil is poised for greatness once again. They are clearly one of, if not the favorite to hoist the trophy in Maracanã.
Under coach Luiz Felipe Scolari, the team plays a more structured, no-nonsense style of play than Brazilians generally pride themselves on. In the past, coaches have gotten fired from the national team for daring to turn away from the classic joga bonito made famous by the great teams of the Pelé era.
And some traditionalists grumble about Scolari's tactics now, but no one can argue with the results so far, and if the Seleção is putting the points on the board, nobody in Brazil will be complaining.
At least, not too much.
Players to Watch

Neymar: Love him or hate him, the undisputed prince of this year's Cup team is the feisty 22-year old forward. At times he has struggled to fit in next to Argentina's Lionel Messi since joining Barcelona, but on the international stage, Neymar's 30 goals in 47 caps proves he has what it takes on the international stage. A foot injury kept him off the field for the last few weeks of La Liga play, although he did play 30 minutes of the season closer against Atlético Madrid as a reserve.
Thiago Silva: The Brazilian Achilles heel has traditionally been defense, but on Scolari's squad, the captain is a 29-year-old all-world central defender who has shined in recent years with AC Milan and Paris Saint-Germain. With World Cup experience from South Africa on his résumé (as well as a high transfer-market value), Silva is someone that younger Brazilian players can look to for guidance both on and off the pitch.
Oscar: The midfielder returned from a hip injury to play a full 90 minutes for Chelsea in its final game of the Premier League season against Cardiff on May 11. Given his youth, 22, it's reasonable to expect him to be able to return to form quickly. (The hip wasn't balky enough to hold him back from starring in a Calvin Klein ad campaign.) With his speed and athleticism, Oscar is a legitimate scoring threat.
Júlio César: If Brazil's success rests on any individual player, its current goalkeeper is probably the one. A mainstay of some great Inter Milan sides, the 34-year-old Júlio César was recently been a bust at Queens Park Rangers who got benched and then sent on loan to Toronto FC in MLS. One might think such a fall from glory might hinder Júlio César's chances with the national squad, but he has earned the almost unbreakable trust of Coach Scolari. Besides, in the land of the joga bonito goalkeeper isn't exactly a glamour position, so there aren't a lot of options.
Hulk: Nicknamed for his physical resemblance to a certain green comic book hero, Hulk has the footwork to match his strength. Although he's never played in one of the big European leagues (his club career has taken him through Japan, Portugal and now Russia), his nifty work for Zenit Saint Petersburg (23 goals in 42 games) has the transfer market rumor mill working overtime.
Coach

Luiz Felipe Scolari: Big Phil is back coaching his home nation in the World Cup, After guiding the Seleção to its 2002 Cup victory in Japan and South Korea, Scolari struck out for stints heading the Portuguese national squad and various clubs, among them Chelsea. While his famous temper and demonstrative coaching style have led to criticism, his hand-offs style has made him a player favorite. The big question is, Will it become a distraction that Big Phil may be in Big Trouble? The Portuguese government launched a criminal investigation of Scolari last week ¬ the rumors say it's for tax evasion. Probably not, but, given that soap operas are the country's biggest entertainment, the Brazilian press is sure to milk the story for all it's worth.
Group
Brazil is the hands-on favorite to win Group A, but that doesn't mean the team's trip to the knockout round necessarily will be easy. They have been known to try to sleepwalk through group play at previous Cups, and if they continue that tendency, they could find themselves in a deep hole. The Croatians have a strong midfield and an attack that features Bayern Munich striker Mario Mandzukic; Mexico may have had trouble qualifying, but they have a talented core with young players like Giovanni dos Santos who helped beat Brazil in the 2012 Olympic gold medal match; and Cameroon and its aging striker Samuel Eto'o, 33, are still capable of fireworks.
Quirk
Brazil may be the most successful team in the World Cup, but in 1950, they became only the second host nation (after France in 1938) that failed to win the Cup. Unlike the French, however, the Canarinhos reached the final at Maracanã stadium, where they took a 1-0 lead over Uruguay, before giving up two late goals, including one to Alcides Ghiggia with about 10 minutes left in regular time. An event still known as the "Maracanãzo," as in "the heavy blow at Maracanã."
Schedule
v. Croatia, Sat. June 12, 4 p.m., São Paulo
v. Mexico, Thurs. June 17, 3 p.m., Fortaleza
v. Cameroon, Weds. June 23, 4 p.m., Brasilia
All times Eastern
Follow us on twitter.com/foxnewslatino
Like us at facebook.com/foxnewslatino