Without Serena, women's game is dull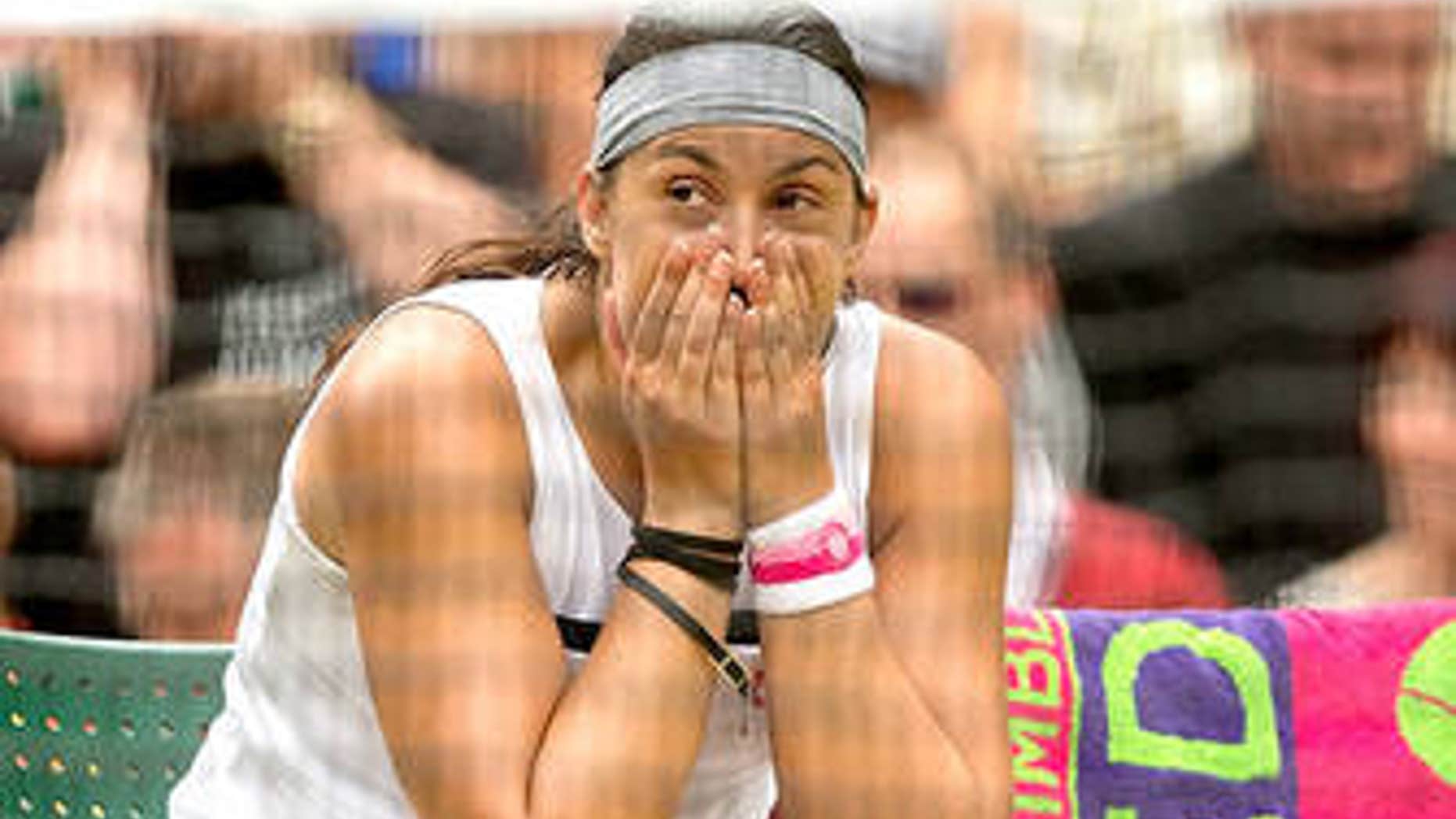 LONDON – It was the dream day of women's semifinals at Wimbledon. Did you like Marion Bartoli or Kirsten Flipkens? Sabine Lisicki or Aga R...
Wait! Hold on! Don't go! I'll talk about Serena Williams, I swear. And Maria Sharapova. Probably Sloane Stephens, too. Even gone from the tournament, they all matter. Sometimes, the story is more about who's not at a party than who is.
If this day was a look into the immediate future of women's tennis, then it doesn't look good.
Serena, come back. Wimbledon needed you here Thursday.
What is a sport to do when its entire star factor hinges on one player, who is 31? OK, I've overstated. A little. There is Sharapova, too. The problem is, at the end of a major, you want superstars to pull for or against, or maybe a prospect making a big, first move. You got none of that Thursday, when Bartoli beat Flipkens and Lisicki beat Aga Radwanska.
On the men's side, Roger Federer and Rafael Nadal lost early, but the sport still held up with the possibility of a Novak Djokovic-Andy Murray final.
But the women? Bartoli-Flipkens was actually painful to watch. Flipkens was hurt and awful. Lisicki's win was fine for a tennis fanatic, as it offered contrasting styles and shapes and sizes, and it was close. That said, it wasn't at a particularly high level.
And there was no mainstream appeal. Here's a tough-love reality for tennis: It is a niche sport that gets angry when the mainstream isn't buying in, yet doesn't seem overly interested in doing what it takes to appeal to the mainstream. Like, how about a tiebreaker at the end of matches rather than letting them go ... on ... forever?
So this was a good tennis day, but a terrible mainstream day. TV ratings will prove it.
The question is whether this day was just a fluke, or represents the immediate future of the game? Honestly, it's somewhere it the middle, with an edge toward fluke.
Start with Williams. She did run out of gas and broke down mentally in her fourth-round loss to Lisicki. The truth is, Lisicki won that match by out-Serena-ing Serena, out-pounding her.
Was Williams showing her age? Is she on the decline?
No. She's 31, but had just finished possibly her best spring ever, winning, and extending her way through tournaments. When you win the French Open, that's two weeks of grinding. She had won it only once before, meaning this was more on her body than she's used to.
But she had won 34 matches in a row. One loss to a power player on slick grass is not evidence of a long-term issue. Williams is still going to have a few years of winning majors, of making the argument that she is the best player of all time. (To me, it's still Steffi Graf.)
Meanwhile, Sharapova is just 26, and should be around for a while, losing to Serena. Venus Williams, though, is on the decline.
The thing is, after the top three players -- Serena, Sharapova and Victoria Azarenka -- there is not only a dropoff in mainstream appeal, but also in quality. It's a cliff, actually.
So if those three lose or get hurt, then you're going to get days like Thursday until a few other players move up and solidify themselves. Stephens will have the appeal, but she just isn't ready yet.
Well, Bartoli beat Flipkens 6-1, 6-2, and both are in their mid-20s with no superstar potential. Tennis fans all know Bartoli as quirky, smart and fidgety.
Supposedly, she has a 175 IQ. She is constantly jumping around between points and swinging at tennis balls that aren't there.
"I've been doing that forever,'' she said. "I have some tapes of myself when I was 7 years or, or 6 years old, and I was still doing the same. It's just part of me ... It's not like I want to annoy my opponent. It's really me trying to be ready.''
On Thursday, being ready also meant taking a 20-minute nap an hour before the match.
Weird.
Once, years ago, she was losing at Wimbledon and had her parents kicked out of the stands. Her dad was her coach. She reached a Wimbledon final several years ago, losing to Venus. At Wimbledon in 2007, she was getting humiliated by Justine Henin, and then happened to look up into the stands and see one of her favorite actors, Pierce Brosnan. Somehow, that motivated her, and she came back to win.
She ran into him recently, too, and he recognized her. He joked that if she reached the final this year, he'd be back. We'll see Saturday.
The other match Thursday was Lisicki over Radwanska 6-4, 2-6, 9-7. Radwanska is already ranked No. 4, but is a counter-puncher with no power. Her style was in exact contrast to Lisicki, who is all power and no consistency.
That made the match interesting. In fact, Lisicki, at 23, has an outside chance at stardom, with her massive serve and her win over Serena. But she's a longshot.
Radwanska's knees were giving in, and she wasn't as fast as usual. Her goal was to keep the ball in play and keep Lisicki off balance until Lisicki made a mistake. In the end, Lisicki was down 3-0 in the third set with her game falling apart. Then, she started making shots.
Lisicki suffered terrible ankle injuries after falling at the U.S. Open in 2009, and listed part of her motivation for her comeback as ... Drew Brees.
"Nobody believed he could come back ... he has torn everything there was in the shoulder,'' she said. "And he still came back and was one of the best.''
So, either Lisicki or Bartoli will win a major for the first time Saturday.
We're going to get a great personal story Saturday, at tennis' favorite moment and place. It might not sound fair to the women who made it there, but Serena will definitely be missed.