With Amare Stoudemire Out, Carmelo Anthony Knicks' Only Hope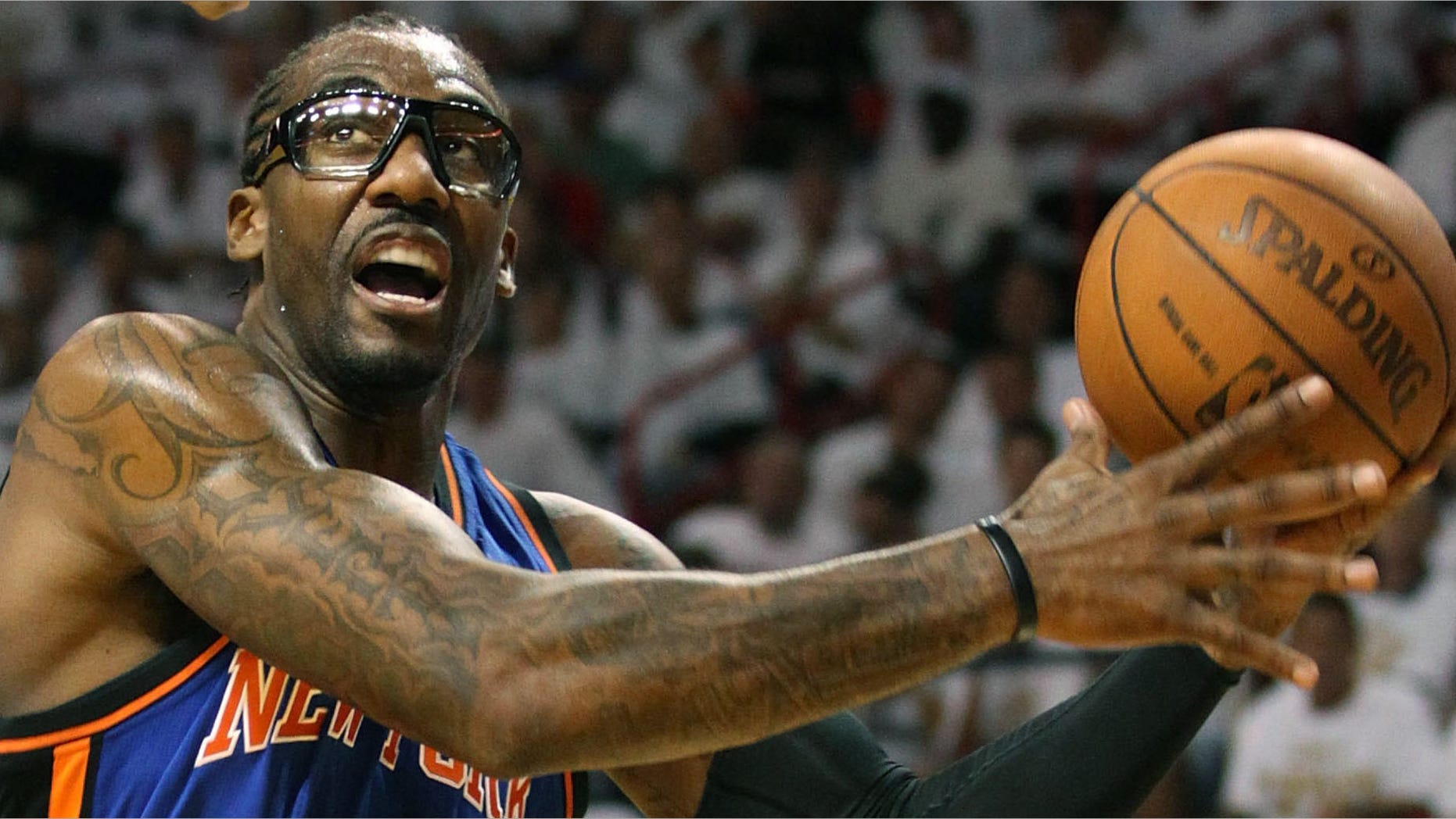 Amar'e Stoudemire's temper tantrum last night is costing the Knicks big --and he knows it.
After losing to the Miami Heat 104-94 on Monday night, it is unclear exactly what happened when Stoudemire left the basketball court.
Only this was certain: His hand was cut so severely that doctors and paramedics were summoned, drops of blood stained the carpet, a piece of glass on the door to a fire-extinguisher case needed to be replaced, and a bad night for the Knicks on the court got much worse when Stoudemire walked off.
Stoudemire's availability — and New York's hopes — for the rest of this Eastern Conference first-round series against the Miami Heat look bleak at best, first because the Knicks have fallen into a 2-0 hole in the best-of-seven matchup, then because of whatever emotions boiled over near the locker room afterward.
"I am so mad at myself right now, I want to apologize to the fans and my team, not proud of my actions, headed home for a new start," Stoudemire wrote on Twitter about two hours after the game.
Following Stoudemire's lack of judgment, coupled with Jeremy Lin's sidelining knee injury from earlier in the season, the Knicks will now have to rely on forward Carmelo Anthony for the star power they need to defeat the Heat. .
"I really don't know what's the situation with that," said Anthony, who said he was "on the court" when whatever happened with Stoudemire occurred.
With Game 3 on Thursday, the starting lineup of the Knicks is up in the air.
"I'm not going to comment until I see or hear what's going on with it," Knicks coach Mike Woodson said.
Moments later, Woodson said he had seen the cut, then stopped short of saying anything else about what took place. "I'm not going to go there," Woodson said.
So on their trip to Miami, the Knicks lost two games and two starters. Guard Iman Shumpert was lost for six to eight months after tearing a knee ligament in Game 1, a freak play after a misstep. Stoudemire now appears gone as well because of a mistake.
Everything the Heat did seemed like old news quickly after the game, when all anyone really wanted to talk about was what was going on in the Knicks locker room. Miami-Dade paramedics — who staff every game — were summoned while reporters were kept outside much longer than the typical 10-minute cooling-off period.
"We're all frustrated," Chandler said.
Stoudemire declined to say anything when he walked out of the shower area in the locker room, one towel around his waist, another shielding his left hand.
Almost forgotten: Miami had just sent New York to its NBA-record-tying 12th straight postseason loss.
New York's last postseason win came April 29, 2001.
"This is a series," Chandler said. "We've got to go home, win the next two, and turn it into a best-of-three after that."
Anthony scored 30 points on 12-for-26 shooting for New York, which got 18 points from Stoudemire and 13 apiece from Chandler and J.R. Smith.
The Heat came into the game saying they expected Anthony to be much more aggressive. They were right.
Anthony opened with an 11-shot quarter — the last time someone took more in the first 12 minutes of a playoff game was May 15, 2006, when Richard Hamilton got 12 shots off for Detroit against Cleveland. Anthony missed all seven of the jumpers he took in Game 1 when guarded by James, then got his first one to fall on the game's first possession Monday.
By halftime, Anthony was up to 21 points on 9-for-18 shooting, the Knicks needing all that and more. Wade, James and Bosh combined for 41 points in the first two quarters, helping Miami take a 53-47 lead.
Unlike Game 1, it wasn't over by halftime. And play was heated, just not overheated.
Well, until postgame, anyway.
For nearly three quarters, whenever Miami was on the cusp of pulling away, New York had answers.
Miami's margin was back to nine after a flurry ended the third. James drove right and got just about every Knick to shift with him, leaving Battier all alone for a 3-pointer, and James' three-point play as the shot clock was running down had him laughing and the Heat up 78-69 going into the fourth.
The Knicks never got any closer, and the Heat wound up holding serve at home.
"We did what we're supposed to do," Heat coach Erik Spoelstra said. "It's not anything more than that. We're already trying to leave this game behind."
By then, word was just seeping out of what happened in the Knicks locker room.
"Amare is a huge piece of this team," Chandler said. "And, you know, without him, it's going to make it more difficult."
This is the first time the Heat have held a 2-0 series lead over the Knicks. All four previous matchups in the regular season were split after the opening two games.
Based on Reporting by the Associated Press.
Follow us on twitter.com/foxnewslatino
Like us at facebook.com/foxnewslatino