WIDE WRITE: Remember a Titan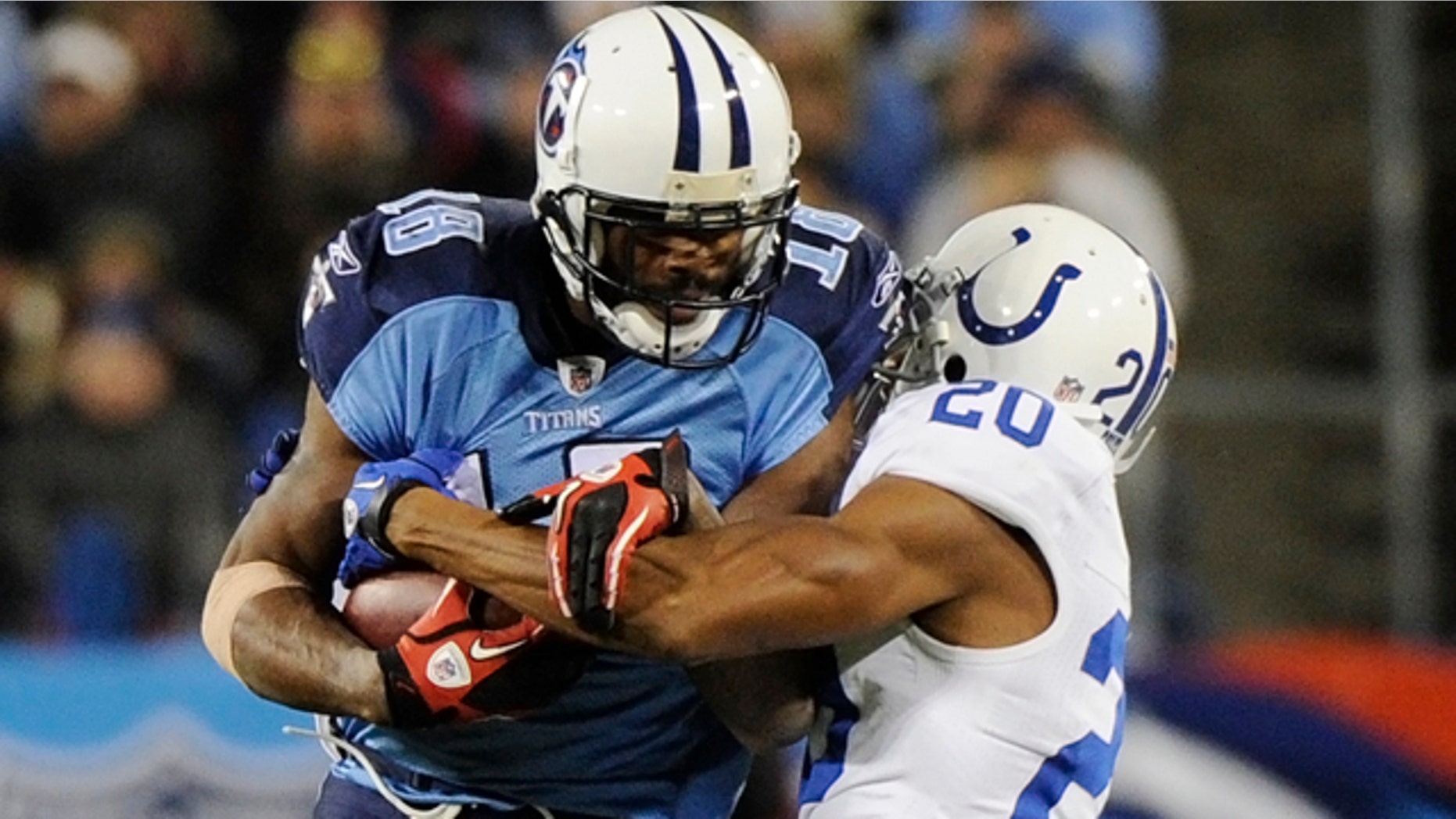 Still with us? That must mean your fantasy football title hopes are alive and well, or that you're here to leave a nasty comment about our recommendation of Eagles TE Brent Celek (zero catches) in last week's edition. Either way, it's nice to see you again.
As noted previously, each position below will have a list of weekly "must starts" to go along with the usual recommendations. They're players that warrant "no-think" fantasy status due to talent, workloads or both, regardless of opponent. The lists are subject to change, but additions and deletions will be made sparingly. Also, if a player is ever "removed until further notice," it doesn't mean you need to bench him; it just indicates that his status has become a week-to-week proposition that depends on the rest of your roster.
If you disagree with any of the selections, or want to offer some of your own, please post a comment at the bottom of the page. We'll be here every Thursday until the end of your fantasy season.
Thursday game: The 49ers visit the Chargers in a battle of desperate teams. Set your lineups accordingly
Quarterbacks
Must starts (6): Peyton Manning, Tom Brady, Michael Vick, Drew Brees, Philip Rivers, Aaron Rodgers*
Injury watch*: Aaron Rodgers suffered his second concussion of the season in Week 14, and his status is in doubt. If he's active, start him against the Patriots.
Start him: Jason Campbell, Raiders
Campbell threw for 324 yards and a pair of touchdowns against the Jaguars in Week 14. This week, he gets the Broncos! At home! If it wasn't for CB Champ Bailey, the Broncos would give up about 900 passing yards and seven touchdowns per game. Campbell should be able to avoid Bailey enough to post solid numbers en route to a big win over a dispirited group that can't wait for its horrible season to end. If you own Rodgers, Campbell would be a nice fill-in. He's owned in 45.2 percent of FoxSports.com leagues now, and starting in only about 12 percent.
Sit him: Joe Flacco, Ravens
Despite being on pace for nearly 4,000 yards and 26 touchdowns, Flacco doesn't seem to inspire faith in many people. Sometimes that seems unfair, but this week it makes sense for fantasy purposes. The Saints will visit Baltimore with a pass defense that ranks fifth in yards allowed with a shade below 200 per game, as well as a league-low eight TDs permitted. Maybe this is the week the Ravens let Ray Rice lead them to victory instead of leaving things in Flacco's hands, even if such an adjustment is borne of necessity. Get in the end zone, Ray!
Pick him up: Chad Henne, Dolphins
Yes, we saw Henne (owned in 46.6 percent of FoxSports.com leagues) against the Jets. Five completions in 18 attempts, 55 yards passing … just horrendous. This week's opponent, the Bills, don't allow a lot of passing yards, but they've given up 22 touchdowns through the air, and let's not forget that despite his recent benching, Henne has had some good games, including a 307-yard, two-TD beauty against the Raiders a couple of weeks ago. The Dolphins have a pair of home games coming against the Bills and Lions, and need to sweep their final three to have a chance at the playoffs. Look for Henne to step up.
Running backs
Must starts (11): Adrian Peterson, Rashard Mendenhall, Arian Foster, Michael Turner, Ray Rice, LeSean McCoy, Peyton Hillis, Chris Johnson, Maurice Jones-Drew, Steven Jackson, Jamaal Charles
Note: Other analysts will suggest that, due to an uncertain quarterback situation and a strong opponent, you should bench Peterson this week if his 26 yards against the Giants didn't already wreck your season. You know when you should bench the best running back on the planet? Never.
Start him: Tim Hightower, Cardinals
We're doubling down on Hightower after riding him to a season high 148 yards against the Broncos in Week 14. This week he gets to run against a subpar Panthers' run defense, but more importantly, he'll be taking handoffs from rookie John Skelton once again. With the green-as-green-can-be Skelton under center for his second career start, the Cardinals will keep the ball on the ground as often as possible. Hightower seems to be the team's lead back, even though his busy workload last week was partly due to the in-game fever and vomiting of backfield mate Beanie Wells. You'll take a little vomit if it means your fantasy back gets points, right?
The Cardinals-Panthers game in Charlotte will feature Skelton and Jimmy Clausen as the starting quarterbacks, meaning that we could see a run-to-pass ratio of approximately 75:6. Start Panthers RB Jonathan Stewart if you have him, too.
Sit him: LaDainian Tomlinson, Jets
If it's running against the Steelers, bench it. If it's a 31-year-old back who hasn't cracked the 60-yard barrier since Week 5? Bonus! Tomlinson is still in a lot of fantasy starting lineups, and that needs to change. Now.
Pick him up: Ryan Torain, Redskins
Torain's Week 14 return was a blockbuster for the 'Skins, with the oft-injured back carrying 24 times for 172 yards against the Bucs. Head coach Mike Shanahan is notoriously fickle with runners, but even he can't hold down Torain's workload now. Torain is a solid grab for games against the Cowboys and Jags in Weeks 15 and 16. He's owned in about half of FOXSports.com leagues, and will become a must-start option with one more big game.
Also: Detroit's Maurice Morris is still owned in fewer than five percent of FOXSports.com leagues, but he's averaged 10 carries per game over the last four weeks. He's not great, but he's OK.
Receivers (WR/TE)
Must starts (13): (WR – 9) Calvin Johnson, Andre Johnson, Reggie Wayne, Terrell Owens, Roddy White, Brandon Lloyd, Greg Jennings, Dwayne Bowe, Hakeem Nicks; (TE – 4) Antonio Gates*, Jason Witten, Jacob Tamme, Vernon Davis
Injury watch*: Gates (foot) is very iffy yet again after missing Week 14. You'll know if he's active by about 7 p.m. ET on Thursday.
Removed until further notice: Miles Austin, Stevie Johnson, Brandon Pettigrew
Start him: Kenny Britt, Titans
According to Titans head coach Jeff Fisher, Randy Moss didn't get much playing time against the Colts last week because he and Britt both play split end. That statement was certainly an indictment of Moss' current lack of "we need to get him in there any way we can" skill, but it's also a nice compliment for Britt, who was targeted eight times and caught four passes against the Colts. Failing to start Britt against the Texans' league-worst (by a lot) pass defense this week would be an act of fantasy football negligence. Don't screw this up, because we'll call the authorities if we have to.
Sit him: Sidney Rice, Vikings
Who'll be throwing the ball to Rice? Heck if we know, but with Brett Favre and Tarvaris Jackson both injured, the Vikes are talking about signing and starting a quarterback off the street, like the Panthers did a few weeks back with the immortal Brian St. Pierre.
It's tempting to think that someone has to catch passes for the Vikings; we even use that logic from time to time. But if you've watched Arizona's Larry Fitzgerald and Carolina's Steve Smith this season, you know that there's only so much a big-time receiver can do to get the ball thrown accurately in his direction. With the Bears owning a solid pass defense, and the Vikings having Monday's home game displaced to a local college stadium on a night that's likely to be frigid, don't count on Rice for much. If Favre or Jackson plays, you can reconsider this one. Just remember that either QB will be hobbling away from a pursuing Julius Peppers on every dropback.
Pick him up: Louis Murphy, Raiders
We mentioned Campbell above, so let's turn to his best receiver, who caught six passes for 59 yards and a score in Week 14, when he was targeted a team-high 11 times. Murphy missed a few games in the middle of the season due to a bruised lung, but now that he's healthy, look for more solid production. Murphy caught 15 passes for 238 yards and a TD in the season's first three games, if you want an idea of what to expect. He's owned in 22.1 percent of FoxSports.com leagues.
Also: Rams WR Danario Alexander was supposed to be a bigger part of the gameplan last week, but didn't get many looks with QB Sam Bradford running for his life against the blitzing Saints. Alexander is the Rams' best deep threat, and could be useful in domed games this week and next. You probably don't want to start him until he posts some decent numbers, though … TE Andrew Quarless led the Packers with six targets, five receptions and 62 yards in Week 14. If Matt Flynn has to start at quarterback in place of Rodgers, you can expect some checkdowns. Tight ends with good hands like Quarless live in Checkdown Central.
If you're here again next week, it'll probably mean you've advanced to your league championship game. Good luck!
John Halpin writes his "Wide Write" fantasy football column every week during the NFL season for FoxNews.com. He also writes fantasy columns and early-morning blogs four days a week at FoxSports.com/fantasy, and co-hosts a daily fantasy podcast. You can receive more fantasy news and contact John by following him on Twitter (@jhalpin37), or e-mailing him at jhalpin37@gmail.com.