Who'll win Week 3's biggest games?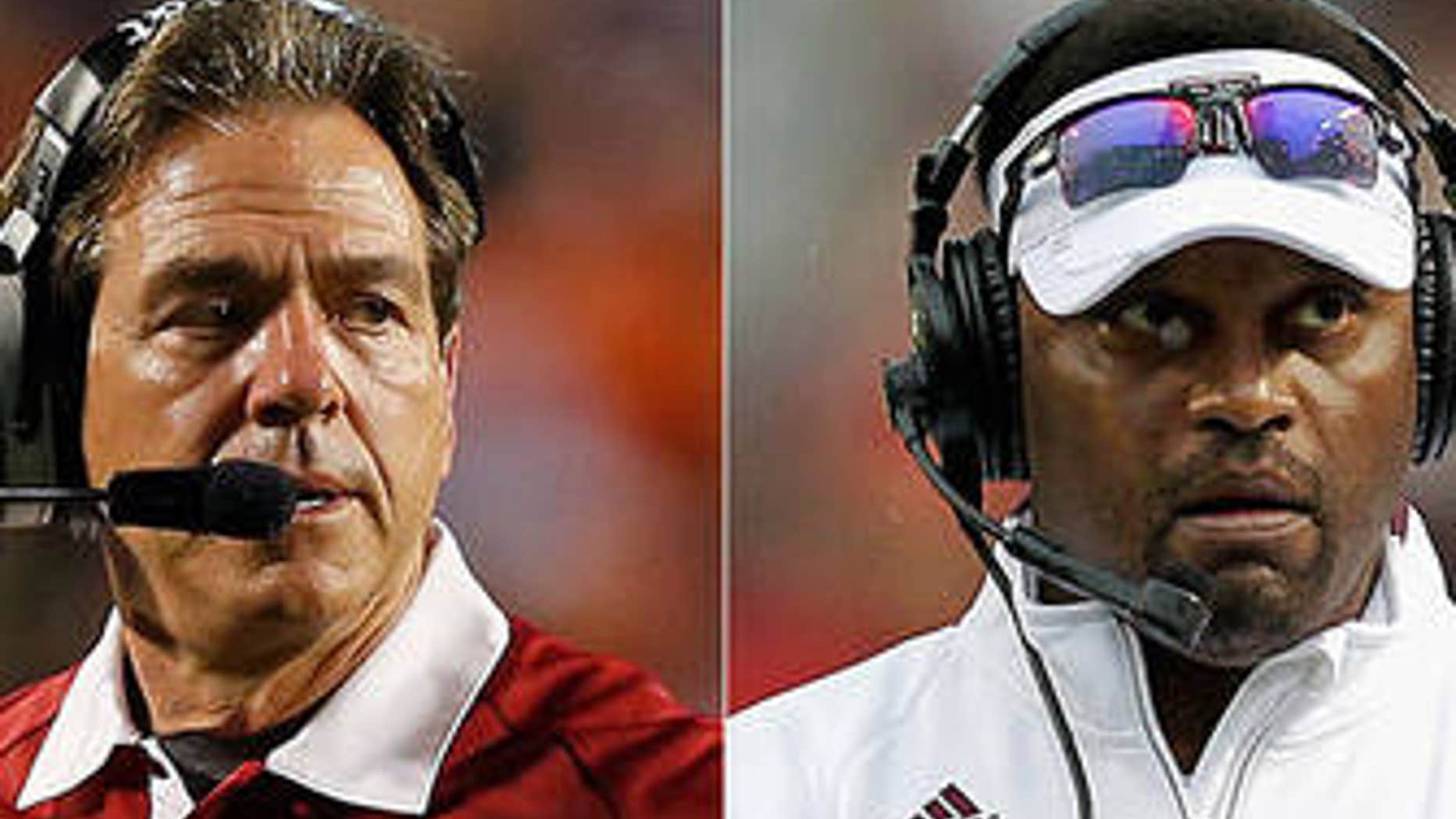 Week 3 of the college football games brings us a full slate of compelling matchups, but there's one game in particular that will get the attention.
Yes, of course, we begin this week's Fearless Predictions in College Station.
Check out CollegeFootballNews.com for more on this week's games.
No. 1 Alabama at No. 6 Texas A&M Saturday, 3:30 p.m. ET, CBS
Why You Should Give A Hoot: Something legendary is going to happen.
Alabama's sensibilities are offended. Nick Saban and his staff would never, ever, ever admit to looking past an opponent, especially one as strong as Virginia Tech. But for the entire offseason, everything looked forward to College Station and Sept. 14. This is the game that speaks to the skill of Alabama's coaching staff, because the best defense in college football, with all the time in the world to prepare, should be able to rise up and stop one guy and one offense. If Alabama really is as strong as it's supposed to be from top to bottom, inside and out, Saban to waterboy, an entire offseason plus two weeks after the opener should be enough to prepare. Mr. Manziel must ready for the fury and ferocity of everything that is Alabama football.
But there's a flip side to that.
What happens if Johnny Manziel is fantastic? Even if Manziel is merely adequate against Alabama, all the offseason stuff no longer matters if he leads Texas A&M to a win. If he pulls it off, all of a sudden it's his Heisman for the taking - again - and Texas A&M would be in the discussion for the No. 1 ranking in next week's poll. More importantly, the narrative of the 2013 college football season would take an abrupt left turn.
There's obviously a whole lot of college football yet to be played. Both programs have to deal with LSU and the rest of the brutal SEC West, and both teams will have their share of struggles and landmines to overcome, but this is the tone-setter. This is when Alabama flexes its muscle and shows the world that it doesn't matter what anyone else is doing, the season belongs to the two-time defending national champion. Or, this is the arrival of Texas A&M as a legitimate national superpower. It's easy to forget now, but the Aggies lost the 2012 opener to Florida and were 5-2 by late October - they were never in the BCS championship chase.
This is just the sixth meeting between the two schools that Bear Bryant helped mold into college football powerhouses.Alabama won the first showdown in the 1942 Cotton Bowl and owns a 3-2 advantage.
Why Alabama Might Win: The Texas A&M defense has yet to show up. The focus hasn't exactly been tight in the first two games against Rice and Sam Houston State, and several key players were missing for a chunk of the opener due to suspension, but now everyone is back in full. Will everything be jelled right away against a Tide offense that spent the last two weeks hearing about how inept it was against Virginia Tech? Sam Houston State was able to come up with big play after big play on the ground, with Timothy Flanders rushing for 170 yards and two scores on 19 carries, while Brian Bell and the passing game came up with enough home runs to get by. The Aggie defensive front seven is full of athletes, and it should be able to fly around the ball, but Alabama's offensive line is about to get very physical after struggling to establish itself against the Hokies.
Why Texas A&M Might Win: Was the Virginia Tech game an indication that Alabama's offense isn't going to be up to championship snuff, or was it simply a case of the Tide going up against one of the ACC's best defenses? Either way, the results weren't positive. The Tech secondary covered Amari Cooper like a blanket, holding him to four catches for 38 yards, while QB AJ McCarron struggled against a good pass rush. As long as the Aggies are aggressive and active in the backfield, they should be able to counteract Bama's power with just enough big plays to get by. It'll be all about third downs; win the down and, possibly, win the game.
What Will Happen: You do not make Nick Saban angry. Call this his own personal battle to show the world that, yeah, Texas A&M and this offense can be stopped, and it's his defense that's going to do it. The Alabama offense won't exactly be a work of art, but it'll be brutally effective when it has to be in a statement game for the Tide program. Manziel will be fine, and he'll have a few big moments, but he's about to be in for a rough, rough afternoon.
Prediction: Alabama 31, Texas A&M 17
[Read the full prediction at CollegeFootballNews.com ]
No. 16 UCLA at No. 23 Nebraska Saturday, Noon ET, ABC
Why You Should Give A Hoot: UCLA-Nebraska may not be the biggest Week 3 game among ranked teams, but it has plenty of meaning to both of the combatants.
The 23rd-ranked Huskers have a score to settle with the Bruins, who won last year's game on the West Coast, 36-30. Nebraska, which fancies itself as a co-favorite in a very deep Big Ten Legends Division, rebounded from a rough start with Wyoming to bludgeon Southern Miss last Saturday. All eyes will be on Bo Pelini's defense, which has been maddeningly inconsistent from time to time.
UCLA returns to work after resting in Week 2. The Bruins opened 2013 strong, hammering Nevada, 58-20, behind a high-powered offense. Head coach Jim Mora, like Pelini, is determined to guide his team to higher ground, preferably ending the year in Pasadena. A win in Lincoln could catapult No. 16 UCLA to new heights of confidence before the start of the Pac-12 season.
Why UCLA Might Win: If Nebraska plays defense the way it did against Wyoming, the Bruins will shred the Cornhuskers.
UCLA likes to spread the field with playmakers and allow star QB Brett Hundley to distribute. Hundley represents a very tall order for the Huskers, because of his ability to make things happen with his arm and his legs. While it was just one game versus Nevada, Jordon James looks as if he might be the answer at running back, rushing for 155 yards and a touchdown on 21 carries.
Why Nebraska Might Win: UCLA will score. Nebraska will answer.
The Huskers move the ball like a Pac-12 program. They, too, boast a dual-threat quarterback, Taylor Martinez, who's flanked by playmakers. Nebraska harbors the better skill position talent, a big-play group consisting of backs Ameer Abdullah and Imani Cross and receivers Kenny Bell and Quincy Enunwa. The retooled Bruin defensive backfield will need to be on its game Saturday afternoon.
What Will Happen: Nebraska is flawed. UCLA is focused. The Bruins have had two weeks to prepare for a Husker defense that still has a long way to go before achieving consistency. With Hundley in charge, the visitors will keep the sticks moving and the scoreboard changing. Nebraska can certainly hang with UCLA offensively, but not for 60 minutes. Barr and Kendricks will eventually do something disruptive that jars the ball loose and changes the tenor of the game. The Bruins are the more complete team right now, which will be the difference in the compelling undercard to Alabama-Texas A&M.
Prediction: UCLA 41, Nebraska 34
[Read the full prediction at CollegeFootballNews.com ]
No. 4 Ohio State at California Saturday, 7 p.m. ET, FOX
Why You Should Give A Hoot: Third-ranked Ohio State hits the road for the first time in 2013, with uncertainty swirling around its catalyst behind center.
Heisman hopeful Braxton Miller suffered a sprained MCL in last week's demolition of San Diego State, forcing the junior to the bench in the first quarter. Backup Kenny Guiton more than carried the torch, but the Buckeyes need a fully functional Miller in order to achieve all of their goals in 2013. Ohio State is trekking to Berkeley for the first time since 1972, with a nation's-long 14-game winning streak on the line.
Cal is an awful lot like Tennessee, which playing up the road at Oregon this weekend. Exciting future, lots of rebuilding needed, and a chance to make a statement versus a top five opponent on Saturday. The Bears have had a predictably rocky start in head coach Sonny Dykes' debut, losing to Northwestern before getting pushed to the brink last week by Portland State.
Why Ohio State Might Win: The Buckeyes are a tall order for most defenses, but for Cal, they're a monumental challenge. The 116th-ranked Bear D has buckled in both of its games, a situation exacerbated by injuries. With or without Miller, Ohio State doesn't figure to employ P Cameron Johnston much this weekend. Urban Meyer's system plus the athleticism of the quarterbacks and the skill position players figures to stake the Buckeyes to their third straight game of at least 40 points.
Why Cal Might Win: The gap between the quarterbacks isn't what many figured to be when this game was broken down in August. Not only is Miller somewhere less than 100 percent, but rookie Bear QB Jared Goff hasn't played like a rookie. There've been some poor decisions, sure, but he leads the country in passing yards, and he's continually getting more comfortable in Dykes' attack. Goff also has two rising stars, sophomores Bryce Treggs and Chris Harper, to throw to. The Bear Raid allows Cal to compete, even when the opposing offense is flourishing.
What Will Happen: Cal is a one-trick pony at this time, a freewheeling passing attack that also exposes the offense to turnovers. Ohio State, on the other hand, has far too much balance, on both sides of the ball, to get picked off in Berkeley. Guiton is a luxury for any coaching staff. If he gets the call, the Buckeyes will still win comfortably, but with a few less points in the final box score.
Prediction: Ohio State 41, Cal 21
[Read the full prediction at CollegeFootballNews.com ]
Tennessee at No. 2 Oregon Saturday, 3:30 p.m. ET, ABC
Why You Should Give A Hoot: Head coach Butch Jones has energized Rocky Top since arriving earlier in the year. He'll send Knoxville into a state of euphoria with an upset in Eugene this week.
Jones and his Vols are playing with house money this weekend. No one expects them to knock off the nation's No. 2 team on the road, but just getting that opportunity will serve as a learning experience for the young squad. Tennessee, despite still being very much in a rebuilding phase, has begun to lay a foundation with wins over Austin Peay and Western Kentucky. In the end, 2013 for Jones is all about building some momentum that can be carried into 2014.
At least through two games, Oregon appears as potent as ever. No Chip Kelly, yet no problem hanging 125 combined points on Nicholls State and Virginia. The 59-10 rout of the Cavaliers was especially impressive because it occurred across the country against an underrated D. This is the Ducks' final non-conference tune-up before Pac-12 play begins on Sept. 28.
Why Tennessee Might Win: Beating Oregon at Autzen will require game-changing plays, such as turnovers. The Vols have been pretty good at that so far in 2013.
No one in America has created more takeaways through two games than Tennessee. Now, the Hilltoppers' sloppiness a week ago was certainly a contributing factor, but the Vols have been undeniably more aggressive under coordinator John Jancek so far. LB A.J. Johnson and S Brian Randolph have been especially active for Jancek. On offense, UT has the O-line hosses to create running room for Rajion Neal and Marlin Lane, while keeping the Oregon offense on the sidelines.
Why Oregon Might Win: Tennessee may be improving on defense, but it's a long way from being reliable, which is about to get exposed on Saturday.
While the Vols have a core of talent with which to work, they lack the speed, depth and experience to corral the Ducks. In other words, they're like all but a couple of FBS defenses. With QB Marcus Mariota and RB De'Anthony Thomas in charge, Oregon is averaging a gaudy 10 yards per carry, exploding through the wide running lanes created by the blockers. As Mariota improves as a passer, attempting to stop the Ducks' offense is like grabbing the wind.
What Will Happen: The future at Tennessee is bright. The present, though, is going to bring the occasional reality check. The Volunteers aren't ready to compete with the likes of Oregon, though that's the goal that Jones and his staff are feverishly working toward. Not only are the Ducks machine-like on offense, but the D is carrying its weight as well. The outcome on Saturday could be decided before halftime.
Prediction: Oregon 52, Tennessee 20
[Read the full prediction at CollegeFootballNews.com ]
No. 25 Ole Miss at Texas Saturday, 8 p.m. ET, Longhorn Network
Why You Should Give A Hoot: One bad football game later, and all of a sudden the world is a different place.
Texas wasn't supposed to have any problems with BYU. The Cougars couldn't get anything going against Virginia the week before in a loss, and the Longhorns looked sharp and explosive in the win over lowly New Mexico State. But a funny thing happened on the way to Provo: Texas forgot to bring its run defense, allowing 550 yards on the ground to the Cougars. After a 40-21 loss, the entire program is in a state of upheaval. Defensive coordinator Manny Diaz was launched, Mack Brown's seat is under an all-time red-hot flame and the loaded team now appears to be one more loss away from going into the tank.
But there's still time. It was a conference loss, and there are still plenty of big wins out there to be had. It all starts with an Ole Miss team that's trying to navigate its way through a brutal early schedule.
After this, the 2-0 Rebels get two weeks off to prepare for a run of at Alabama, at Auburn, Texas A&M and LSU. But first a huge win in Austin would take the season to a whole other level. Yes, Texas just lost and looked bad doing it, but a win would still be huge for the young and emerging Rebels. It might even serve as a catalyst to a surprising season.
Why Ole Miss Might Win: It's not that Texas doesn't have the talent or that the defense isn't athletic or that the front seven can't tackle. For whatever reason, the uber-talented Longhorns don't seem able to use their speed and athleticism to get around the ball defensively, and when they did against BYU, they whiffed way too often. The defensive line that was so squishy-soft throughout last season got shoved around in Provo, and BYU quarterback Taysom Hill took advantage with 259 yards and three touchdowns on a mere 17 carries. Meanwhile, Cougar back Jamaal Williams, who's hardly a thumper, managed to weave and barrel his way to 182 yards on a tough 30 carries. And now it's Mississippi's turn with a slew of quick backs and a dangerous backup quarterback option in Barry Brunetti to weave into the mix as a curveball. It's a question of want-to with the Longhorn defenders, but can there be a night-and-day difference in just one week?
Why Texas Might Win: Keep the chains moving. How do you bail out a struggling defense? You keep control of the ball and you keep the other guys on the sideline. Vanderbilt was able to convert third down plays at will against the Rebel defense, hitting on half of its chances, and Southeast Missouri State wasn't too bad at it last week, either, keeping the score manageable in a 31-13 loss by converting on 6-of-14 tries and keeping the ball for over 33 minutes. Texas strikes so quickly that third downs and time of possession don't usually mean much, but they could be really important this week against the Rebel defense.
What Will Happen: Texas will come back with a new fire and more pep, but Ole Miss might simply be better. With David Ash hurting and no Daje Johnson, a lot of Texas' punch is gone. Can McCoy hold his weight in a game like this? Yes, but the Ole Miss running game will enter the stadium drooling.
Prediction: Ole Miss 34, Texas 30
[Read the full prediction at CollegeFootballNews.com ]