Watch the Chicago cast of 'Hamilton' break into 'Go Cubs Go' on stage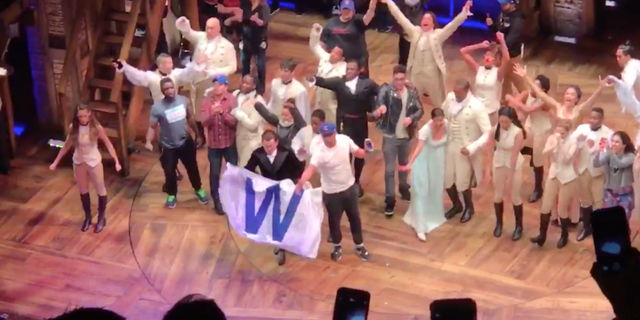 The city of Chicago is still riding high following the Cubs' first World Series title in over 100 years, and the aftershock can be felt across the city, even in the unlikeliest of places.
Cubs fans who attended Thursday night's performance of "Hamilton" at the PrivateBank Theatre in Chicago were in for a treat, as the cast busted out a Broadway rendition of "Go Cubs Go" during a curtain call.
Some of the cast and crew even wore Cubs hats and flew the 'W' during the song, and it seemed like the crowd in attendance loved every second of it. I can't imagine how many times that song has been played or heard in the city over the past few days (it broke into Spotify's Top 50 chart), but one would imagine that long-suffering Cubs fans aren't exactly sick of it.