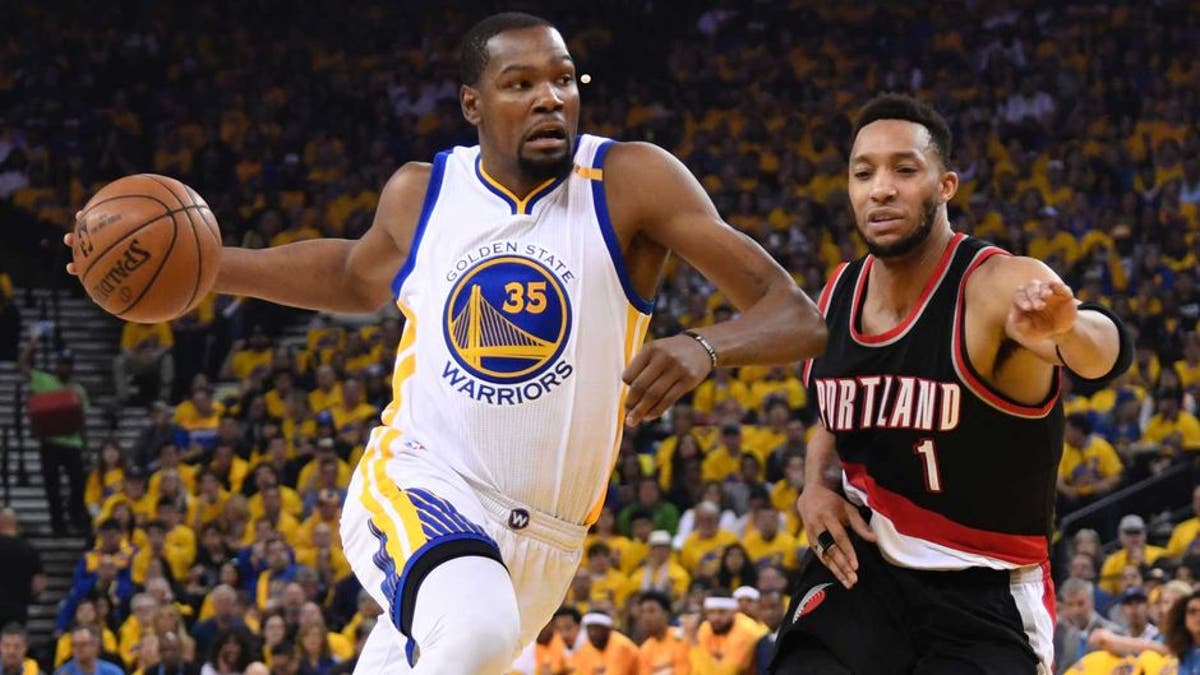 OAKLAND, California (AP) -- Kevin Durant patted his chest after two big baskets in the fourth quarter and let everybody know "I got this!" Stephen Curry knocked down a timely baseline 3-pointer, reached his hand high and gestured to further ignite a raucous sellout crowd.
On a day Damian Lillard and CJ McCollum put on a dazzling display of shot-making for Portland, the NBA's top-seeded team of superstars found its touch down the stretch and defended with purpose.
Durant had 32 points and 10 rebounds in his Golden State playoff debut while Curry scored 29 points as the Warriors withstood a sensational day by the Trail Blazers' dynamic backcourt duo to win Game 1 of the first-round series 121-109 on Sunday.
McCollum scored a playoff career-best 41 points and Lillard had 34 but the Warriors made the crucial big plays on both ends down the stretch with Portland missing injured center Jusuf Nurkic.
"When they got it going, they're hitting tough shots in the first half, some you've just got to live with, we played great defense," Curry said. "They were just able to finish, but over the course of 48 you just try to wear them down."
Draymond Green had 19 points, 12 rebounds, nine assists, five blocked shots and three steals to help last season's second-place team take the first step in what it is counting on to be a championship run.
Durant shot 12 for 20, showing no issues with a recent left knee injury that sidelined him 19 games before he returned for the final three regular-season contests with the NBA-best Warriors.
The opener in a rematch of last season's Western Conference semifinals won in five games by Golden State didn't disappoint featuring two of the NBA's best backcourt duos.
There was a little of everything: physical play, trash talk, deep 3-pointers, monster blocked shots and dazzling dunks. After one flurry of a third-quarter sequence when several players on both teams hit the floor trying to secure a loose ball, four towel guys frantically wiped down the court.
"The game ratchets up when you get into the playoffs," Durant said. "I definitely felt good out there."
Game 2 is Wednesday night at Oracle Arena.