Unbeaten Houston Cougars looking to move to 1-0 every week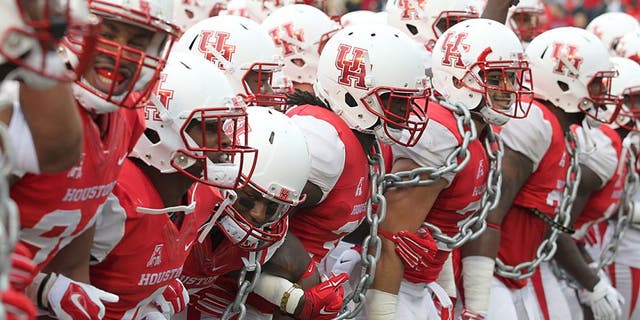 University of Houston head coach Tom Herman has a philosophy that each week on the schedule is a new season for his Cougars.
The goal? Go 1-0 in each of those 'seasons.'
The Cougars have done that -- nine times, in fact -- and are now set to face their toughest test of the season against the one-loss Memphis Tigers.
For Herman, the success in his first season as a head coach, coming to Houston after helping the Ohio State Buckeyes win last season's national championship as offensive coordinator, has made him already hot commodity for power house schools seeking a new coach. While his longterm future with the Cougars may be in question, his team has certainly bought into the system en route to being one of the final six unbeaten FBS teams in the nation.
"We have a culture of physical and mental toughness," Herman said. "Maybe more importantly than those two things, of the toughness and the competitiveness, is the genuine love that our guys have for each other and for this coaching staff... It's impossible to give up and give in when you're playing with love for your brothers and they've got that love right back for you."
Despite being one of just a few college football teams without a loss on their schedule, Houston has yet to receive any love from the College Football Playoff Committee as the Cougars were ranked at No. 25 in the first week, moving up just one spot to No. 24 in the second. Memphis, on the other hand, is still more highly regarded, sitting at No. 21 after suffering their first loss of the season to Navy (No. 20) last week.
Despite the snub within the Playoff Committee ranks, Houston has risen to No. 16 in the AP Top 25 poll. While the rankings make for great talk among fans and on sports radio; where the Cougars are ranked doesn't change the mindset of Herman's team.
"Nothing," Herman said when asked what the College Football Playoff Rankings meant for his team. "I appreciate the question, and it's not to be standoffish, it really doesn't in our program. Where you are after nine games matters not. It really doesn't. We understand that there are no trophies, there are no prizes, there are no awards given for what you've done after nine games. It's the complete season that matters. Our goal has always been to win our conference championship, we understand that Memphis is the next step in to getting closer to doing that."
Herman's 'new season with every game' philosophy means more than ever in the latter part of the schedule with No. 21 Memphis coming up Saturday. Houston caps the regular season with a matchup against No. 20 Navy. If the Cougars remain undefeated, a New Year's Day bowl game could be in play. One loss, however, could end that dream — as well as possibly stop Houston from it's initial goal of winning the American Athletic Conference.
"It's huge," Houston senior running back Kenneth Farrow said about playing Memphis after the win against Cincinnati. "They're [8-1], and we're 9-0, and they're on our side of the division, so it's a must win for us. Every game from here on out is a championship game."
First step to continuing the unbeaten streak under Herman's watch? Making sure to take care of business at home against Memphis and it's, according to many, including Herman himself; NFL-ready quarterback Paxton Lynch.
"How long you got?" Herman responded when asked about his thoughts on Lynch. "That dude... he's is a creature, man. What is he listed at 6' 7", 245? Runs really, really good. Got an extremely strong arm. Makes great decisions, can get the ball out. There's really no knock on him. I think he's a fantastic quarterback, gonna play on Sundays, certainly."
With the quarterback credentials for the Tigers, the defense will need to remain on it's toes for a second straight week after facing Cincinnati's strong passing attack, according to Herman.
"For our defense, its out of the frying pan and into the fire with back-to-back weeks against (Cincinnati QB) Gunner Keil and Paxton Lynch," he said. "I don't know of a two-week stretch in the country where you're going to face two QBs with that much talent."
Houston can counter with it's own quarterback, junior Greg Ward Jr. His play this season has earned him an official letter from the Heisman Trophy Trust signifying he is a candidate for the prestigious award. The dual-threat Cougars quarterback has rushed for 829 yards and 16 touchdowns while throwing for 2,116 yards and 13 passing scores.
Memphis' defense is no easy task to overcome either. Unfortunately, with the Cougars' creative offensive build, they are 'dissimilar' to the teams the Tigers have played previously this season, according to Herman, meaning there is little to reference as to what they will bring to the table Saturday.
"Gage philosophically who they are and what they want to be, and kind of formulate a game plan around just your experience as an offensive staff," Herman said.
While the pull of two unbeaten teams facing off in the conference is no longer on the table with Navy downing Memphis soon after Houston moved to 9-0, the Cougars' are still amped for what the win over the Tigers would mean for their program.
"I don't want to calm the excitement, I think the excitement is good," Herman said. "I think the thing that you caution against is listening to the outside noise and the praise. But the excitement, I mean the excitement is great. We sat in here Sunday, had a team meeting and I told them, 'Hey, this is a big game, because you made it a big game. Because of what you've done the last 11 months to get us to this point.' But because it's a big game, doesn't mean we are going to change."
For now though, Herman and the Cougars are just looking for another 1-0 season.
MORE NEWS: Want stories delivered to you? Sign up for our College Football newsletters.