UFC Fight Night: Namajunas vs. VanZant Crystal Ball Predictions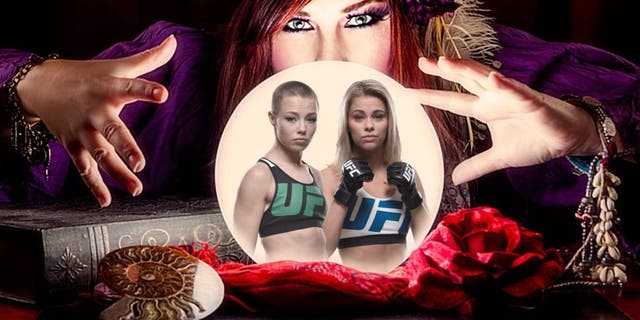 NEWYou can now listen to Fox News articles!
Thursday's UFC Fight Pass card kicks off a historically busy and stacked week of fights. Headlining this one is a strawweight contender's bout between Rose Namajunas and Paige VanZant.
Both women are stars and proven in the cage. The winner will be very close to a title shot, in 2016. Read our take on that bout and the rest of the main card, below.
Then, let us know who you're picking and why, on Facebook and Twitter!
Rose Namajunas (4-2) vs. Paige VanZant (6-1)
Namajunas may not have had much time to prepare for this fight after filling in on relatively short notice, but she certainly seems to be in the right state of mind. She's coming off a win, and her team insists that they completely reorganized its way of operating, and that her mindset is much more healthy and strong than it was when she lost her world title fight against Carla Esparza in 2014.
At Tuesday's open workouts, Namajunas also moved very well. If her hips, shoulders and feet were any indication, she's ready to start sitting down on her punches, and deliver them with power. On the ground, she's always slick and smooth.
In fact, the ground may be Namajunas' best place to do battle. If VanZant works to get the fight to the ground, as she herself drilled over and over on Tuesday, things could get very interesting.
Namajunas has superior Brazilian jiu-jitsu technique in transition, and probably has the better submission holds. However, when VanZant is allowed to get on top and settle, she is a nightmare to deal with.
She holds her base pretty well and is very active with punches. She'll also switch lanes while on top when needed -- meaning she'll move laterally well while standing to pass guard and/or strike.
If Namajunas has snap to her strikes and believes in herself, she could force VanZant to work for takedowns. From there, Namajunas will have to be ready and able to get back to her feet if she can't immediately snatch a submission hold to end the fight.
We're betting she will have what it takes to do just that. However, VanZant has a proven gas tank, chin and a supreme desire to bully, damage, and win.
Prediction: Namajunas by first-round submission
Jim Miller (25-6-1) vs. Michael Chiesa (12-2)
This fight could end up being the best of the night. Miller and Chiesa are skilled and aggressive strikers on their feet.
Both are also slick on the ground and confident in their submissions. They hunt for necks and if scrambles ensue on the mat, it could be anybody's fight.
Miller has the wrestling advantage, and may be too seasoned and well-rounded on his feet, at this point.
Prediction: Miller by decision
Cody Pfister (12-4-1) vs. Sage Northcutt (6-0)
Pfister is the more accomplished and experienced fighter, here, but you'd never know it for all the promotion Northcutt is getting. Northcutt has youth and size in his corner.
Pfister isn't afraid to get in the pocket and throw heavy shots, so Sage had better be able to control the distance or he may find himself on the defensive early. Everything in Pfister and his boxing coach's drilling and body language Tuesday at the open workout suggested they intend to get in the teen sensation's face.
Everything in what Pfister has said about Northcutt leading up to this fight shouts that he either doesn't have much respect for the sheltered kid from a wealthy fighter or that he's just trying to get in his head by trashing him. Northcutt is balancing a lot these days, but he insists that he loves doing it all and wants more.
He's an explosive athlete and should have a power advantage. However, it will be interesting to see who could survive better if the fight goes into later rounds.
Prediction: We'll go with the more experienced fighter and pick Pfister by decision
Elias Theodorou (11-0) vs. Thiago Santos (11-3)
Santos is on a nasty two-stoppage win streak. He may also hold a power striking advantage.
A big question will be what effect having not fought since March will have on Theodorou. It could be that he was able to heal, refresh and improve.
Hopefully he's been active during this time away from competition. If not, he'll have precious few moments to deal with a big, dangerous dude in Santos.
Overall, we like Theodorou's well-rounded skills. If he can hang on and survive some explosions, early, he could end up stealing the fight late.
Prediction: Theodorou by decision